Boys Tennis Defeats Westhill, Advances to FCIAC Semifinals
Coming off a 14-1 regular season, the Darien High School Varsity Boys Tennis team was suited up for the FCIAC Quarterfinal round on Monday. The team welcoming in the Westhill Vikings the seven seed in this years tournament.
The Vikings had a 10-5 campaign entering as the defending FCIAC champs and look to repeat in 2023.
Senior captain Sam Donnelly started the action off for Darien by defeating Westhill's singles one Vishal Nyack 6-0, 6-1. Donnelly, the Franklin and Marshall tennis commit as well as all-FCIAC first teamer a year ago asserted his dominance and didn't let up.
On the singles two match, Holy Cross commit Teddy Callery made quick work Ryan Karam by defeating the Viking 6-4, 6-0. This match put Darien up 2-0 in the contest and were half way to their victory.
In singles three, Darien senior Kyle Patrick took down Eli Shartz 6-0, 6-0. Patrick the third commit on this DHS team off to play tennis for Denison next spring played a perfect match. Patrick is returning to the DHS lineup in 2023 after a year off last spring.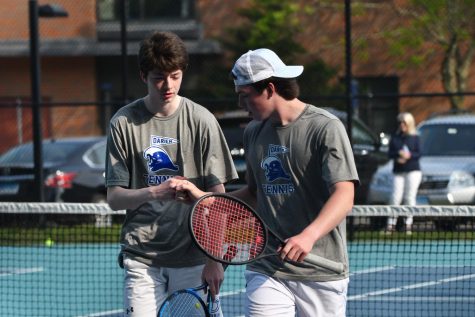 The power duo at doubles one of Will Donnelly and Aidan White took care of business against Westhill's Rohan Sahu and Vadaayna Paliwaz  6-3, 6-2. Donnelly and White have seen their fair share of time in the doubles lines and picked up the fourth and clinching match for Darien.
As the Wave went up 4-0 through the first four matches they had already punched their ticket to the FCIAC semifinals however the rest of the matches continued.
Darien's doubles two of Barton/Washburn took down Lipkin/Marathe 6-1, 4-6, 6-1 in a three set thriller.
And the final doubles match of Dallas White and Spencer Wang bested Rosenberg/Martinez 6-2, 6-1 for Darien's sixth match win of the contest.
The only match that Darien fell in was on the singles four side of things as Rithik Melwani and Iaonnis Economidis played a multi-hour thriller on the court. Economidis took the opening set 6-4 before Melwani stayed alive to win the second 6-3. This than forced a super tiebreaker in singles four considering the team match was decided but singles four needed a result. And after 16 great points it was the Westhill Viking Iaonnis Economidis who walked away with a 10-6 win in the super breaker.
Darien still won the overall match by the final of 6-1 and with this win advances to Wednesday's FCIAC semifinal contest against the third seeded Wilton Warriors.
Darien fell in last years FCIAC semifinals and looks to return to the story land in 2023 in hopes of winning their 5th all-time FCIAC title and first under 2nd year head coach John DeFilippo.