One of the most highlight anticipated matches of the year for both of these teams. It was the rematch of the 2021 Class LL State Championship. This game was the pinnacle of home games for Darien this year, and the town of Darien brought the energy to the stadium field.
Both of these teams were ready coming into this game. Darien came in with the upper hand at 2-0, while the Jesuits came in at 0-2, with early loses on the season to powerhouse teams. The Jesuits were ready to make a statement against this Darien team, while the Blue Wave were ready to keep fighting.
Both teams were back to back on defense and didn't allow any offensive push. Darien had some nice offensive drives with both Cunningham and Rolapp at the helm, however, Darien couldn't capitalize.
Going into halftime, both teams were tied at 0-0, and Darien head coach Andy Grant said in his interview before halftime that there defense had been "changing up the coverages" which ultimately showed on the statistic stand point wit a total of 4 interceptions on the night.
Early in the third quarter, the Jesuits had a nice punt, and put Darien on their own 1 yard line. Darien trying to start a push, gave up their second safety of the season, and were behind 0-2.  However, the tides quickly went into the wave's favor with a Pick 6 touchdown from junior linebacker Ben Curtis to put the wave up 6-2. Sikora would make the PAT, and Darien ended up 7-2 against the Jesuits throughout the 3rd Quarter.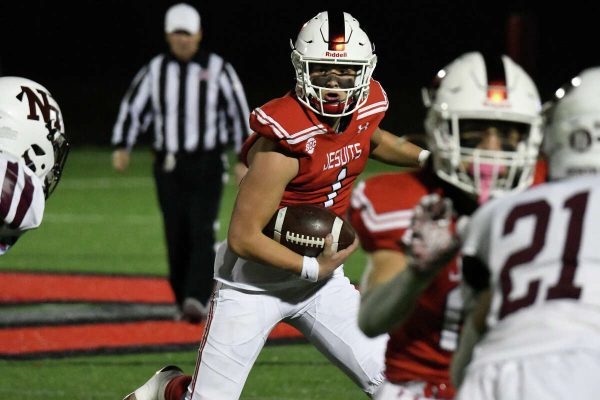 This play created a buzz around the DHS Stadium Field, and drew people back into the game.
Darien kept their lead strong throughout the 4th Quarter, holding off the Jesuits offensive plays. On a long drive from the Wave with just over a minute left to go in the game, Anson Sikora added to Darien's score by kicking in his first field goal of the season to lead Darien up 10-2.
This would be a big win for Darien increasing their record to 3-0. The Wave will next travel to Testa Field on the campus of Norwalk High School for another FCIAC showdown. The Jesuits fell to 0-3 on the season will be back home taking on the Cheshire Rams in a SCC Conference game.
DARIEN 10
FAIRFIELD PREP 2
DARIEN  0 0 7 3 —10
FAIRFIELD PREP  0 0 2 0 — 2
Scoring: 
FP – Safety
D – Ben Curtis Pick 6 TD (Sikora PAT Good)
D – Anson Sikora 37 Yard Field Goal
Records: Darien 3-0 ; Fairfield Prep 0-3.