The Darien Field Hockey team is once again a dominant squad. Keeping their streak of not losing a game against a team in the state of CT, the Blue Wave had a test against the Staples Wreckers.
This matchup would be a rematch of the FCIAC Championship in 2022, and both teams were looking hungry to defeat the other. During the start of the game, both squads were at even strength at 0-0. Both teams had great shots on net, but both goaltenders were making great saves. Darien new they had the advantage over the Wreckers, but they knew they would have to work extra hard to take this one home in their favor.
At halftime, both teams were scoreless and the defensive battle had started. Both teams had good possessions and plenty of corners, but couldn't capitalize by getting shots past the goalie.
Early in the third quarter, Darien would strike first with a goal from Ashley Stockdale off the penalty corner. Darien could breath the sigh of relief after being scoreless for the entire first half of play.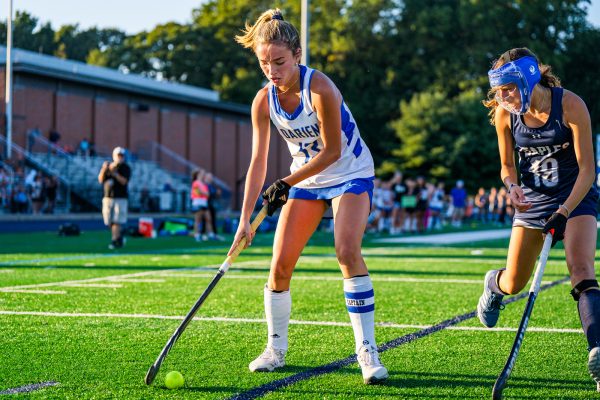 Staples fought back quickly on their next possession with a nice goal from freshman Leah Larit. The game was tied at 1-1. Minutes later in the third, the Wreckers put another goal in from junior captain Sofia Fidalgo. At this point, the Blue Wave was getting antsy for another, and wanted to bring this game back to even strength.
Early in the 4th quarter, Darien had their possession and tied the game at 2-2 with a goal from junior standout Kate Bock.
The game stayed tied at 2-2 for the remainder of the 4th quarter and both sides knew they would face off in OT.
Both teams started off on defense pretty well, making stops on both sides of the field. With 3:38 left to go in overtime, senior captain Blake Wilks hit a game winner with the team rushing out to celebrate. This would be a statement game for Darien, showing other teams that they are the best team in the state.
DARIEN 3
STAPLES 2
DARIEN 0 0 1 1 1 — 3
GREENWICH 0 0 2 0 0 — 2
Scoring: D – Ashley Stockdale, Kate Bock, Blake Wilks
Scoring: S – Leah Larit, Sofia Fidalgo
Records: Darien 9-0; Staples 8-0-0-1
Check out the game highlights from this contest on the DAF Media Network.