2023 Spring Sports Preview: Darien Boys Volleyball
Inside the Main Gym the DHS Varsity Boys Volleyball team is hard at work as they chase to continue the programs long running history.
Boys Volleyball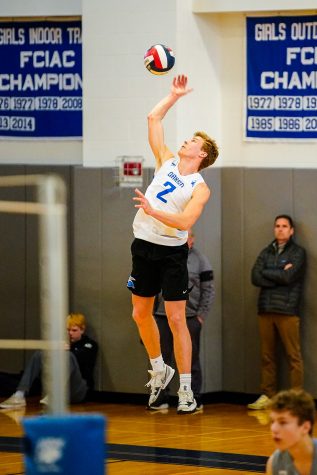 Following an impeccable 2022 campaign during which the team remained unscathed, clinching both the FCIAC and state championships with ease. The CT Volleyball MVP Trevor Herget (BYU) is poised to return for his senior year and enhance his already impressive resume, boasting 476 kills, 199 aces, and 202 digs from the previous season. Herget the recent BYU men's volleyball commit is set to have another big season for the Wave on the offense. Aiding Trevor will be his fellow all-state setter Griffith Crouse back for his junior year. Grif racked up 788 assists in 26 matches, an average of 30 per contest a year ago. The two make a pretty good one-two punch. Darien's fortunes will also be bolstered by the talents of seniors Austin Black, Jeff Nduati, and Isaac McMullin, in addition to a cohort of other skilled players. "We have a kill or be killed mentality coming into this season" Darien senior captain Austin Black said preseason. 
Darien enters the new season on an impressive 49-game winning streak dating back to 2019. They fell in the state championship to Staples on June 6th, 2019, that was the last time Darien lost a match. The Wave will also be looking for a four peat in the FCIAC conference. "We are going to have to work harder than we ever have before given nothing will be given to us this season" Darien senior and captain Trevor Herget said.
Darien opens play on April 5th against out of conference opponent Farmington. Darien will than face off against out-of-conference opponents including Shelton (twice), Cheshire, New Canaan, and Trumbull in the upcoming season. The Wave will once again be led by veteran head coach Laurie LaRusso. LaRusso, coming off a flawless season with the DHS girls team in the fall and recipient of the coveted FCIAC girls volleyball coach of the year award, is eager to lead the boys' team to further success this spring!