Wave Blanks Cards, Advances to FCIAC Championship
The Darien Varsity Girls Ice Hockey team will return to the story land in 2023, they will be playing for an FCIAC Championship on Saturday.
Darien first had to take down the Cardinals of Greenwich High School in the conference semifinals. Darien (17-1-2) had earned the top seed in this year's FCIAC tournament and was looking to avenge an upset loss in last year's FCIAC semis to SWS.
But in 2023, the Wave showed no mercy beating the Cardinals 5-0 for their 18th win of the season.
Just 3 minutes into the game, junior Sarah Kellogg got a pass in front of the net and just stuck the stick out to tip it past Greenwich goalie Emma Kunschner. Darien would not look back from this as senior captain Chelsea Donovan would score another for the Wave 2 minutes later. The Wave struck again when senior Kelsey Brown went blocker side low on Kunschner and netted her first goal of the postseason.
Jaime Tropsa's team had themselves a 3-0 lead after the first period and continued the production in the second period with a pair of goals from Chelsea Donovan and Maggie Bellissimo. Darien would go up 5-0, and with the help of Jamison Maher in net, they would shut out Greenwich 5-0.
That was the big change for Darien in this game, the goalie. Senior Katherine Kahn did not get the start as it was the backup junior Jamison Maher picking up her first career postseason win, and it was a shutout. While Maher only saw 13 shots against she made all 13 saves and shut the Cardinals out of the FCIAC tournament.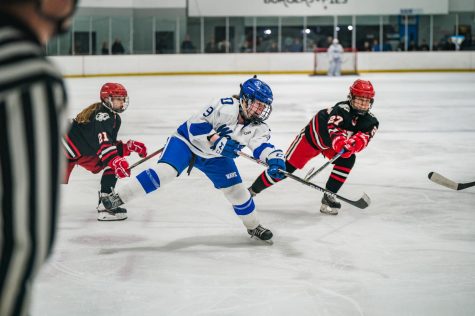 It was a good win for the girls as they will now shift their attention to the New Canaan Rams on Saturday in the FCIAC Championship game.
New Canaan escaped Stamford/Westhill/Staples in their semifinal by the final of 2-1 in 3OT. This will be the third time in four years these teams meet for an FCIAC title.
2020 Darien won, 2021 New Canaan got the best of the Wave with a winner in OT, but 2023 Darien has a lot to prove as they search for the 7th all-time FCIAC title in school history.
That game will be 4:30 pm at the Darien Ice House on Saturday with live stream coverage on DAF Media. 
No. 1 DARIEN 5, No. 4 GREENWICH 0
Greenwich 0 0 0 – 0
Darien 3 2 0 – 5
Darien: Chelsea Donovan 2g; Sarah Kellogg 1g, 1a; Maggie Bellissimo 1g, 1a; Kelsey Brown 1g; Natalie Beach 1a; Caroline Young 1a.
Goalies: G – Emma Kunschner 30 saves; D – Jamison Maher 13 saves.