Harry Styles' Breaks The Fine Line From His Band Days And His Solo Career
A new look on Harry Styles' musical creativity
Styles is known for his role in One Direction but now has made a strong solo career for himself with a new, heartfelt album.
At just 26 years old, he has had an extraordinary amount of success. His time in One Direction was where he started to gain millions of fans. The popularity and success of One Direction are like no other. Styles has faced a lot of comparison to the band's material and pressure to continue to put out hits.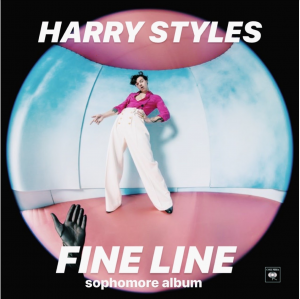 Once he released his first self-titled solo album it was unexpectedly an entirely different vibe compared to his work in One Direction, also not so successful. It had more of a rock-inspired feel to it, which Fine Line also has a bit of. In general, both of the albums are not at all similar to the music in the mainstream media today. No matter that, the mild success of the album still led to a sold-out tour. Hence why Fine Line, has been highly anticipated and there has been a lot of pressure riding on it, to be better than Harry Styles and as great as his One Direction era.
The sophomore album is a mixture of so many different genres, all with some pop-rock elements. Each song on the album has completely different melodies and emotions attached to them, it is definitely an album about love though. No one depicted the album better than Pitchforks' Jeremy D. Larson: "'The clusters of background harmonies on 'Golden,' the synth sweeps throughout 'Sunflower, Vol. 6,' the strange and alluring pre-chorus on 'Lights Up,' a song that embodies Styles' fluorescent charm, his swagger, his desire to be both weird and adored."' Larson quickly summarizes how the album feels to a listener and how they connect to Styles. Essentially, the album is very alluring, gloriously romantic, evocative, and rhythmic. It almost feels like as one listens to the album, you are being embarked on a scenic journey.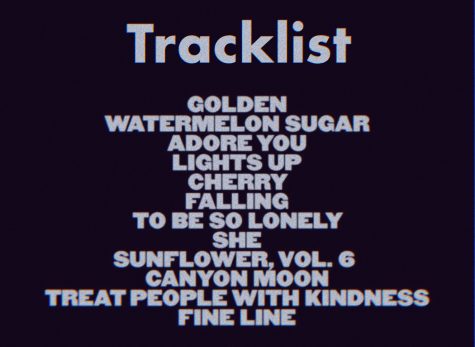 Fans of Harry Styles are giving him a lot of praise for his artistry on this album and rightfully so, but there, of course, were many people involved in this piece of work. Rolling Stone's Nick Catucci expressed the role that Style's co-writers, "Kid Harpoon, Jeff Bhasker, Greg Kurstin, and Amy Allen" had in creating these genre-fluid songs. That is one thing that truly sets Fine Line apart, each song almost being a different genre. Evidently, due to Styles' amazing co-writers as well as his own great writing skills, with lots of inspiration from many different types of artists.
The album starts off with the song, Golden, which is where Harry Styles begins his story about love, with a description of the "honeymoon" phase in a relationship. In the song, Harry sings "Lovin' you's the antidote….You're so golden," expressing his emotions with his significant other during those beginning stages.
Later, in the album, the mood from a honeymoon phase shifts to the break-up. In the song, Cherry, Harry sings about his difficult breakup with, then-girlfriend, model, Camille Rowe. Some of the lyrics Styles wrote in this raw story about his own breakup were, "We're not talking lately….Don't you call him what you used to call me." In an interview with Apple Music, he expressed how he wanted this song to be "true to the breakup [and] wanted it to be true to how [he] was feeling then." There are not many artists out there anymore, that truly express raw emotion and/or real-life experiences.

"
"I feel so much freer, making this album.""
— Harry Styles
It is clear with a lot of the songs on the album, that Harry Styles is the type of artist to reveal his true emotions through his music. He does not seem afraid to show his fans what he is going/went through. Styles is indeed an artist to be listened to for those who are looking for rawness from an artist.
Throughout, the album there are many more songs with completely different vibes, but still involving his past relationship. For instance, Watermelon Sugar and Lights up, are both songs about much lighter topics and are upbeat, compared to the other more emotional tracks. Not only that, but Harry Styles even threw in a semi country-inspired song, Canyon Moon. Clearly, there is a little bit of everything for every type of music lover in this album. Harry Styles is truly a versatile artist that continues to give his fans great and real music to listen to.