Rugby at DHS and How it's Evolving
Rugby at DHS: Spring sports are officially here at DHS! Among those sports are the Darien boys and girls Rugby teams coached by, Mr. Stepsis (girls) and John McCarthy (boys). Rugby has been a running sport at DHS for over ten years with practices and games being held in the spring.
Girls' Rugby started around five years ago with Mr. Stepsis starting the process. When talking to Mr. Stepsis about the formation of the, now varsity sport, he said he, "saw a small group who wanted to play and worked with them to build it from the ground up." At first, he explained the difficulty of the sport with almost no one understanding how the sport worked and no leaders to step up. Mr. Stepsis said it was, "challenging," but with, "hard work in games, the group was able to learn as a team." He spoke about the connection with players saying, "after doing something well, the team learns and after making a mistake, the team learns," explaining how much of a tight connection the group has had over the years. One of the captains' of the team Charlotte Corcoran talked about her experience in the sport. "I actually joined the team as a joke because I didn't need years of experience," she said when talking about her introduction. After being met with a, "very passionate and welcoming environment," she realized the diversity that the sport held, whether it be size, gender, or color, "anyone can play Rugby."  Charlotte also talked about her past teammates and now friends who had to overcome, "a lot of prejudice in the school," because of the sports' lack of funding and size. Since Rugby wasn't the easiest sport to advertise to other high schoolers, it required a very passionate group who were, "willing to put themselves in an uncomfortable position in order to learn the sport from scratch." This hard work and effort lead to the team's close connection leading up to this year's season.
How Rugby works: For those embarrassed about not knowing any of the rules before playing, don't be! Almost no one understands how the game is played and one of the big emphases of practice is learning how the sport works. Rugby is one of the only contact sports where girls and boys have the same rules, so there is no difference in how each team plays. Some simple rules of a normal game are structured as followed: The game's main goal is to reach the other team's 'try-zone', similar to an endzone in Football. When one team has the ball, you must run forward until stopped by the opposing team. Before this happens you can pass the ball to a teammate with a backward pass, or simply take the contact. Similar to Soccer, there is only a stoppage of play when a penalty is called or the ball carrier runs out of bounds. If a team successfully reaches the try zone, (like one would think happens if Football), you touch the ball down and a 'try' is scored. Before that happens, the opposing team will try to tackle you and make you lose the ball or push you backward. The sport consists of regular contact, along with variations of contact that take place throughout the game. Although the sport is played with no pads or protection, there are stringent rules for tackling which reduces hard collisions and injuries greatly. There is so much more to the sport taught to everyone during practices!
How to join the team, what to bring, and when it starts: Boys who are interested in trying Rugby can meet at the Tokeneke Field at 4:00 PM on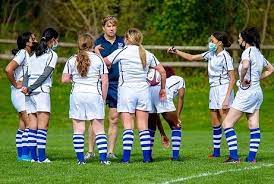 Tuesday or Thursday. Practices also take place on Saturday at the tennis field at DHS at 11:00 AM. Girls' practices are starting to roll out in April with times for practicing getting released soon. Students will gain much more info after attending their first practice regarding times and locations. All players during practice and games are required to bring a mouthguard, water, and cleats. For games, it is required that players purchase Rugby socks and shorts. These can be bought from the Soccer and Rugby Imports store in Greenwich. The first boys' Rugby game takes place on April 1st and the time for the first girls' Rugby game will be released in the coming weeks.
As a current Rugby player, the sport is a brotherhood that cannot be usurped. I look forward to hearing from new players and their experiences this spring!