Boys Soccer Ends 2022 Regular Season With Tie to Warde
Monday afternoon saw the Darien Boys Soccer team traveling up to Fairfield to take on the Fairfield Warde Mustangs in the regular season finale of the 2022 fall campaign.
Darien (10-4-1) was looking to cap off the season with points before heading into Thursday's FCIAC quarterfinal match. Fairfield Warde (5-5-4) knew their FCIAC season was over and was playing for practice before the state tournament in two weeks.
This was a defensive battle from the first whistle, but Darien's Jack Peattie would put the Wave on the board in this one with help from the own goal on the Mustangs. Darien would ride the stellar play of sophomore Cam Moyers who earned the MVP of the match with his performance in the midfield.
Darien's Tommy Branca had a nice showing in the net, keeping the Mustangs to only 1 goal on the afternoon.
After 90 minutes, the teams played to a 1-1 draw, and that is how they ended the regular season.
For Darien, a team that entered play on a five-match winning streak, stays hot, and will be the 4th seed in the FCIAC playoffs starting Thursday.
This tie also clinched the FCIAC East crown for Darien this season. Darien won the division last year, and 2022 marks the 7th time that Darien soccer team has claimed the East title.
The Wave finishes the regular season at 10-4-2 and will now shift their attention to welcoming the Fairfield Ludlowe Falcons to the DHS Stadium Field on Thursday at 4pm for the FCIAC Quarterfinals. The Wave beat the Falcons in the regular season 4-1, but it's postseason soccer, and anything can happen!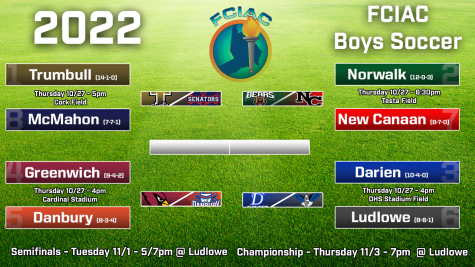 DARIEN 1,
FAIRFIELD WARDE 1