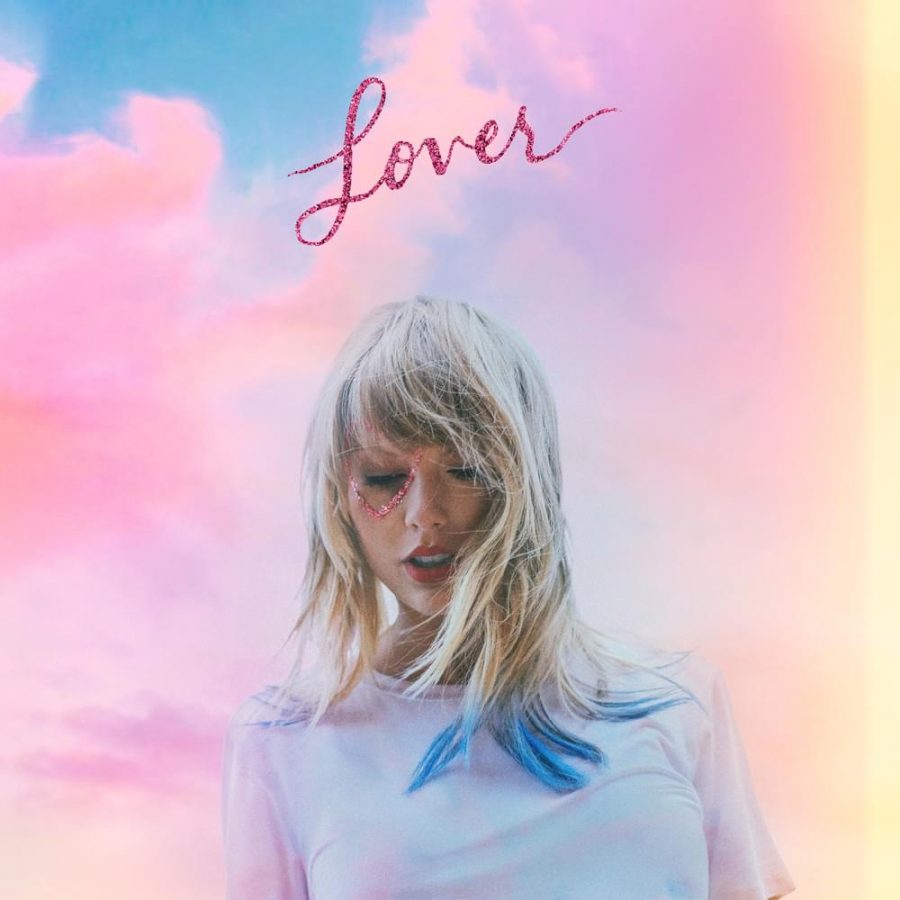 A Metamorphosis of Sound: Lover in Review
The evolution of the snake into the monstrous butterfly that is Lover
This record is a certified smash, but one thing's for certain–spelling is definitely not fun.
The seventh installment of Taylor Swift's catalog leaves a pastel-hued tint over her carefully crafted musical persona. It's a sugary, cavity-inducing piece of work that is full of eighties synth beats, earworm choruses, and of course, outstanding bridges.
Have You Listened to Lover Yet
Sorry, there was an error loading this poll.
To sit down and listen to Swift's previous album Reputation, would be to absorb dark trap beats and storylines traced with angst and turmoil. The transition from those tracks filled with venom to the work that is Lover appears abrupt, out of the syncopated timeline Swift has made us accustomed to. Albeit, Lover guides us into the new era with everyone's new anthem for leaving toxic relationships in the past, without having to forgive and forget, which aids in the transition as opposed to the sheer shock factor that was "Look What You Made Me Do" as the Rep opener. 
Freshman Charlotte Ward and Jack Saucedo, two certified "Swifties", said about this new album- practically in unison- "I feel that "Lover" has less of a chronological order to it when compared to some of her past albums like Fearless, Speak Now, and Reputation. Everything is so cynical nowadays, and while the album is not necessarily bubblegum, it gives a more positive outlook on life, which is honestly just refreshing". 
https://twitter.com/judielcortez/status/1176109941989376001
Ward and Saucedue make an interesting observation; Lover has stellar opening and closing tracks in "I Forgot That You Existed" and "Daylight", both tying the album together and leading us into this current era. However, the meat of the album, track 2-17, seem to lack a direction in terms of storytelling. The impact of the albums message does not lose its meaning or affect on the listener after being put on shuffle, but as a result we lose the classic Swift narrative. 
People use Swift's music to escape reality; this album more so than ever leaves audiences in a sun-drenched paradise full of new beginnings and lifelong love. The progression of these motifs, however, is not evident in the order of the setlist, but rather within the words themselves.
For the most part the work is cohesive, despite using a myriad of different techniques and sounds this time around, there is still a familiarity in what we have been trained to identify as a "Taylor Swift" song. Anna Gaca from Pitchfork wrote, "With the possible exception of the steel drums on music-box oddball "It's Nice to Have a Friend", the album never claims any new ground; some of its best moments are unavoidably familiar". Gaca's point coincides with my own, and many others in the music industry: go with what you know. Swift took what she knows and ran with it, all while sprinkling in some fresh stylistics.
Lover is at its best in its quieter moments, like in the chorus of "The Archer" and the entirety of "Soon You'll Get Better"–the gut wrenching and most personal song in Swift's catalog to date–separate from the bombastic explosions of sound present in "Cruel Summer", "I Think He Knows", and "ME!" (which should have been left off of the album altogether, and without fail gets my skip button every time). The vulnerable and open heart instances of clarity is where we connect with Swift the most, notably on the melodic and wedding-ready bridge of the albums namesake "Lover".
"
Ladies and gentlemen, will you please stand? With every guitar string scar on my hand I take this magnetic force of a man to be my lover My heart's been borrowed and yours has been blue All's well that ends well to end up with you Swear to be overdramatic and true to my lover And you'll save all your dirtiest jokes for me And at every table, I'll save you a seat, lover"
This latest album appears intimidating; 18 tracks of uncharted territory, a light filled room off of the darkened staircase that is Reputation. However, Swift tackles the enormity of Lover with finesse; producing an album filled to the brim with her expert lyricism and earnest vulnerability, making it one of her most honest and versatile albums to date with the exception of a missed shot or two.
You can stream Lover on Apple Music and Spotify now!
Click here for a review on Billie Eilish's latest album and here for one on Kacey Musgraves' Golden Hour