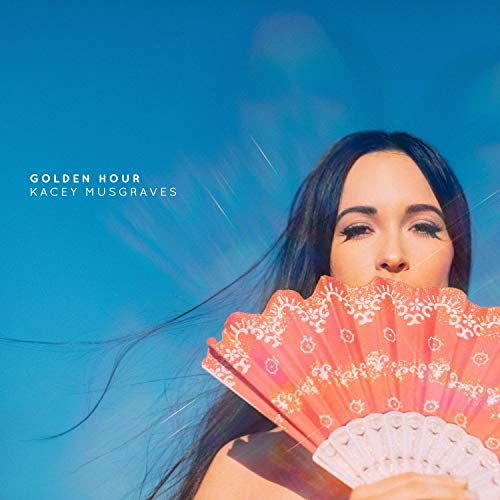 Golden Hour – Kacey Musgraves' New Album is a Colorful Delight
Kacey Musgraves' newest album Golden Hour is a psychedelic take on country music. She stays true to country roots singing about the importance of your hometown, yet avoids the stereotypical beer-drinking, pickup-truck-driving, gun-toting country. The album won critical acclaim across the board. She received many awards including:
Grammy Award for Best Album of the Year

Grammy Award for Best Country Album

Academy of Country Music Award for Album of the Year

Country Music Award for Album of the Year
What sets Golden Hour apart from other albums is its striking melodies. The song "Lonely Weekend" which describes Musgraves fear of being alone and demonstrates her yearning to belong is marked with a haunting melody that reflects these sentiments. Similarly the song "Oh What a World" has an airy melody that lifts the listener to an elevated state. The song also evokes the phrase "what a wonderful world" creating a feeling of nostalgia and playing on the listeners' feelings towards their own past.
Despite the sensitive tone of the album overall, Kacey Musgraves writes with biting and purposeful lyrics. "Space Cowboy," a play on words which combines the end of one line with the beginning of another, describes her knowledge that her relationship is ending. It speaks to the disconnect of their connection and also her own newfound isolation. "Slow Burn" serves a similar purpose in its lyrics, but does so in a narrative style. Musgraves pulls on her own very specific life experiences such as being born late and piercing her nose to illustrate life as a fizzle that gradually fades into nothing. 
The song "High Horse" sits in utter contrast to the rest of the album. It is an unapologetic bashing of ego and misplaced pride. She writes, 
Darling, you take the high horse and I'll take the high road/If you're too good for us, you'll be good riding solo
Musgraves calls out those who believe they are better than others. This sharp change in tone near the end of the album makes it stand out and recaptures the listeners' attention.
Finally, you can't talk about this album without discussing the song "Rainbow." This song is a testament of hope for anyone who is going through a dark time. The song is a simple ballad of remembering one's own worth and looking for the rainbow even during the rain.
What sets Golden Hour apart is its message. Musgraves focuses on love and relationships and hopes and dreams, but most of all she focuses on self. Her commitment to sensitivity and openness is what her album so important.