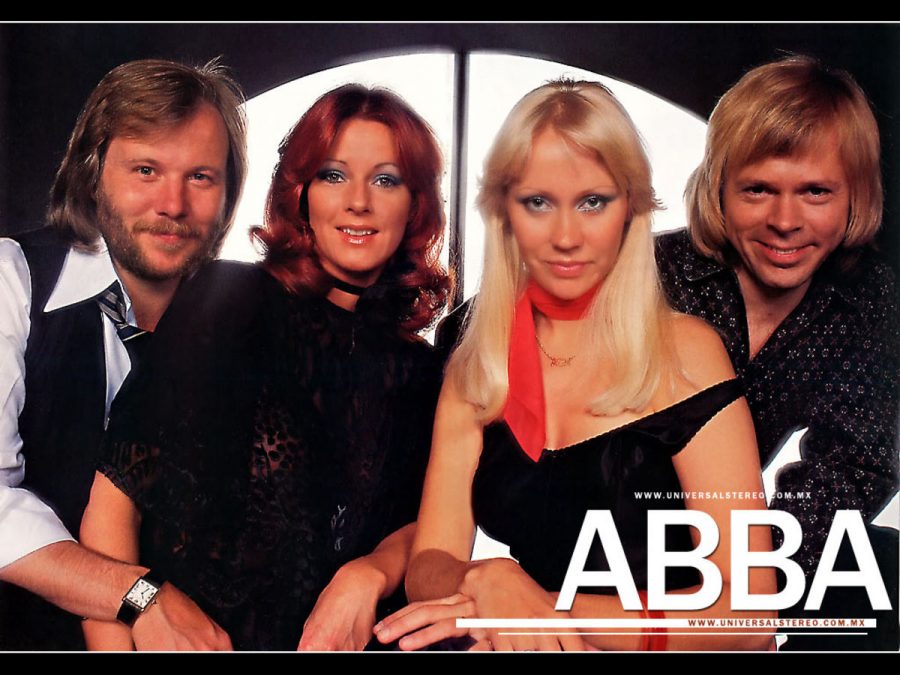 Dancing Queens Rejoice: ABBA returns to make new music
"Money, Money, Money," "Voulez-Vous," "Super Trooper," "Fernando"…almost everyone can name their favorite ABBA song. Personally, I'm a "Take a Chance on Me" kind of person although who can deny that "Waterloo" is a favorite of everyone?
 ABBA has been a part of everyone's collective music vocab since their rise in the late 1970s. They never officially went away, but after ABBA stopped their presence in the 1980s many fans were left distraught knowing that they may never make new music again. The next time they would see each other would be in 2008 when Mamma Mia! the movie premiered in Sweden. Thus, when fans heard they would be reuniting this coming summer, it was as if all of their troubles had been fixed.
The band initially announced their reunion in a statement on Instagram: "The decision to go ahead with the exciting Abba avatar tour project had an unexpected consequence. We all felt that, after some 35 years, it could be fun to join forces again and go into the recording studio. So we did. And it was like time had stood still and we had only been away on a short holiday. An extremely joyful experience!" According to Variety magazine, there will be an upcoming two hour documentary on the band and one of the two new songs created will be featured in it. The band will also go on tour, but not the kind of tour you're thinking. Instead of having themselves tour, they will use holographic versions of themselves (of course). These so-called "ABBAtars" will recreate elements of their late 1970s tour and feature their greatest hits. The tour will also feature the two new songs that they have created called "I Still Have Faith in You" and "Don't Shut Me Down." They have been described as melancholic, and uptempo but not dance music. A lot of the conversation about the ABBA revival surrounds whether or not their new music will hold up to par with their classics.
"'I don't feel that we have to prove anything," Benny Anderson, a member of ABBA, told BBC News. "I don't feel we have to think about, 'Oh, what if it was better before?'
Likewise the reasoning behind reuniting had to do with recreating the joy they had making the music and sharing it with their fans, and not to prove that they could do it once again.
"We said, 'Hmm, maybe we should try and write a couple of songs, ask the ladies if they want to come in and sing'. Said Anderson to the BBC about his initial conversation with former member Björn Ulvaeus. "And they said, 'Yeah, absolutely'. So it was just, out of pure joy I'd say."
This reunion is quite a shock considering the relationships that existed between the members. Björn Ulvaeus was married to ABBA member Agnetha Fältskogin 1971 until they divorced in 1980. Similarly, the other two members were also married and divorced: Anni-Frid Synni married Benny Anderson in 1978 but they then divorced in 1981. Many attribute the fallout of their relationships to the ending of the band as many tensions were created within the group.
This has only made their reunion to be all the more surprising as fans thought they would never see the group together again, especially when the members themselves said they never would. Fans are about to rejoice yet again, as Mamma Mia 2: Here We Go Again was announced this same year.
The sequel will be released exactly ten years after the original (including being in the same month) and will feature much of the original cast with the addition of Cher taking the role of Sophie's grandmother. The soundtrack includes songs from the previous movie but will include lesser-known ABBA songs such as "Kisses of Fire" and "I Wonder (Departure)." In this movie, Sophie is pregnant and is struggling to run the villa on her own. That's when her grandmother shows up to give her some guidance as she discovers a lot about her mother's past in the process. The movie is already one of the most anticipated movies of the summer with much of the cast returning including: Amanda Seyfried, Meryl Streep, Pierce Brosnan, and Colin Firth. Hopefully this time Pierce Brosnan vocals are up to par with the rest.