Wave Baseball Upsets Xavier, Advances In State Tournament
It was a picture perfect day for baseball at Middletown's Palmer Field, home of the Connecticut State Baseball Championships and the host of this CIAC Class LL first round matchup.
On one side stood one of the favorites for the state crown the 7th seeded Xavier Falcons (15-5), and on the other the underdog 26th seeded Darien Blue Wave (9-11).
Darien jumped out to the early 1-0 lead in the contest when senior Simeon Doll shot a ball into right field scoring Leo Zawacki from third. The Wave were not done in the inning as the very next batter Taylor Campbell grounded one off the glove of the third baseman Mason Breton to score Dylan Alini and put the Wave up 2-0.
The Falcons had an answer in the bottom of the frame when Breton chopped one to Dom Zawacki at second and was thrown out in the 4-3 putout, but it picked up the RBI scoring Brandon Gaer to make it 2-1.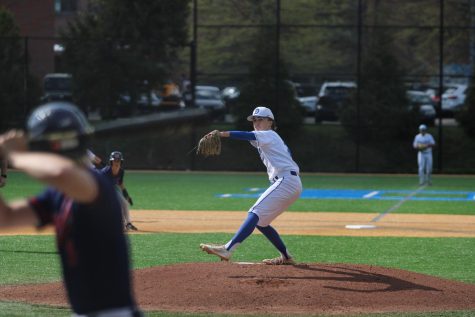 Senior Kevin Bock got the start for the Wave and pitched a solid game giving up 2 runs and going the distance before sophomore flame thrower Tyler Easterbrook would come in to relief Bock in the 6th inning.
This game was all tied up at five a piece after the seven innings of regulation and needed extra innings to determine a winner. Both the Falcons and Wave went scoreless in the eighth extending the game to the ninth.
With two outs in the ninth and two runners on, sophomore Aidan Elders had the hit of the game, a two RBI double to the gap to put the Wave up 7-5 heading into the bottom of the ninth.
And just like he has been all season long, Easterbrook sat down the Falcons one, two, three in the ninth to secure the win for Darien on the bump.
The Wave played the marathon game and took down the favorites in Xavier to advance to Wednesday's state second round.
Darien plays 23rd seeded Westhill on Wednesday at 3:30pm at Cubeta Stadium in Stamford. Darien will look to advance to their first quarterfinals since 2014 if they can beat Westhill.
Darien 7, Xavier 5 (Final/9)
Darien 221 000 002 – 7 7 1
Xavier 101 030 000 – 5 7 4