Varsity Baseball Shuts Out Ridgefield En Route to Home Win
Darien defeated Ridgefield 2-0 on Wednesday from the DHS Baseball Diamond. Two pitchers combined to throw a shutout for the Wave. Will Smosky induced a fly out from George Henry in the seventh to finish off the masterpiece of a game.
The pitching was strong on both sides. Darien pitchers struck out five, while Chris Keating for the Tigers sat down three.
Darien got things moving in the first inning. Senior Simeon Doll drove in the first run of the game with a single through the right side scoring senior captain Dylan Alini from second. 
Darien starting pitcher Owen Tyler saw a jam in the top of the fourth when he allowed singles from the lead off batters Felix Maisonet and Chris Keating. 
With runners on first and second and none away, Tyler settled in and struck out Nate Carter on three pitches before getting a ground ball off the bat of Cormac Bellotti for the 4-6-3 double play to get out of the inning untouched.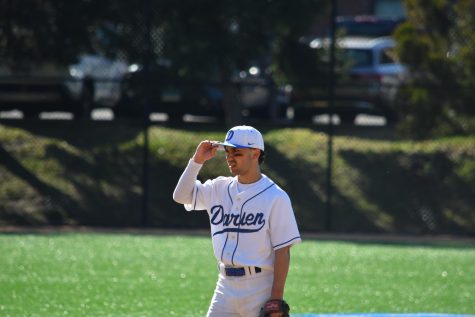 In the fifth the Tigers were battling once again. This time runners on the corners and one out in a 1-0 ballgame. A ground ball to the third baseman Sean Brophy saw Brophy fire home and sophomore catcher Jack Nee applied the tag for the 5-2 fielder's choice, catching pinch runner Nick D'Orso out at the plate. This crucial play kept the score at 1-0 Wave after four and half.
A single from Dom Zawacki kicked off the bottom of the fifth for the Wave. Back to back ground balls from Alini and Dolan advanced the leadoff batter to third with Simeon Doll stepping in.
On the very first pitch of the at-bat Doll took a nice level swing and sent a hard grounder into right field, scoring Zawacki and putting Darien up 2-0. Simeon had his second RBI of the contest and the Wave now had a multi run lead.
Tyler secured the win for Darien. Tyler allowed six hits and zero runs over his four innings of work, Owen struck out four and walked one. Senior captain Will Smosky threw three innings in relief out of the bullpen. Smosky recorded the last nine outs to earn the save for Darien.
Darien saw the ball well, racking up seven hits in the game.  Dylan Alini, Doll, and Karczewski each managed multiple hits for Darien. 
This win over Ridgefield ended a five game losing streak, but more importantly was win number eight on the season for Darien which meant they were now qualified for the CIAC state playoff next month. A huge win for the Darien varsity baseball squad.
DARIEN 2,
RIDGEFIELD 0
Ridgefield 000 000 0 – 0
Darien 100 010 x – 2
Darien: Owen Tyler (W) 4IP, 6H, 0R, 0ER, 1BB, 4K
Ridgefield: Chris Keating (L) 6IP, 8H, 2R, 2ER, 0BB, 2K
Darien: Will Smosky (SV) 3IP, 1H,
0R, 0ER, 0BB, 1K
Records: Ridgefield 9-8 (7-5 FCIAC); Darien 8-9 (4-8 FCIAC)