Darien Baseball Takes Victory Over Wilton
Darien beat Wilton 4-2 on the road on Monday. Darien won their penultimate game of 2023 and looks to spark this rally into their final game on Wednesday. 
Darien got things started in the first inning when Dom Zawacki led off the game with a double to the left-center gap. A ground out moved Zawacki to third for senior captain Dylan Alini. Alini grounded out to the first baseman but secured the RBI, scoring Zawacki from third. 1-0 Wave after the first frame.
Wilton got the equalizer in the bottom of the 2nd thanks to Stefanos Cross lining a single to left field, scoring Sean Lengyel to tie the game up at one a piece.
The Warriors continued with the hot bats as the bottom of the third started with a Michael Fischetti single, walk of Lengyel and an RBI double off the bat of junior Maxwell Jarvie. 2-1 Warriors after three innings.
Darien head coach Mike Scott rallied his team up as in the next frame Darien came to play. Simeon Doll reached first via a four pitch walk. And two batters later senior Luke Sibilio grounded a ball over to the shortstop Weiss, which watched as Weiss committed the error and allowed Doll to score all the way from first. 2-2 now in the top of the 4th.
Taylor Campbell added a single the next batter to throw runners on the corner for the catcher Jamie Buckjune.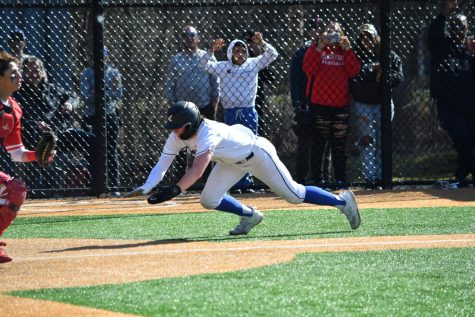 Buckjune, who's seen some struggles from the batter's box got set and on the 3-1 count lined a single into right field. The ball took a bat hop on the right fielder and coach Scott gave the wave home to Campbell, Campbell was safe at the plate to put Darien up 4-2 in the ballgame. A big time hit from the junior catcher as the Wave were now leading late in the contest.
Tyler Easterbrook took the win for Darien on the mound. The sophomore pitcher went four and two-thirds innings, allowing two runs on four hits and striking out six.  Kevin Bock threw two and a third innings in relief out of the bullpen.  Bock recorded the last seven outs to earn the save for Darien.
Hayden Klyver took the loss for Wilton. Klyver allowed three hits and four runs over three and two-thirds innings, striking out two and walking one.
Campbell, Dom Zawacki, Sibilio, and Buckjune each collected one hit to lead Darien. The Wave rallied behind the great outing from Easterbrook on the mound and secured win number nine on the season. While Darien has been eliminated from FCIAC playoff contention, the squad will still look to finish the regular season at .500 with their season finale against Fairfield Warde on Wednesday.
DARIEN 4,
WILTON 2
Darien 100 300 0 – 4
Wilton 011 000 0 – 2
Darien: Tyler Easterbrook (W) 4.2IP, 4H, 2R, 2ER, 3BB, 6K
Wilton: Hayden Klyver (L) 3.2IP, 3H, 4R, 0ER, 1BB, 2K
Darien: Kevin Bock (SV) 2.1IP, 2H, 0R, 0ER, 1BB, 0K
Records: Wilton 8-10 (6-8 FCIAC); Darien 9-10 (5-9 FCIAC)