Theatre 308's Production of Newsies is Here!
A peek into the club, Theatre 308, their production of Newsies, and what it is like to put on a musical production.
"Now is the time to seize the day!" Head on over to theatre308.org to buy tickets to Theatre 308's current production of Newsies! You can experience the joy and inspiration that comes with Newsies on March 16th at 7 PM, March 17th at 7 PM, and March 18th at 2 PM and 7 PM.
This production is one of the most lively and empowering musicals. It will move you emotionally as it tells the story of the 1899 Newsboy Strike in New York City– and Darien High School has just the right cast to bring this ambitious show to life. Watch seniors Luke Ryan and Morgan Lindell take the high school stage one last time, as they star as Jack Kelly and Katherine Plumber. These two characters help lead the strike against Pulitzer News (Joseph Pulitzer played by sophomore Nico Johnston). The roles of other principal Newsies will be taken on by senior John Raspkopf (Davey) and junior Mallory Sloan (Crutchie).  Finally, senior Sam Baiocco will play Medda Larkin, a saloon singer who helps out the Newsies in their strike. 
What to Expect
If this cast list alone is not enough to sell you on a riveting night in the theater, surely words from members of Theatre 308 will. The production of Newsies offers a unique opportunity to bring everyone together; Not only because Newsies is a story of solidarity that will have you rooting for the fiery news boys, but beyond the unifying fictional world, performers are developing special bonds in the wings. The house's audience, too, will feel connected.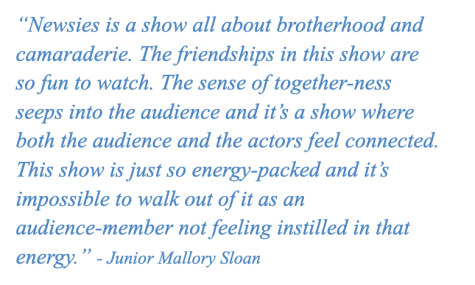 Join these triple threats as they take on a new experience entirely: tap dancing! "There's a lot of dancing and it's fun because it's very eclectic. We have a tap number and we also have jazz-type performances. It's very mixed," says senior Aidan Kennedy, who will be playing Manhattan Newsie, Romeo.
Lindell urges ticket holders to get excited for their enticing "group numbers– Newsies is a big ensemble show so everyone's on stage together for most of the time!" Lastly, look out for the impressive set, as 308 will seamlessly transport you between the streets of Manhattan, the Bowery, and the front steps of Pulitzer's office.
What's Theatre 308 All About?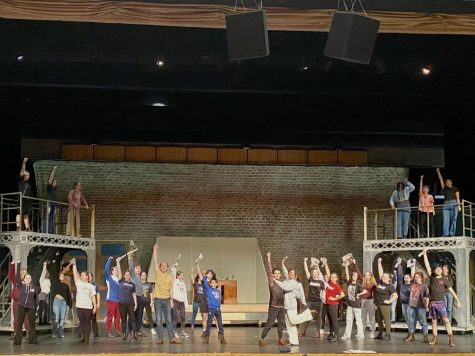 Theatre 308 can be described as a special space to many. Many students, like Sloan, "immediately fell in love with the feeling of being on stage" and she knew it "was a no-brainer to join 308 and keep doing theater," where she could continue to develop her talents. Not only are these students able to explore their artistic expression among faculty, advisors, and peers who want to support them, but they can count on the club for its sense of community. Sophie Curtis, a senior, loves the close group of friends she's made and the connectedness of the club. Curtis also appreciates the traditions that bring her and the other members together.
What's Been Difficult Throughout This Process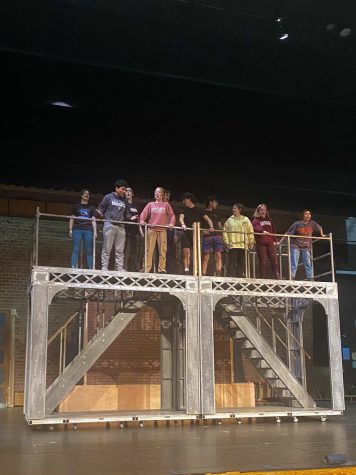 The performers can attest to how ambitious Newsies is, but despite facing challenges during this production process, the cast has proven to be a hardworking and dedicated group. For example,"on top of acting and singing I have to make sure I accurately and respectfully portray a disabled person," Sloan says. However, she is confident that, thanks to a lot of practice, it has gotten easier. Her commitment to her role has surely been a rewarding experience and will be all the more fulfilling on opening night.
Additionally, many of the featured members are learning tap choreography for the first time: "I have no tap training, but it's very fun," says Kennedy. Despite the initial difficulty, it is without a doubt that he and the others will deliver a great performance.
The club also had to work hard to master transitions between set changes. Lindell explained, "Because there's so much happening with people dancing simultaneously when the set changes, it's hard– the transitions are hard in between the scenes but I think we just need to practice them a bit." The performers came together and worked tirelessly to perfect the set changes, and deserve a full house for each and every one of their performances on March 16th, 17th, and 18th. 
Are you going to one of the Newsies performances?
Sorry, there was an error loading this poll.
Leave a Comment
About the Contributor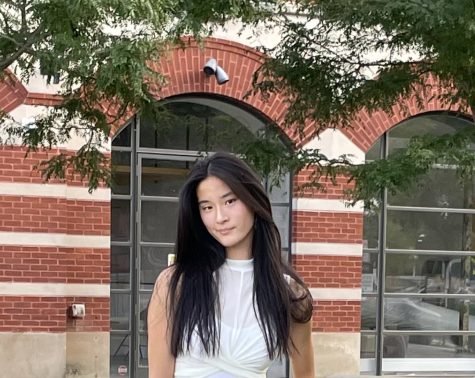 Fiona Bischoff, Journalist
Fiona is a junior and is excited to be joining the Neirad team this winter. She loves writing about the arts, popular culture, and student life. Outside...