The Mask Mandate Ends at DHS, Is it Safe?
The new "mask optional" policy leaves room for interpretation among students and staff
As of February 18, masks became optional at all public schools in Darien. After two years of mask enforcement in schools, saying goodbye to masks was exciting for a lot of students. Others have been more reluctant to doff their masks, which it is important to note that this is a personal choice.

This graph – updated daily – shows the trends in the pandemic in Connecticut. After a concerning spike in January, the number of new cases is plummeting. This downturn is also the case nationwide as more people become vaccinated and the pandemic slows down. This is one of the many reasons why the School Board made the move to mask optional.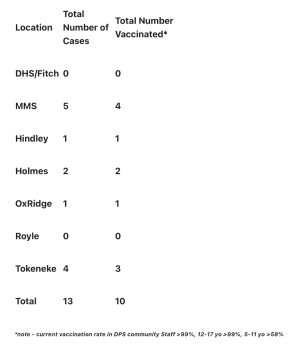 In a daily email sent to the parents/guardians in the District, Ms. Emily Merritt, the cting district COVID compliance officer, reported that zero new cases have been reported as of March 7. In the small print at the bottom of the image, it reads that vaccination among staff and students 12-17 is >99%. That is a huge number and will allow more activities that have been shut down due to COVID could be reinstated. The cafeteria is now open to all grades, for example, after Admin added more tables and rearranged the lunch schedules to manage the crowds.
Coming back from February break, the number of students and staff unmasked drastically outnumbered the masked students. Speaking with Ms. Colleen Plank, a registered nurse at Darien High School, she said, "It is everyone's right to decide for themselves whether they want to wear one or not and we would never want for anyone to think that our asking is in any way judgmental."
An important takeaway is that even while a majority of us celebrate the end of masks, we must always support the few who choose to wear a mask, whatever the reason.