Spotify or Apple Music: The Showdown
Which Music Service Reigns Superior?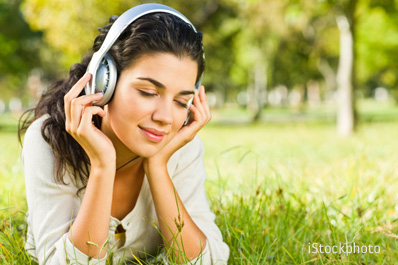 Music makes the world brighter, and I'm guessing, based on the amount of music streaming service users there are in the world, that many agree. Music will always be there for you if you let it. Whether you're working out, hanging out with your friends and family, or feeling down in the dumps, there's a song for everything, artists for everyone…and, a music service for everyone depending on what you look for while on your music listening journey.
Spotify and Apple Music are the two most popular services to stream/buy music these days. I know a lot of people who use Spotify, and I know a few who use Apple Music.
The question is – which is better? And is there a specific service you should be using that will fit YOU best? I have used both platforms religiously, and I'm now here to give you the full breakdown, including my personal music service choice in 2021.
Overview
Spotify:
Spotify came to be back in 2006, founded by Daniel Ek. It is centrally located in Sweden, but has 17 offices in many different countries. As of December 2020, Spotify had over 345 million active users and 155 million subscribers. The platform can be used on many devices (Android, Apple, PCs, TVs, Google Homes, etc.) and is currently available in most of Europe, most areas in the Americas, Australia, and parts of Africa and Asia. By the end of 2021, Spotify should hopefully be operating in 178 different countries. Spotify has more than 50 million songs on their platform.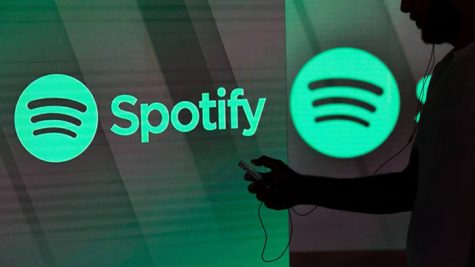 Apple Music:
Apple Music was released in 2015, and was developed by Apple Inc. It initially launched in 100 different countries. In April 2020, Apple announced that it would hopefully be bringing its music service to 52 more countries. In June of 2020, Apple Music had 72 million subscribers worldwide. The platform can be used with Siri, PCs, Apple devices, etc. Apple Music has more than 60 million songs available to their subscribers.
Winner: Tie. Spotify and Apple Music are so similar in this respect that there's no way to choose a clear winner, that is, unless you're worried about not having enough songs to listen to. In that case, consider Apple Music if you want an extra million or so. For the most part, though, that is not a big deal for most people, especially if your music taste is very niche.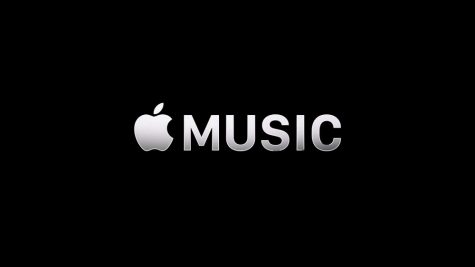 Plans and Pricing
Spotify:
With Spotify's free plan, you have access to their entire library of songs, but there are some annoying limitations. If you're someone who skips songs constantly, don't use the free version of Spotify, because you only get six skips per hour. If you're a free Spotify user, you'll also be forced to listen to repetitive ads every two songs or so. You also can't download music to listen offline, and sound quality is very low. The mobile version of Spotify free is the most limiting, only letting you play things in shuffle mode. The desktop version of Spotify free is slightly better – you can select any song you want, can skip back a track, and move to any part of a track, which you can't do on mobile. On a computer, ads pop up all over the interface. Regardless of these limitations, the free version of Spotify is a great taste of what the upgraded version is like…and it's 100% free! If you're not annoyed by ads or limited skips, and don't mind not having full control over your music in general, using the free version will be fine for you. For someone like me, who hates ads and the inability to listen offline, Spotify does a great job of baiting you into upgrading your account to escape the bothersome limitations of the free version of their platform, a smart business move.
The paid version of Spotify is called Spotify Premium, and there are all types of plans to choose from if you're interested in upping your Spotify experience. An individual account costs $9.99 per month. That may seem like a lot, but you're paying only 33 cents a day for access to all of Spotify's available tracks and tons of cool features. The duo plan costs $12.99 per month, and the family plan costs $14.99 per month. If you're a college student, you get a large discount and access to a few extra apps. The student plan costs $4.99 per month, and if you choose this plan, you also get access to Hulu (ad-supported plan) and SHOWTIME, which is a nice bonus.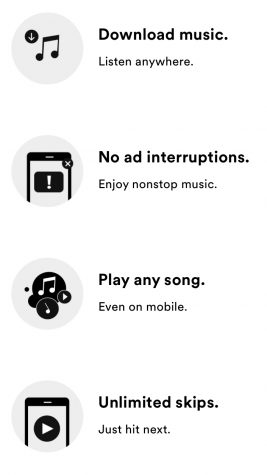 All Spotify Premium plans give you unlimited skips, the ability to skip to any part of a track you want or go back a track, the ability to download your music and listen offline, no ads, and the ability to choose any song you want, because shuffle mode is an option, not a requirement. Sound quality is also loads better. These terms apply to both computers and mobile devices. All Premium plans also include a one month free trial. If you use AT&T, you get Spotify Premium free.
Apple Music:
The "free" version of Apple Music is iTunes, which I'm sure everyone has heard of at this point. I put free in quotes because if you use iTunes, you still have to pay, just in a different way. While you're not paying $9.99 per month, per se, if you use iTunes you need to pay for tracks, which you can find in the iTunes Store. Tracks usually cost somewhere around 99 cents to $1.29. And that's just for one track. You get unlimited skips, no ads, and the ability to download music if you use iTunes. My favorite iTunes-only feature is the ability to import CDs right into your library. That's one way to avoid paying for tracks. Importing CDs is a hassle, but worth it if you don't want to spend a ton of money. With iTunes, you get access to Apple Music's generic radio station. If you're okay with these features, iTunes is a good platform for you, especially if you're not looking to discover new music.
If you're looking to move away from iTunes, the paid version of Apple Music is available to you. It has the same plans as Spotify, and they even cost the same amount of money. However, their student plan is a little less pleasing than Spotify's. Apple Music's student plan includes Apple TV as well as the usual premium-type upgraded features. Sounds great, right? Not so much. See, you only get Apple TV for a limited time. Apple Music includes access to radio stations, exclusive interviews, films, and music videos, as well as features similar to Spotify Premium. All upgraded plans include a 3 month free trial. If you use Verizon, you get Apple Music free.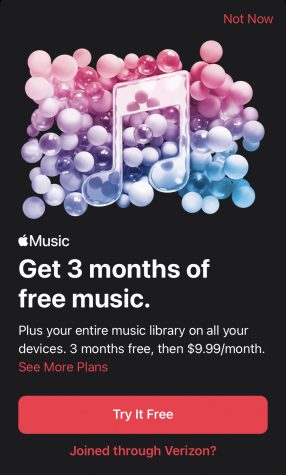 Winner: For me personally, Spotify wins. Since I'm not a college student, I obviously use their individual plan. However, I feel their student plan is better than Apple Music's. I don't need Apple TV, and I love Hulu. Although I do like the ability to import Taylor Swift CDs that aren't on streaming services to my library, Spotify's free version is better than iTunes. As annoying as its limitations are, you don't have to pay for anything, not even tracks. I don't need music videos or anything like that, either. YouTube exists! Apple Music does do a better job giving listeners a taste of their platform, as their free trial is a lot longer than Spotify's.
If you like music videos and the other film-related content Apple Music offers, you might want to consider using their platform. If you're interested in Apple TV rather than Hulu and SHOWTIME, that might be a factor in your choice as well. It's all a matter of what you want and need in your music experience.
Both platforms are pretty similar in terms of price and basic features, but Spotify takes the cake for me.
Quality 
Spotify:
Spotify's free version has very low sound quality, so if you switch to Spotify Premium, you will hear a major difference. If you're okay with mediocre sound quality, stick with the free version. In Spotify's settings, you can choose normal, high, or very high sound quality. Very high quality uses a lot of data, so if you're interested, you can set quality to automatic, so Spotify will choose the right quality for you based on your connection. You can also find an equalizer in settings.
Apple Music:
iTunes and Apple Music have very similar sound quality. However, Apple Music has a bit better sound quality than Spotify. Like Spotify, it also includes an equalizer in settings. If you don't know much about sound engineering, you won't need to bother with the equalizer on either platform.
Winner: Apple Music. As I just said, Apple Music's sound quality is just a wee bit better than Spotify's. Although they both include an equalizer, if you're not into sound engineering, you won't need to bother using it. If you want the best quality possible, consider using Apple Music.
Obviously this is once again up to your personal preference. For me, I don't notice differences in sound quality a ton, and I don't know how to use an equalizer. If either of these things matter to you, they might be a big part of your platform choice.
Artist Support
Spotify:
Spotify pays its artists between $0.003 and $0.005 per stream. So if you do the math, to make one dollar, you would need about 250 streams. The amount Spotify pays its artists per stream depends on their fan bases and distribution contract. For bigger artists who generate millions of streams per day, creating music for a living is obviously not going to be an issue. But if you're someone new to music looking to become a big artist and don't do something else on the side, things might get tight financially.
Apple Music:
Apple Music pays its artists about $0.00783 per stream. To make one dollar, you would need about 136 streams. A lot of artists don't get 100% of the money made off of streams, but they do get a cut, since the music being streamed is theirs. As stated above, a lot of factors go into how much artists are paid per stream, anything from where you live to how massive the artist is.
Winner: Apple Music. Apple Music gives their artists more support per stream than Spotify, obviously making it so much easier to make even just one dollar. If you simply glance at the numbers, it doesn't look like much, but in the long run, that extra bit of money per stream is a lot. To most people, this sort of thing doesn't matter, but if you're a listener wanting to give your favorite (especially smaller) artists the maximum amount of support possible, consider using Apple Music.
Design and Layout
Spotify:
Spotify's layout is AMAZING. On mobile, at the bottom of your screen, there are three tabs: Home, Search, and Your Library. On your Spotify home screen, you can find your most recently played songs, albums, artists, and playlists for easy access. If you keep scrolling down, you'll find things such as "Best of Artists," "Recommended For Today," and "Made For You" playlists, such as "Discover Weekly," "On Repeat," and "Release Radar." Spotify's search algorithm is also put together really well. If you're not looking for a specific thing, you can scroll through dozens and dozens of options, filtered by genre and mood. If you are looking for something specifically, Spotify does a great job of recommending the most relevant result tailored to you rather than just the most generic result. The library tab is also put together well. You can find your playlists and podcasts, songs you've liked, as well as your "Made For You" playlists if you've saved them there. Overall, I love the way Spotify looks. It's in dark mode, which is great for my needs because my phone is in dark mode. Spotify-generated playlists art is clean and consistent, and everything is easy to find and use. On the computer, things look a little different, but still organized. Most of the tabs you need are found on the left side of the screen. Just recently, after testing it for a while on a select group of profiles, Spotify launched a new desktop update for all users. The desktop UI is now more colorful than before, and it is easier to find things such as the discography of an artist. New desktop shortcuts make it easier to perform certain actions. The layout on both a desktop and a mobile device is stunning and user-friendly.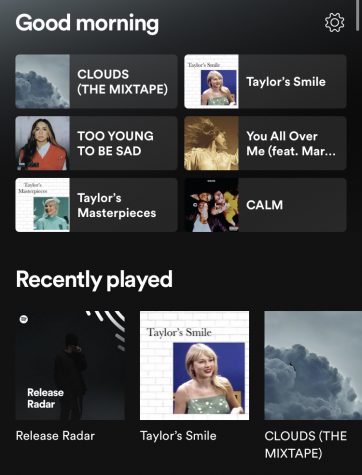 Apple Music:
Apple Music's layout is similar to Spotify's in some ways, but different in others. If you are using iTunes, there are tabs in your library tab that filter by genre, artist, and more. You can also easily find your downloaded music. You can also search by category in your search tab. However, both iTunes and Apple Music's layout don't feel nearly as clean as Spotify. The bottom of your screen on mobile features five different tabs: Library, Listen Now, Browse, Radio, and Search. It's easy to search for music and access radio stations, however I rarely use all the tabs available to me at the bottom of the screen. Sometimes I even accidentally click the wrong tab and get annoyed. iTunes and Apple Music's album and song artwork looks too large and clunky in comparison to Spotify, but the artwork of their "Made For You" type playlists is solid. The platforms can be used in both light and dark mode. I prefer dark because it doesn't hurt my eyes. On the computer, I find Apple Music and iTunes' layout to be even more cluttered and confusing.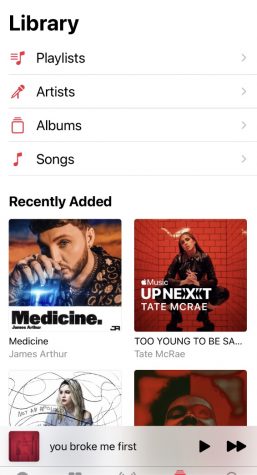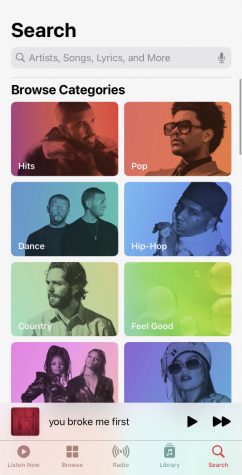 Winner: Spotify. Spotify has clearly perfected its layout, whereas iTunes and Apple Music's still need some work. I appreciate the fact that it's easier to find specific things such as your downloaded music, but Spotify is designed in a cleaner and better way, and things are so much easier to access. The size Apple Music and iTunes makes their album and song artwork is just way too big, and I find the layout of everything confusing. Navigating tabs can get annoying because there are so many. Spotify is so much more visually appealing, and everything from finding your playlists to searching for things is easy to navigate.
Layout and design really is up to what you like. If you love the way Spotify looks, great. If you like Apple Music and iTunes better in terms of layout, that's also fine. For me personally, I prefer Spotify's design, it makes me a whole lot less anxious when going to listen to some music or a podcast.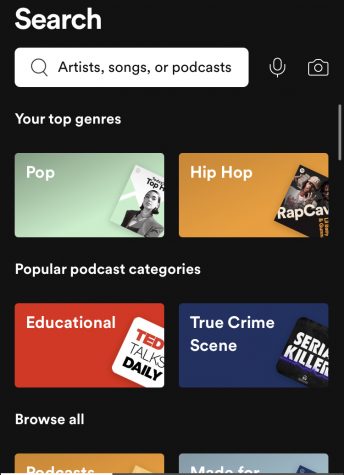 Music Discovery and Personalization
Spotify:
Spotify's algorithm works best the more you listen to things on their platform. The more you listen to, the better Spotify knows you. If you're a heavy listener, Spotify's algorithm will work flawlessly for you. Their "Made For You" playlists include everything you could ever want. Daily Mixes based on the artists you like, a playlist with songs you're currently obsessed with, a playlist chock full of music Spotify thinks you'll enjoy, a playlist of new releases from artists you follow and new singles picked for you, and even a playlist of songs you used to love, so you can go back in time. On top of that, Spotify's "Daily Drive" playlist includes a mix of songs and radio just for you. That's not even close to the full amount of personalized options they offer. Your Spotify home screen will also always look different than someone else's, because Spotify lays categories out for you based on what they think you might want to listen to that day. Radio stations are even catered to you. Even though it isn't live radio, Spotify's radio stations are unique because they're tailored to what you like, rather than just the world's most popular tracks. "Discover Weekly" and "Release Radar" playlists are on point, I always wind up loving about 3/4 of the songs Spotify thinks I'll like, so I've been able to discover new music that I love that I wouldn't have found otherwise.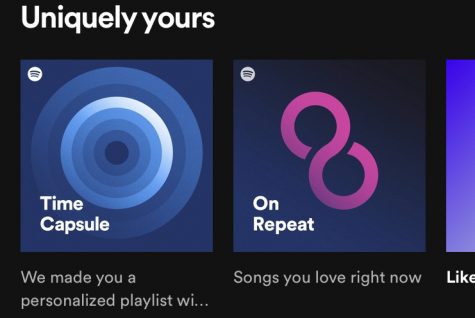 Apple Music:
Apple Music's algorithm is similar to Spotify's but it isn't as strong in terms of music discovery. Apple Music struggles to evolve with your music taste most of the time, and sometimes doesn't recommend songs you actually will enjoy. Obviously there are cases where its algorithm succeeds for some people, but in general, Spotify's is more high tech and does a better job finding you things you wind up enjoying. Where Apple Music beats Spotify is radio. While Spotify's radio is fun because it's personalized, Apple Music's is still live radio. It recommends stations and interviews with artists it thinks you will enjoy. Apple Music's personalized playlists are similar to Spotify's in terms of look and names, although their artwork doesn't pop out as much.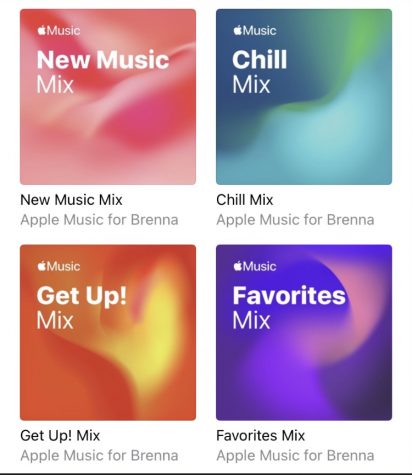 Winner: Spotify. Though I would enjoy live radio sometimes, Spotify still wins in this category. For me personally, Apple Music's algorithm doesn't stand a chance against Spotify's, it lacks the attention to detail that Spotify excels in. Music discovery is easy with Spotify, and the way it sets up your home screen is on a whole different level.
As I continue to say, it comes down to what you personally like. If Apple Music is recommending you music that you love and is personalized enough for you, using their platform is fine. The same goes for Spotify, if what they're giving you is working for you, great. However, I will say that Spotify is better if you're looking to discover new music, and Apple Music is best if you know what you want to listen to, so those can be factors in which platform you choose to use as well.
Unique Features
Spotify:
Crossfading: In Spotify's settings, you have the ability to turn on crossfade, so that songs overlap. You can set crossfade to anywhere from 0 to 15 seconds. The crossfade feature is great because if your songs overlap, your music never stops! It's great for parties because there isn't a pause between songs.
Collaborative playlists: If you're ever feeling like making a playlist with a friend or family member, Spotify has you covered. With the collaborative playlists feature, you can send the link to a playlist to other users once you select "Make Collaborative." This is great if you want to have a playlist full of songs both you and other people enjoy. You can even see who added what.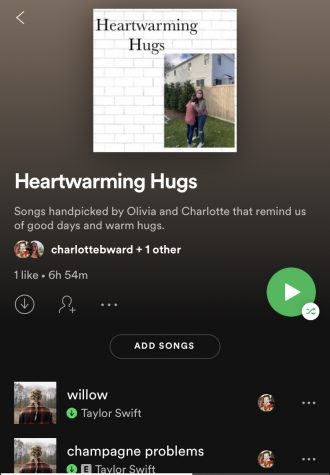 Group Sessions: If you and up to three other people have Spotify Premium, you can create a group session so all of you can listen to the same music at the same time. You can all add songs to the queue as well. You can do a group session if you're together or far away from each other. In a time of isolation, this feature is even more awesome. This feature is in the Beta phase, so it may not always work perfectly.
Canvas: In settings, you can switch the canvas feature on and off easily. For some songs, artists will record a vertical video to overlay over the song's title and artist, rather than just having the album artwork there. The same video does play over and over, and the canvas feature does drain your battery quickly, but it's a fun thing to have enabled if you like the vertical videos recorded by your favorite artists.
Powered By Genius: Spotify partnered with Genius to bring you some lyrics of songs and a little bit of the story behind them. This feature is kind of cool, but it isn't exactly worth having, because it doesn't show lyrics for the whole song, just parts, and powered by Genius isn't available for all of Spotify's available tracks.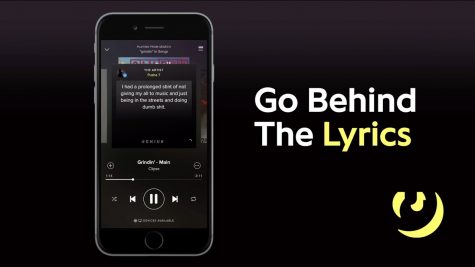 Spotify Singles: Spotify Singles aren't available on Apple Music, or any other music service, for that matter. Spotify asks some of their popular artists to record two songs exclusively for their platform – one cover of a song they like, and a new version of one of their own songs. I love Spotify Singles because it's something that sets Spotify apart from other services in the game, and typically the Spotify Singles songs are more stripped down.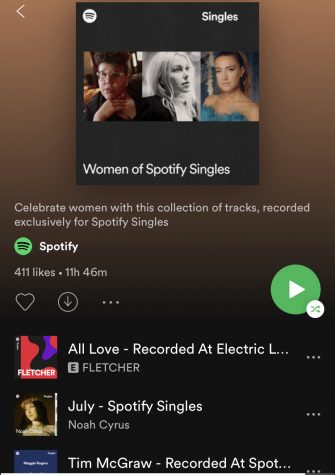 Podcasts: I know I briefly mentioned this earlier, but didn't go into depth. Spotify is not only a music streaming service but also a place to access podcasts. I love having the ability to listen to my favorite podcasts in the same place as my music. Plus, some podcasts are Spotify originals, and Spotify even has its own podcast maker app. If you want to be a podcaster, check out Anchor!
Concerts: If you're planning to attend a lot of concerts post-pandemic, Spotify can help you out. Based on the artists you like and the area in which you live, it will give you concert recommendations it thinks you will enjoy. Some of these recommendations consist of artists you already know, and some consists of artists you don't. This feature is great for frequent concert-goers.
Spotify Codes: Every song, artist, and playlist on Spotify has its own special code associated with it. If you use your camera to scan a code you see, you'll be taken directly to that song, playlist, or artist. This is such a unique feature that helps to give you easy access to your favorite music.
Remote Control: Spotify works with many devices, and you can actually control your music with one device while listening on another. For example, if I'm listening on my computer, I can control my music with my phone. This is such a cool feature, and I'm amazed by how much I use it.
Listening Activity: One of my absolute favorite Spotify features is listening activity. If you're using Spotify on a computer, to the far right of your screen, you can see what your friends are listening to in real time. This obviously only works if you follow people, but this is another great way to discover new music. It's fun to tell your friends that you can see what they're listening to at any given time.
Spotify Wrapped: Spotify Wrapped wraps up your yearly package of music and podcasts before each year ends. In your Wrapped, you can see how many new genres and artists you discovered, how much music you listened to, and your favorite podcasts, songs, and artists from that year. If you use Spotify a lot, this is an amazing feature, because it applauds you for your constant use of the app. I love seeing who my top artists were, especially. Spotify even puts your top songs of that year into one playlist for you to enjoy. Having to wait most of the year to see your Wrapped makes it even more fun and worth it. The layout of Spotify Wrapped is also visually appealing and entertaining, a huge plus.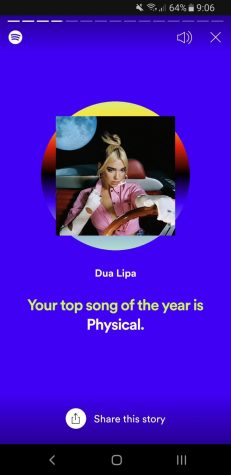 Apple Music:
Lyric Display: This is one of the features that sets Apple Music apart in the music service industry. For almost every song on their platform, you can see lyrics that move as the song plays. You can even click a certain lyric, and then Apple Music will play that part of the song. You can count on Apple Music for accurate lyrics, and I love the way their display looks on your screen. One of my absolute favorite features of the platform by far.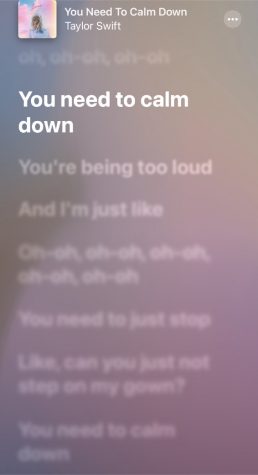 Live Radio: You have the ability to tune into live radio on Apple Music. There are more stations available to you on the upgraded version, but there is one generic station available to you if you use iTunes. You have access to exclusive talk shows and other content, and there are even stations that have today's biggest hits or new music playing throughout the day. I personally love the Zane Lowe Show! This feature is great for commutes as well.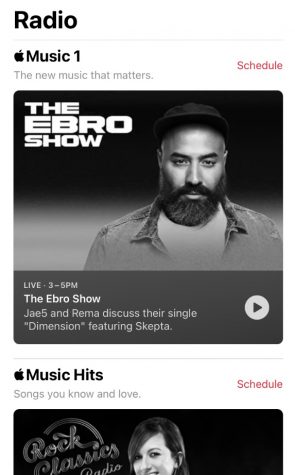 Exclusive Content: With Apple Music, you get access to exclusive interviews with your favorite artists, music videos, Up Next, and even mini films. Most recently, Apple Music released a mini film about rising star Tate McRae. With Up Next, you can see which artists are up and coming. You can even save music videos to your library, which is awesome.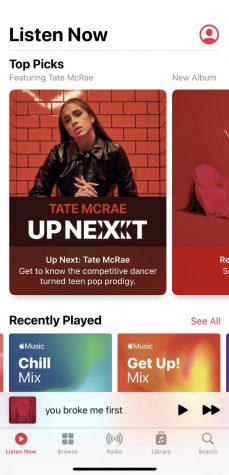 Descriptions: Apple Music's descriptions of artists and albums are insanely good, and as a writer, I really appreciate them. If you select an album or head to an artist page in Apple Music, you can see a lengthy, informative description of what you're looking at. If you're looking to learn about an artist on a deep level, Apple Music does a great job outlining their life and work. The same goes for albums. I love reading the way Apple Music describes my favorite artists and albums.
Yearly Replay: Starting in February, you can view your favorite songs and artists throughout the year. If you can't wait to see your stats, this is amazing because you don't need to wait almost all year. Yearly Replay isn't as in depth as Spotify Wrapped, but it's still a good feature to get a grasp on your most listened to material.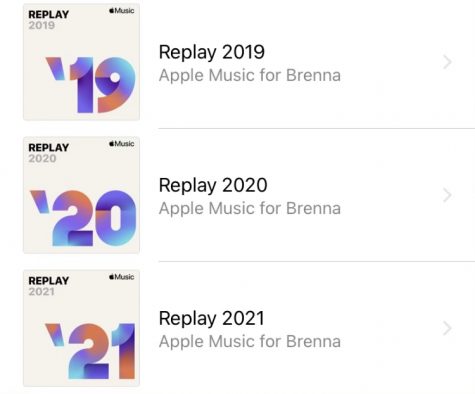 Winner: Spotify. If you're looking only at the amount of unique features available to you, Spotify is the clear winner here. If you're also looking at the way these features are executed, Spotify still wins. Stand-out features such as listening activity, collaborative playlists, and Spotify Singles make Spotify a force to be reckoned with. A lot of people don't care for the canvas feature, but I think it's a really nice addition to the platform. Apple Music beats Spotify in terms of descriptions of material and lyric display. If Spotify took away Powered By Genius and brought in lyrics, it would give them even more of an advantage.
The winner in this category once again depends on what you want and need in a music service. If lyric displays are a must for you, consider Apple Music. If you want to make playlists with friends and family, consider Spotify. For me personally, Spotify wins by a lot in this area, but it's up to what you enjoy.
The Final Showdown
In this section, you will find quotes from people who use either Spotify or Apple Music. They will explain which platform they prefer and why. If you're on the fence about which platform to use, these quotes from DHS current students and alumni will hopefully help you grasp what each platform is good for in your school community.
"On Spotify you can see what your friends are listening to and have tons of personalized playlists completely catered to the type of music you like. The vibe is just awesome and it is more of a chill and fun atmosphere." – Olivia Maniscalco, DHS alumni.
"I've just always used Apple Music and it's definitely a lot better now than a few years ago. I don't really know why I like it, I guess it's just what I'm accustomed to using, and since my music taste is kind of all over the place, it gives me good suggestions for what I like and new music to add to my already fifty hour long playlists." – Charlotte Corcoran, sophomore.
"Spotify lets me discover new music and make playlists. The ads kind of suck, but you get over it." – Jack Saucedo, sophomore.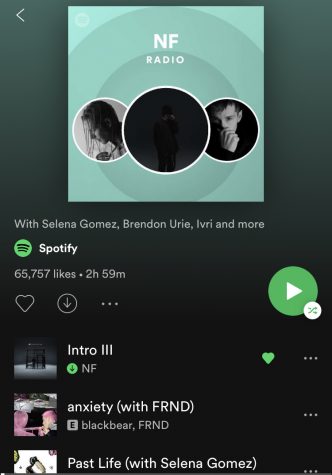 "I like Apple Music because of the ability to search for specific lyrics and pull up the song you're looking for. It's really helpful when you don't remember the name of the song, but can remember a few words of the chorus." – Avery Horn, sophomore.
"Spotify is more personalized, it makes you playlists and recommends you new songs from your favorite artists. In addition it works together with so many third party websites to give you even more interesting features that other streaming platforms just don't offer." – Desi Krasteva Gale, sophomore.
"I prefer Apple Music because premium on Spotify is a pain and the ads can get irking." – Lauren Lajaunie, sophomore.
"I love Spotify because of the wide variety of music and artists. It is super easy to download onto my phone and computer and I find myself listening to music a lot when I drive, do homework, or go for runs. I also love that Spotify has podcasts so I find myself listening to those a lot too." – Reeve Boeckmann, senior.
"I prefer Apple Music because it integrates more seamlessly with iPhone and it has tons of playlists, some for occasions and some that are made specifically for the listener. I also find the layout to be more aesthetically pleasing than Spotify, and I enjoy reading the detailed descriptions it provides about artists and their music. The lyric display feature is really cool, too, and being able to see how your Yearly Replay changes throughout the year instead of having to wait until December is more fun in my opinion." Brenna Kunz, sophomore.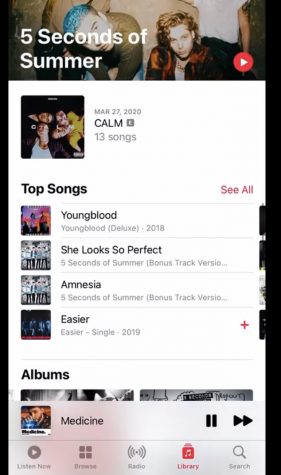 "I love Spotify because it's really easy to customize your playlists and the recommended music tabs are great for finding music that I wouldn't normally listen to." – Isabella Moss, freshman.
"Do Spotify." – Sophie Curtis, sophomore (when asked for a quote, Curtis decided to put a sarcastic spin on it and show her dislike for Spotify by pretending to be in favor of it. Curtis actually prefers Apple Music. She loathes Spotify with a passion).
The Verdict
If you've made it to the final verdict, give yourself a pat on the back, I know this was so long. But hey, it's the moment you've been waiting for! In this section, we'll briefly review Spotify and Apple Music one more time, and then I'll give you my personal music platform choice in 2021.
Spotify has made a name for itself since its founding in 2006, beating Apple Music in terms of release by almost ten years. Spotify has mastered an algorithm that is almost seamless, giving their users the ability to discover music they're almost guaranteed to love. Over the years, the platform has integrated amazing, one of a kind features that other streaming platforms, even Apple Music, have had trouble beating. Most features, such as listening activity, collaborative playlists, crossfading, and Spotify Wrapped are beautiful additions to the platform that I've enjoyed using immensely. Like anything in this world, Spotify has its fair share of flaws. Powered By Genius isn't necessary, and it lacks exclusive content that Apple Music provides, such as music videos and mini-films. These flaws, however, are small to most people in the grand scheme of things, and don't make or break Spotify, at least for me. The platform is easy to navigate, and is visually appealing, especially for people who use dark mode.
Apple Music has not come as far as Spotify. On top of their nine year late release disadvantage, their algorithm is not integrated as well as Spotify's. The layout of their platform is just too in-your-face for me, and it's oftentimes difficult to find what you're looking for. Aside from its flaws, Apple Music is a good platform, as it does have some very unique, useful features available to their users. The lyric display feature is out of this world, and its constantly updating Yearly Replay works well for some people. I also love their strong sound quality, and the interviews and radio shows it offers. The ability to have the platform in either light or dark mode is a smart way to tailor to all types of listeners. Apple Music also works better with Siri than Spotify. Although the tabs are clunky, you do eventually find what you need, even if it does take some getting used to. Their platform has come a long way…it's gotten so much better than it was when it was first launched.
It all comes down to preference, as I've said about a thousand times during this review. If you use Spotify and it tailors to what you need, then rock it. If Apple Music is what you love, don't bother switching platforms. I will say, once again, that if you're looking to discover lots of new music, Spotify might be a better fit than Apple Music. If your music taste is niche and you want to stick with the songs and artists you already know, the reverse is true. If you own a lot of Apple products, Apple Music would probably make more logical sense for you. If you use products such as a Google Home, you might want to consider using Spotify. If cluttered layouts make you anxious like me, you might want to use Spotify for a more user friendly experience. If you love big artwork and lots of tabs to explore, Apple Music may be the platform for you. If you want to pay your artists as much money as humanly possible, use Apple Music, since they pay their artists a lot more per stream than Spotify. If you love listening to podcasts and like it when your music and podcasts are located in the same app, use Spotify. If you like them in different places, use Apple Music and Apple Podcasts. If you love lyrics, use Apple Music for access to their lyric display feature. If you want to see what your friends are listening to, use Spotify so you can see listening activity on the computer. I could go on forever, but you get the picture: there are plenty of pros and cons to weigh for each platform.
Spotify and Apple Music are both good quality platforms, but there is one I like more after using both a lot. You can probably guess which one it is due to how much I've raved about it in this review, but if you somehow haven't figured it out yet, my personal music platform choice in 2021 is…Spotify!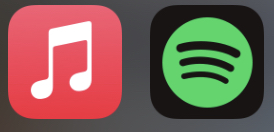 Everything from Spotify's layout to its special features is just perfect for my needs. I am an avid music listener, typically streaming songs for at least three hours a day. I also listen to some podcasts, so I love having my favorite shows and songs in the same app. I have discovered so many new songs I would not have found without the help of Spotify's algorithm, and listening to my "Made For You" playlists are some of the best parts of my day. Spotify fits me perfectly…heck, I already can't wait for my 2021 Spotify Wrapped, and the year only just started.
Thank you for reading this very long, in depth review of the two most popular music platforms the world today has to offer. I hope this gave you some insight into what platform might best fit you. After all, it's 2021, and after a terrible 2020, don't we all want the best we can get?