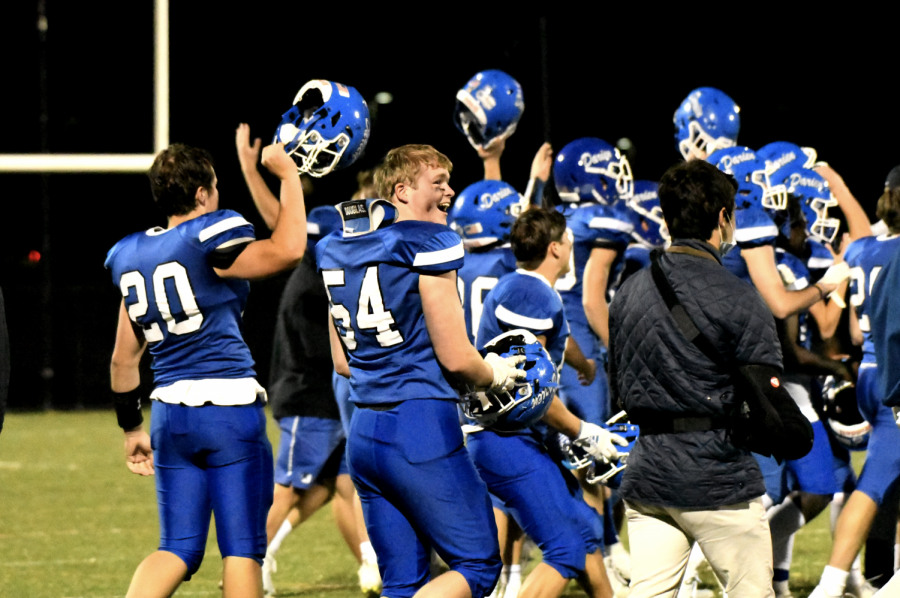 Turkey Bowl: a Tribute to the Thanksgiving Tradition That Was Very Different This Year
As we all approach the beginning of winter and the end of fall, a special holiday comes to mind. Thanksgiving – and at Darien High School, that usually means attending the classic rivalry football game against New Canaan more commonly known as the "Turkey Bowl." However, because of the strict sporting and spectator regulations put in place to prevent the spread of COVID, there was not the traditional Thanksgiving game day this year. However, the teams did get a chance to play one another earlier in the season without spectators. It is a great year to remember the good times and fun had in past years at this game.
The very first Turkey Bowl game was played in 1928, with Darien winning 26-6. The teams played on the grounds of Ox Ridge Hunt Club in Darien. This FCIAC game happens every Thanksgiving.
In an attempt to reconcile the DHS community during the Thanksgiving season while deprived of a traditional Turkey Bowl, I asked several members of the high school community what some of their fondest memories of playing and watching the Thanksgiving game were:
When asking sophomore Morgan Plank how important the Turkey Bowl was to the DHS community she said, "At least for Darien and New Canaan people because it's one of the most important games of the year, and to our family (as my brothers played), playing our rival is a very important and a special tradition." She exemplifies how the rivalry creates tradition – something that Darien football fans will definitely miss this year.
Captain senior Alec Washecka reflected on the game the Blue Wave played this year against the Rams – with a very different look compared to past year's Turkey Bowls saying, "The game means a lot to us and it means even more that we are seniors after losing the past three years. It was a great atmosphere. We couldn't have asked for anything more."
"
The game means a lot to us"
— Captain Alec Washecka
Senior Jake Wade was asked what the Turkey Bowl meant to him; he said, "The Turkey Bowl is the pinnacle of the season. It's everything. It can make or break a season and determines how the offseason will go. Playing is a surreal experience. Although this year there were no fans, I felt all the years of football and all the memories I had with all of my friends on the team flood back to me. Needless to say, it is extremely emotional." He was then asked about a memory from the Turkey Bowl, he said, "I have too many memories to count, but one that stands out is the practice after we found out [this year's] season was canceled. We all showed up early and sat reminiscing about our other memories and cracking jokes."
Many football players experienced an abrupt end to their season with a very different last game being played than probably expected. They have proven, however, that they are competitive and play with spirit regardless of the challenges that they faced this year – something powerful to witness during a time of so much change and adversity. The Turkey Bowl tradition lives on in the players and students of Darien High School – no matter in what form it is played!
Turkey Bowl: a Tribute to the Thanksgiving Tradition That Was Very Different This Year