What to Eat This Weekend: Five Last Minute Thanksgiving Dessert Ideas
November 26, 2019
Thanksgiving is just around the corner. Whether you're traveling or staying home everyone loves to eat! One of the most important parts of Thanksgiving dinner, other than the turkey, is dessert. Here are some of the tastiest and quickest desserts. Bon appetit! 
Apple Crisp Marzetti Dessert Mix: Some may make their own apple crisp, but If you're on a time crunch, Marzetti dessert mix is the way to go. It is basically an apple pie but easier and some may argue, better. All you need to add to the mix is apples and butter, you probably have some leftover from apple picking just last month, so this one should be extra easy.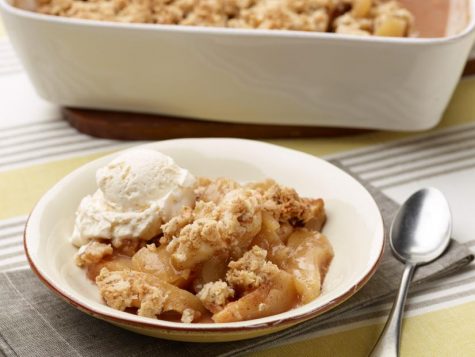 Prep time: 30 minutes
Bake time: 20-30 minutes
Ingredients:
Marzetti dessert mix

4-5 large tart apples (preferably granny smith, ida red, rome, Fuji, gala, empire)

5 Tbsp butter or margarine, softened.
Instructions:
Preheat oven to 350F.

Place peeled, cored and thinly sliced apples in ungreased 8 inch square pan.

Cut butter or margarine and put into dry mix until there is no powder remaining, and mixture is moist and crumbly.

Sprinkle crumb mixture evenly over apples.

Bake 20-30 minutes or until topping is golden brown and apples are tender

Serve warm.
Recommendation: Top with caramel dip or ice cream 
Credit: https://marzetti.com/products/apple-crisp-dessert-mix/
Pretzel Kisses: Best dessert idea for any occasion because no matter what holiday it is you can change out the M&M color, so if you're lazy like me you can just keep remaking this. 

Prep time: 10 minutes
Bake time: 2 minutes 
Ingredients:
Bag of Pretzels (Any of your choice)

1 bag of regular M&M's

Hershey Kisses
 Instructions:
Preheat oven to 350 degrees 

Place pretzels on baking sheet. Unwrap candy kisses and place one in the center of each pretzel.

Place baking sheet in preheated oven for 1 to 2 minutes, until kisses melt. Remove from oven and place one m&m in the center of each pretzel. Chill in refrigerator until set.
Recommendation: These are really good with ice cream or caramel. 
Credit: https://www.allrecipes.com/recipe/21169/chocolate-pretzels/
Pilgrim Hats: These take a bit longer to make than some of the other ideas, but these are super cute. Take the more traditional Thanksgiving route with these adorable and yummy hats. Chocolate lovers this ones for you!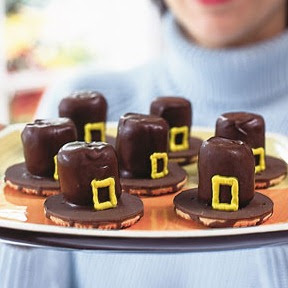 Prep Time: 15 minutes 
Bake time: 35 minutes
Ingredients: 
16 Keebler Fudge Stripes cookies

8 ounces chocolate-flavored confectioner's coating

16 regular marshmallows

Canned white frosting

Yellow food coloring
 Instructions: 
Place Keebler Fudge Stripes cookies, stripes sides down, on a baking sheet lined with wax paper.

Melt confectioner's coating according to manufacturer's directions.

Use a fork to dip marshmallows, one at a time, into candy coating, scraping excess coating from bottoms of marshmallows. Place one coated marshmallow on center of each cookie. Refrigerate for about 20 minutes or until coating is set.

Tint frosting yellow. Use to pipe buckle on each hat.
 Credit: https://www.kelloggsfamilyrewards.com/en_US/recipes/pilgrim-hat-cookies-recipe.html
Pumpkin Roll: Though it takes longer, I can assure you that this is one of the best options. It is creative and absolutely delicious.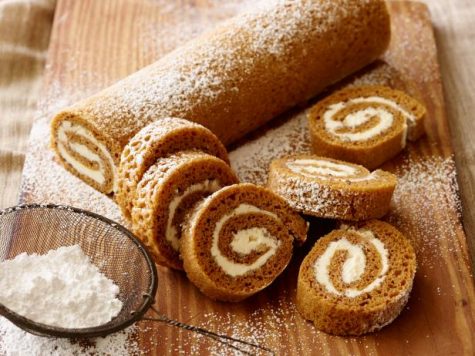 Prep time: 15 minutes 
Bake time: 15 minutes
Ingredients:
Two 3-ounce packages cream cheese, room temperature

1 stick butter, room temperature

1/2 teaspoon vanilla extract

3 large eggs

1 cup granulated sugar

2/3 cup canned pumpkin

1 teaspoon lemon juice

3/4 cup all-purpose flour

1 teaspoon ground ginger

1/2 teaspoon salt

1 teaspoon baking powder

2 teaspoons ground cinnamon

1 cup pecans, finely chopped

1 cup confectioners' sugar, plus more for sprinkling
Instructions:
Preheat the oven to 350 degrees F.

Grease and flour a 17 1/2- by 12 1/2-inch jellyroll pan.

With an electric mixer, beat the eggs, granulated sugar, pumpkin and lemon juice until smooth. Sift together flour, ginger, salt, baking powder and cinnamon.

Add the sifted ingredients to the egg mixture and blend until fully combined. Spread batter in the jelly roll pan. Sprinkle the dough with the chopped pecans.

Bake until a cake tester inserted in the center comes out clean, 14 minutes. Let the cake cool in the pan for 5 minutes.

Sprinkle some of the confectioners' sugar on a large tea towel and carefully transfer the warm cake to the towel, folding the sides of the towel over the cake.

Roll the cake up in the towel and cool in the refrigerator thoroughly for about 45 minutes.

With an electric mixer, combine the confectioners' sugar, cream cheese, butter and vanilla and beat until smooth.

Carefully unroll the cooled cake and spread the mixture on top of the cake.

Gently re-roll the cake up and refrigerate it until you're ready to slice and serve.

Dust with confectioners' sugar just before serving.
 Credit: https://www.foodnetwork.com/recipes/trisha-yearwood/pumpkin-roll-recipe-2102494
Pumpkin Cheesecake Dip: No time to bake? No problem! There is no baking required at all in this one.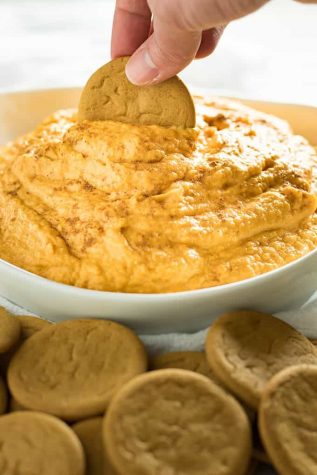 Prep time: 10 minutes
Bake time: 0 minutes
Ingredients: 
18 Ounce PackageCream Cheese,Softened

115 Ounce CanPumpkin puree 

1/3CupPacked Brown Sugar

1/3CupGranulated Sugar

1/2Teaspoon Pumpkin Pie Spice
 Instructions: 
In a large bowl, blend together the cream cheese and both sugars until fluffy.  

Mix in the pumpkin and pumpkin pie spice until smooth.

Serve immediately, or cover and chill in the refrigerator if serving later.  
Recommendation: This dip is great served with ginger snaps, pretzels, vanilla wafers, graham crackers, and fruit.
Credit: https://thesaltymarshmallow.com/pumpkin-cheesecake-dip/
If you are still stuck on an easy dessert idea even after reading this, I recommend a pumpkin or apple pie, you can never go wrong with pie! 
Which dessert are you going to try?
Sorry, there was an error loading this poll.