What to Eat This Weekend: DHS' Favorite Chicken Sandwich??
The feud between the Chick-Fil-A and Popeyes sandwiches  
October 25, 2019
On August 12th, 2019, Popeyes continued the feud with other fast food companies by launching a brand new chicken sandwich. Chick-Fil-A, which has nationally been rated as the best fast food chicken sandwich, now has its biggest competitor. The Popeyes sandwich features a buttermilk battered and hand-bread white meat chicken topped with pickles and Popeyes original Cajun spread. It is served on a toasted Brioche. 
Have you tried the Popeyes chicken sandwich?
Sorry, there was an error loading this poll.
People nationwide want to try the sandwich due to its extensive publicity. Within hours of the new Popeyes sandwich being on the shelves, it was sold out, leading many to wonder "what really is so good about this sandwich that has made it become so popular?"
I went to two different Popeyes locations to go try a taste for myself. Both restaurants had a sign posted that read "Be back soon" with no given date on when the sandwich would return. Employees also seemed to have no idea about when it will come again.
An article by People Magazine states that Popeyes is encouraging people to bring their own buns (BYOB) if they want to have a chicken sandwich. It's crazy how instead of making more, they are promoting people to bring a bun. If it isn't that hard to make the sandwich why won't they just add more? 
Many people have noted the size of the sandwich. The actual piece of chicken is bigger than anything that you will be able to find at Chick-Fil-A. You are definitely getting more of a bang for your buck with the bigger portion size. 
The cost of the Popeyes chicken sandwich is $3.99 which is the same price as the basic Chick-Fil-A sandwich that both come with pickles and, of course, a bun. 
Darien High School students have also voiced their opinions on the sandwich. However, not many have actually had the chance to try it because it is so difficult to find anywhere, especially in the area. 
"I love the Chick-Fil-A sandwich especially because of the sauce…it's what gets me every time" said junior Valeria Henao who had the opportunity to try both sandwiches. 
Henao felt that "the Popeyes sandwich was dry," saying that she is a "huge fan of the look, taste, and flavor of the Chick-Fil-A sandwich."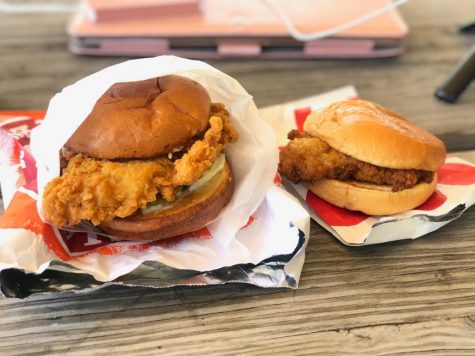 No one can beat the classic taste of the Chick-Fil-A sauce–it's just a favorite. 
Senior Flynn Woodring states that she "wants to try it but I haven't been able to get my hands on it." 
Other students like Woodring will not be able to have a taste of the sandwich because it is nowhere to be found. 
Freshman Ben Whyculis had a different perspective on it. He said that the "Popeyes chicken is crunchier and tastes better." Unfortunately for Wychulis, he will not be able to enjoy the sandwich anymore until the unknown return date.
This leads to the question, Will Chick-Fil-A lovers stay loyal to the company, or will they give in to the new Popeyes chicken sandwich?
https://www.instagram.com/p/B2T3kGGH0mH/?igshid=11jef7wlb44d7 
Here's a link to another Neirad article about fast food resturants! :http://neirad.darienps.net/1210topfiverestaurants.php