Run With The Saints: You're All Invited!
Gather Up Some Family and Friends and Get Outside for A Good Cause
This Sunday, November 3rd, St.Luke's Parish will host its fourth annual Run With The Saints fundraiser. 
Participants have the opportunity to choose between a 3 mile run, 1 mile walk, or kids run around Pear Tree Point beach. There will also be snacks and activities available after the run. 
Runners can pre pay for the fundraiser online. There are also further sponsorships available for either family packs (including meals), or recognition in Santa Cruz del Norte.  
All funds from Run With the Saints will allow cuban children to attend the National Episcopal Youth Camp next summer. Funds will also go to repairs necessary in the Cuban community center Parish that is paired with St. Lukes, Santa Cruz del Norte.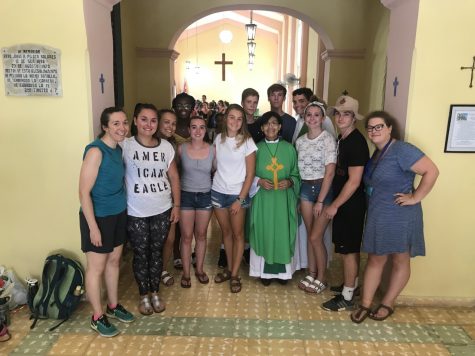 Back row: Students: Nicole Savage, Alexander Peters, Win Courtemanche, Derek Stefanovsky; front row: Katherine Vaillancourt, Sofia Bender, Miranda Wilson, Emma Hunter, Juliette Johnson, Bishop of the Episcopal Church of Cuba Griselda Delgado del Carpio, Octavia Molkenthin, Tom McGarty, and St. Lukes Youth Director Naomi Cunningham in Matanzas, Cuba    
Located east of Havana, Santa Cruz del Norte welcomes both youth and adult parishioners from St. Lukes each year. Recently, St Lukes implemented a filtered water system that created the first ever reliable water source for those in need there.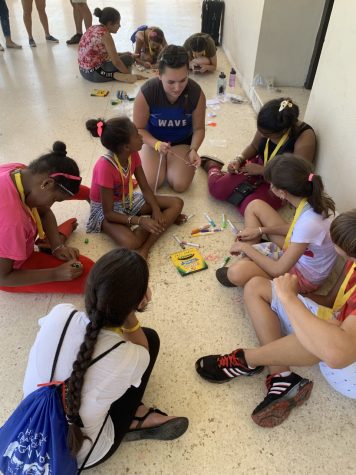 Darien High School Junior Sofia Bender teaches campers how to make ornaments.   
The following Darien businesses and organizations are thanked for all of their aid in sponsoring the event. First County Bank (lead sponsor) and Sails Bar & Grill (lead sponsor), Darien Plumbing & Heating, Flowers & Flowers, Jet Blue, Michael Joseph's, Monograms off Madison, Nielsen's Florist, North Star International Life & Leadership Coaching/Grief Recovery, Sandy's Cleaners, Ten Twenty Post, Verizon, Vineyard Vines and Williams & Company.