DHS says Goodbye to the Chinese Exchange Students
November 6, 2019
The China Exchange Program has continued successfully this year, having a stellar program with a dozen students involved.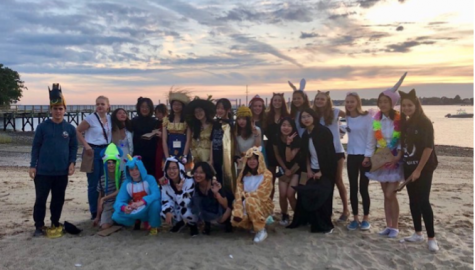 In 2018, the Chinese students were unable to come to the United States leaving half of the exchange program incomplete. Last year's trip was different from previous years, but the 12 Darien High School students were still able to go and experience China. 
Luckily this year 10 students and 2 teachers from the Shanghai Number 3 Girls School came to the US and spent some time with DHS students.
During their time in the United States, the Chinese students have participated in many different activities around DHS and taken part in quite a few field trips. Some of the trips they took while in Darien included apple picking and going to New York City. The students also all had an outdoor movie night and an early Halloween party to celebrate with the girls. 
In addition to taking different field trips, the CHEX students spent four of the days that they were here at DHS.
Not only did the students in the China Exchange class get to meet the girls, other students did as well.
Senior Megan Streeter shared "Not being in Chex, I found it a great way to connect with the exchange students when they visited my math class. Mr. Coppock planned a very interactive class, and it was fun to compare the way we learned with the way they learn back home."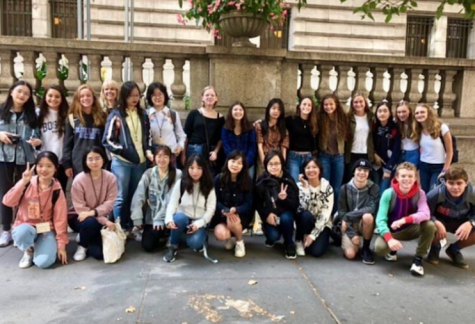 Mr. Coppock designed the class to perform numerous different math based experiments to see how the Chinese students did versus DHS students. The class used some of the skills that they had learned in class to represent the data they had found. 
The time they were here went fast. 
Senior CHEX member Emma Grayeb said that "The goodbye dinner was by far the saddest night."
The entire China Exchange Class, the teachers, and some staff members of DHS including Principal Ms. Ellen Dunn attended the dinner to send the girls off in a warm and friendly way. 
All good things must come to an end, and for some the end of their time across the globe. On Tuesday, October 8th, the girls departed from New York and caught the 15 hour flight back to Shanghai. They will be missed by all of DHS and especially the students who were able to bond with them. Sophomore Julianne Tietler, member of China Exchange said, "We stay in touch with them though, through Instagram, so whenever we miss them, they are a message away." 
The countdown is quickly decreasing. Only six months till DHS students go to China! 
Read about CHEX in the past! https://neirad.org/1604/student-life/neirad-gets-a-special-visit-from-china/