Monday, September 23: The Lorax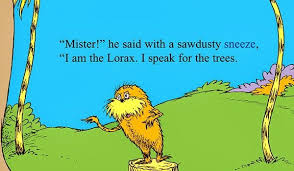 The Lorax. The rhymes of this fuzzy orange creature and his woodland friends have been speaking for the trees since 1971. However, several American school districts have tried their best to silence that message. In 1989, the Laytonville, California Unified School District attempted to remove The Lorax from second grade reading lists on the grounds that it showed an "unfair portrayal of, and criminalized, those in the logging industry." Furthermore, the line "I hear things are just as bad up in Lake Erie," was forcibly removed from the story after research associates from the Ohio Sea Grant Program undertook cleanup efforts at the lake. Comically, the National Wood Flooring Manufacturers Association took such offense to the novel that they published a parody, called The Truax, aimed at emphasizing the importance of the logging industry in terms accessible to children.

Dr. Seuss is a constant presence in the lives of American children, from elementary school bookshelves to AP US History political cartoons. It may be shocking to some, then, to learn that a plethora of Seuss's beloved children's stories have been both challenged and successfully banned. Particularly relevant to recall after Friday's environmentalist march is the ban of Seuss's

Visit the American Library Association for access to free resources, information on banned books, and a detailed history of censorship in America.