21 Going On 30?
Join Annika Florio as she takes on her new career!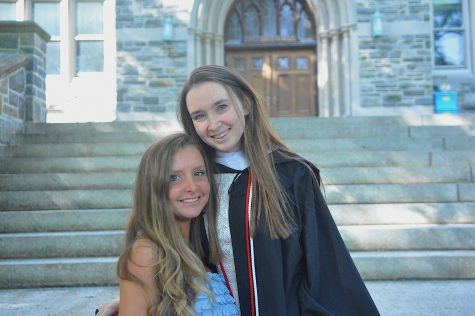 Graduate Annika Florio and the author at Fordham University
When she crosses the stage for her college graduation on May 18, 2019, my sister, Annika Florio,  will be kicking off her adult life in a slightly different manner than most. While many of her peers wait nervously in anticipation of change: a new job, a new lifestyle, new friends, the days following undergraduate commencement will be quite standard for her. Having spent the past two years working full-time for an esteemed sports marketing agency based in London while also being in school full-time, Florio has already had time to build her repertoire in the industry, developing brand strategy and integrated marketing campaigns for clients such as Netflix, Intel, Susan G. Komen, and Diet Coke.
New for her, however, comes in the form of an exciting new opportunity doing Partner Development for the Drone Racing League, which came about on the premise of DRL being an old client at her first job. The DRL is the world's first professional drone racing circuit, combining live sporting events, custom drone technology, and in-house film production to create the sport of the future. DRL hosts a global circuit of races, taking some of the world's most iconic venues and turning them into a real-life video game where the best pilots in the world compete for the championship title and prize money. As DRL's first Partner Development Coordinator, Florio will be responsible for the management of key partners and sponsors, such as Swatch, Allianz, BMW, and Lamborghini, to ensure their needs are met and contractual obligations are followed.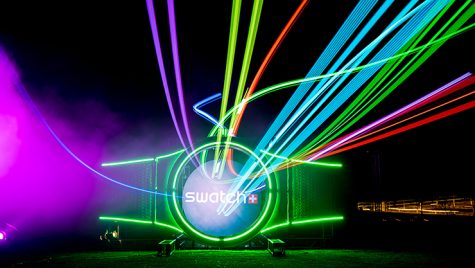 Drone Racing League Venue in Berlin, Germany
Her work will involve consistent communication with clients, management of internal teams – across Marketing, PR, Broadcast, and Event Production, and travel to all races. Past race locations have included Allianz Riviera in Nice, France, BMW Welt in Munich, Germany, and the World Championship in Jeddah, Saudi Arabia. Not to mention, she will be "attending a race in Singapore this December and later Cape Town in April," Florio said. She was pleasantly surprised when they told her "you must have a passport ready at all times and should be applying for global entry". Who wouldn't love to hear that? In 2018, DRL's broadcast viewership exceeded 85 million cumulative viewers on ESPN and Sky Sports, the UK's premier network for sports television. "DRL is broadcast in 90 countries and has accumulated over 2 million followers on social channels in its three years of existence," Florio said.
Florio continues to create a lasting impression on her family, as she sets the perfect example of a role model for her two sisters, Aislinn and me.
Her typical day in the city is harrowing, as her morning alarm is set for 5am as her work day begins at 8:30.  "I spend much of my day communicating with my sponsors, and managing internal projects" Florio said.
Being in the city for the past few years, she has grown to love New York City. She comes home from her daily commute only to tell us she's found yet another hobby that seems cooler than the last. One being Shadow Boxing: "One may describe it as girly boxing which of course gives you the excuse to buy a pair of vibrant, 'extra' boxing gloves," Florio said.
Our mother, Leslie Florio is exceedingly proud of her as she said, "She did it all on her own. Nowadays, I typically hear about parents stepping in, working connections for their children. I am blown away by the fact that she's gotten so far this young on her own!" Speaking for my entire family, Leslie acknowledges that "we are all jealous of her upcoming travels."
Florio's accomplishments are acknowledged by more than just her family, as her boss, Lisa Priesler speaks very highly of her. "I absolutely love being Annika's boss. Her new job will be a great growth opportunity for her. She will have the autonomy to make her role her own and truly build DRL," Priesler said. While I have met Priesler many times now, I see Annika becoming a mini Lisa. Priesler emphasizes their strong relationship as she says "she knows me better than I know myself and we have a ton of fun together." Not to mention, Florio and Priesler originally worked at Leaddog Marketing together, where they had their first encounter. Little did they know that they'd be happily following each other to their next jobs.
While Florio continues to move very fast (Literally, as she is on a plane to Berlin as we speak) through her life, more and more people idolize her every day. "Wouldn't it be nice living the life of Annika Florio," our sister Aislinn said.