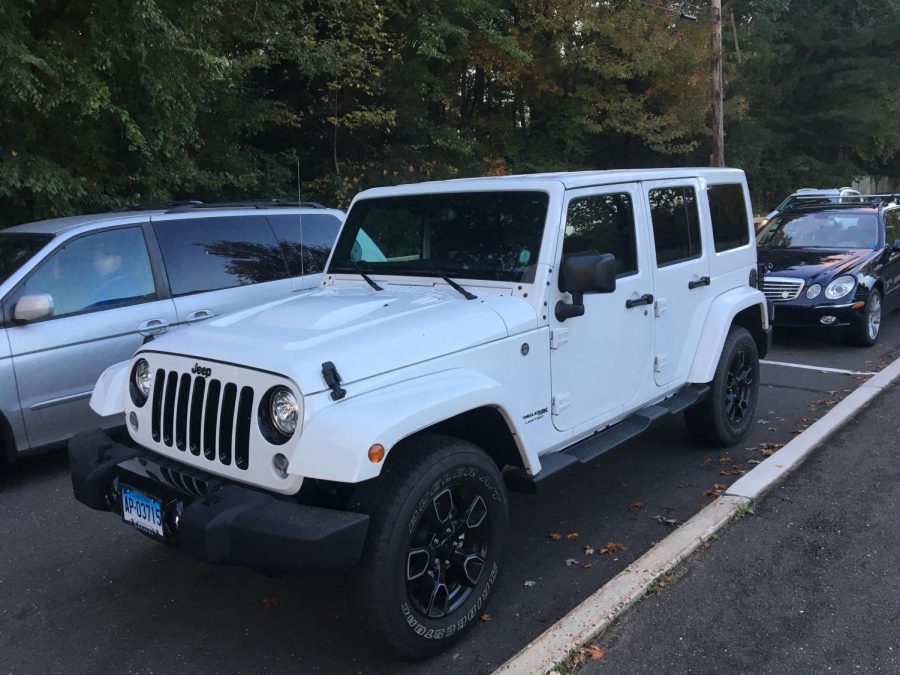 The Jeepidemic
For years, the Jeep Wrangler has had unprecedented success at Darien High School. How has it gotten to this point?
You know it as well as I do. Those seven bars lead the way of many an oncoming vehicle here on the grounds of DHS–it's the sign of an approaching Jeep Wrangler. These truly ubiquitous vehicles have infected the mindset of the greater Darien populace. More than three dozen are seen in the parking lot at one time. Why are they so damn popular here?
Well, on the surface, there is little to hate about these cars. Doors and roofs can be removed with little effort. Flat fenders and other surfaces are perfect for putting drinks upon. They have enough ground clearance for any spur-of-the-moment Nantucket excursion, and they are reasonably priced (by Darien standards).  They're large, too, so they seem to be safe. Or are they?
U.S. News and World Report declared the Wrangler extremely dangerous for teen drivers due to the risk of rollover accidents.  Their IIHS safety ratings are also somewhat lower than some would think (in the side protection, for example), the rating is only a 'Medium'). This potentially damning information deters few an eager 10th to 12th grader ready to drive something that's, if not unique, is certainly bitchin.'
"I think Jeep Wranglers are so well loved in Darien because it's a rather fun car and people in Darien have enough money to buy their kids the cars that they want," says Junior Wrangler driver Cole Branca, who has sufficiently modified his wheels as well.  "I added a paint job to it to make it look cooler–I specifically used Rhino paint. I added a light beam on top and two fog lights on the bumper, and then, most importantly, I put a large sub in the back for some added bass." Are his friends' fans of his upgrades? "My friends do appreciate the mods I have made; they think the upgrades are very cool and they also appreciate the sub because you can blast music in the car." These unique additions may make Branca's Wrangler stand out, but ultimately it is still one of many you can find at any given time in the school's lot.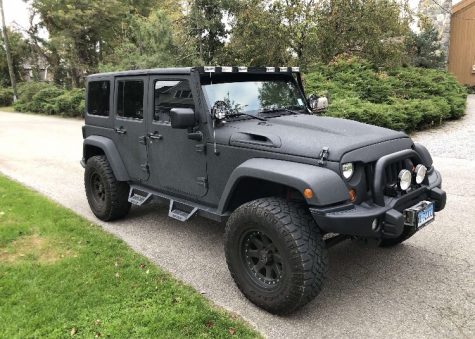 Senior Wrangler owner Abbie Lia sums it up more simply: "They are fun, easy to drive, and I like to take the top off in the summer.  Plus, most of my friends also have Jeep Wranglers." To the non-car enthusiast, it is hard to beat a Wrangler. With an automatic transmission, they're beyond easy to pilot, and a removable roof makes summer trips instantaneously better.
But what does a car enthusiast think of this example of the current Darien zeitgeist?  Freshman Quin Daly has an alternative take: "It's great to cruise around in the during the summer, but also brings the capability of real four-wheel drive in Connecticut snow.  I see the Wrangler as sort of basic, though, everyone has one, and they aren't as cool anymore as they once were.  I think my Toyota FJ40 Land Cruiser outclasses any Wrangler. It has all of the off-roading-top-down fun you want with something less common than anything wearing a Jeep badge."
For many, the Wrangler is to the road what Vineyard Vines is to the body–nothing else will satisfy.  While the alternatives are plentiful, it doesn't seem like the Wrangler will lose popularity anytime soon.
Interested in alternatives to a Wrangler?  Click below: