Imagine a show with nearly 50 characters, over 40 props, and 16 cast members. Yet, it all takes place around a singular table.
From November 16-18 Darien High School's Theatre 308 will produce "The Dining Room" written by A. R. Gurney.
"The Dining Room" consists of a series of vignettes representing the various struggles that humans have to face from marriage troubles to the complications of growing old and everything in between. Despite emotional, complex underlying messages, "The Dining Room" will also have its lighter, more comedic moments. The vignettes in the play take audience members on a journey through time periods, and one scene has even been slightly altered by Director and DHS Tudor Singers and Concert Choir teacher Mr. Christopher Andrade to make it take place in a modern-day setting.
Though the set consists primarily of a dining room table and a few chairs, this is certainly not a simple show to prepare, partially due to the unique seating arrangement. Rather than using the typical auditorium seating, "The Dining Room" will take place in the round. What this means is that the curtains will be drawn closed and audience members will watch the show in stadium-like seating on the stage itself. Therefore, the focal point of the show, the table, will be completely surrounded by seats. Some may recall a similar seating arrangement during Theatre 308's production of "Our Town" in 2018. Modern-day theatrical productions rarely provide immersive experiences quite like this. Audience members will feel as if they are in the scene with the actors and actresses, allowing for a more intimate experience overall.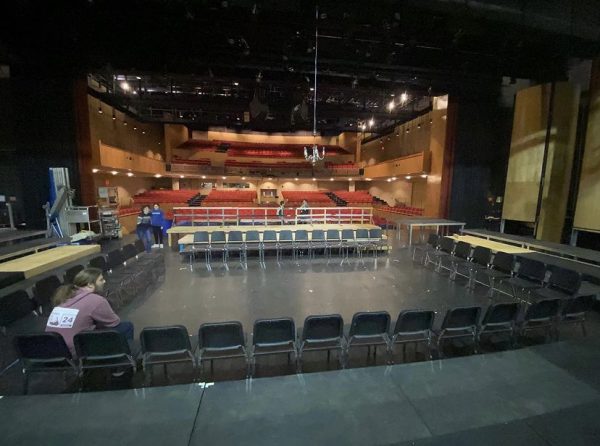 Undoubtedly the immersive seating will be a first for most of the actors and actresses in the production. When asked about her opinion towards the in the round element, Junior Marianne Tsocanos, who has served as the Stage Manger for countless mainstage productions, stated, "it's a much more intimate setting, making the audience feel right at home on stage. You feel like you're apart of the scene, reacting right along with the actors in the scene. The technical side contributes to this feeling as well, as the costumes, props, set, and lighting are all everyday color schemes."
Another unique aspect of "The Dining Room" will be the lack of technical elements. In an effort to preserve the intimate dining room feeling, microphones will not be used. Additionally, there will be minimal changes in lighting.
Above all else, "The Dining Room" is about relationships. Unlike many dramas where a singular person stands alone center stage and delivers a monologue, nearly every scene in "The Dining Room" features at least two people. It forces audience members to stop and reflect on their own lives as well as the conversations that are often held at their own dining room tables.
Regarding the message of the physical table and the room itself, Junior Lucy Best, an actor in the production, reflects, "I think that 'The Dining Room' is about how relationships are created and strengthened, or broken apart through the table…The dining room is such an integral aspect of the house and of people's lives."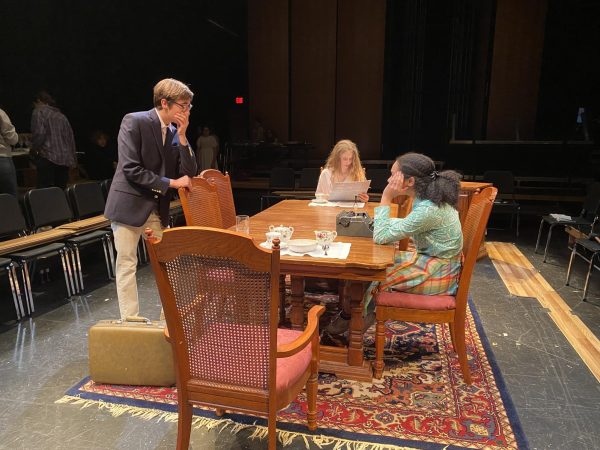 In a world consumed with technology, the simplicity of "The Dining Room," and the absence of technology in the storyline, provides a sense of comfort and warmth. Reflecting on the meaning of the show, junior Grace Sandoval, an actor in the production, describes, "I hope our audience leaves the show with a fresh appreciation of our interdependence and of the beauty and challenges of our social circles. With these reflections, the cast and I hope to renew peoples' value in community."
Performances will be held November 16-18 at 7:00 PM with an additional matinee performance on Saturday, November 18th at 2 PM. Due to the unique seating arrangement, tickets are limited, so make sure to get yours today on https://www.theatre308.org/