Come Join the Out of the Darkness Walk for Mental Health on Sunday, April 30th
It is not too late to join your community. The Walk begins at 10AM and at 9AM for walk-ins, if you did not register online.
5/1/23 UPDATE: The Darien Campus Out of the Darkness Walk has raised $30,907. That means it has exceeded the most recent goal of $24k and the initial goal of $5k. Since last Sunday, April 23rd, the funds that have been raised multiplied ten times. Stay tuned for information and photographs.
Join us on Sunday, April 30th at 10 AM at Darien High School stadium as families, friends, and peers march for mental health awareness and suicide prevention. Registration can be done online leading up to the event, or in-person at 9 AM at the high school. 
Darien High School is pairing with the American Foundation for Suicide Prevention to host the Out of the Darkness Campus Walk. The AFSP is a nonprofit, national organization. The organization holds signature student fundraiser series, such as this walk, where you have the ability to participate and show your support. Offline and online donations will go towards education (by bringing AFSP programs to schools), research, advocacy, and supporting those who have been affected by suicide and mental health crises. 
Things to know and how to get involved: 
Getting involved can take forms in many ways: Consider walking or volunteering at the event, sponsoring the event or an individual, or donating to the AFSP Connecticut Chapter. To those who plan on walking "Out of the Darkness" this Sunday, you have the option to walk as an individual or with a team.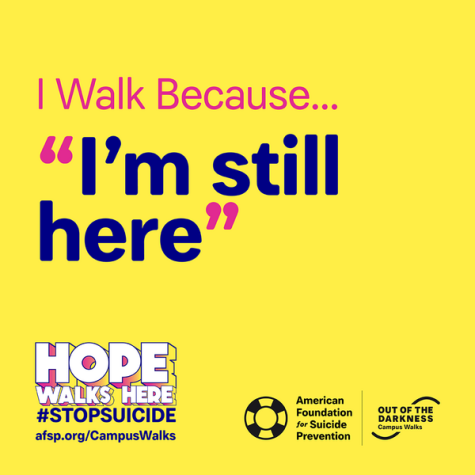 By raising money, teams have already paved the way for an increased ability to reshape how we view and talk about mental health in our local community; the day "lets others know they are not alone. It raises awareness and reduces stigma, which is the first step in creating a smarter culture around mental health in the United States," says the AFSP.  
Assistant Principal Ms. Kate Dimoulas is glad to be pairing with the AFSP, saying "working with an organization like the AFSP that is a leader in research and advocacy for suicide prevention— it's just really important work, I've been so impressed with the students that have showed up."
Joining a team is also a promising way to connect with a specific community within Darien. The teams participating in the Out of the Darkness Walk have already raised $3,610; this includes teams like Wave Strong, Blue Wave Boys' Lacrosse, Blue Wave Football, the DHS Admin, and Blue Wave Swim and Dive.
If not with a team, bring some friends and family members and head on over to Darien High School. Each person who raises $100 independently will also get an official Out of the Darkness t-shirt. 
Show your connection to the cause by wearing Honor Beads: beaded necklaces, each color signifying a motivation as to why someone is participating in the Walk. For example, blue beads represent one's support of suicide prevention while wearing teal is on behalf of supporting someone who struggles and/or has made an attempt.  Other merchandise can also be purchased. 
So far, sponsors and teams have raised $18,157. This amount has more than tripled since Monday, April 24th. This shines a light of only a fraction of what is to come on Sunday. It is your presence, uplifting energy, and love that can turn this anticipated potential into an admirable turnout of events.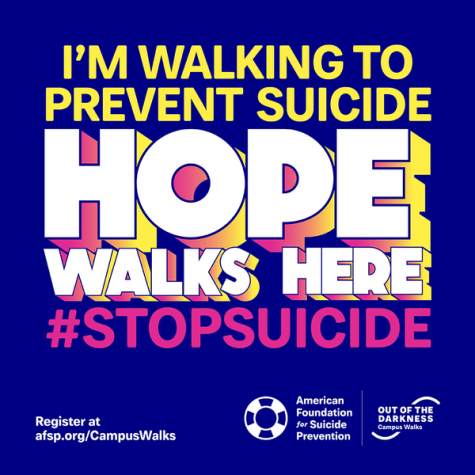 Why walk?
Junior Lucy Calvillo says she will be walking "in support of friends and strangers alike who are struggling." 
Meanwhile, Dimoulas says, "I think that it's courageous to stand up and say we're part of a generation of change that is actively working to remove stigmas and barriers for mental health support and access." She anticipates Sunday to be a day where the sense of community is truly present; A community that she along with others recognizes as a support group that "not just in the last year, but particularly in the last year, has focused on making Darien's commitments of taking each other clear and visible."
The Darien Admin and DHS students encourage you to attend. Dimoulas has hope that on Sunday, "someone who maybe didn't hear it clearly, or see it clearly," hears that Darien is affirming that message of care.

If you cannot be present on April 30th, you can still contribute to the cause via social media. Use your online presence as a message of hope or remembrance, perhaps. Social media shares can help build a stronger community and foster greater emotional connection between Darien residents. This can take form through inspiring others to come, or asking your followers to support you on your walk. Or, spread the word, by creating a video explaining why you personally are participating in the fundraiser.
Making positive change starts with the individual, but is echoed by the community: "Our community feels this cause very deeply— it's not just that we feel it professionally, but I think we all feel it personally the same way that [each of the DHS students] do," says Dimoulas.
To register and for more information, visit the site here, or email [email protected].