DHS implements new mental health initiatives to help students recharge from daily stresses
Students' ability to relax and unwind is taking priority at Darien High School with the creation of the Wellness Center and Wellness Weekends.
The Center will be open during all lunch waves and run by counselors and other staff members.  Tea, hot chocolate, coloring, crafts, puzzles, board games, fidgets, zoo cams, and more will be available.
"Meghan Emanuelson, our director of guidance, spearheaded this [the Wellness Center], and she had heard about other high schools that had Wellness Centers and thought it was a fantastic idea," school counselor Kaitlin Stanton said. "Our [Wellness Center] looks a little bit different than other models out there because it is built with our students in mind and what they might like."
This is a pivotal step that DHS has taken, a move towards trying to further help students and their wellbeing.
During the week of September 19, the Center first welcomed students and staff for an open house to introduce them to the new space.
That week, students were invited to stop by to see the space and grab a treat.  Filled with comfy chairs and activities, the Wellness Center is a cell phone-free space for students to recharge.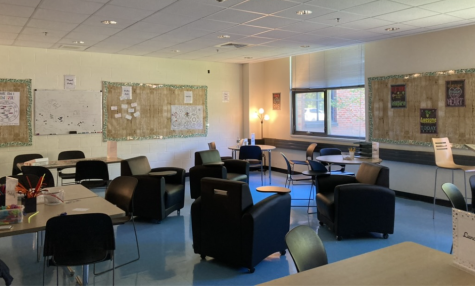 "If they continue to advertise the way that they have, even if [The Wellness Center] impacts a small group of students, I think that's still worth it," history teacher Catherine Fulton said.
In addition to the new Center, several Wellness Weekends will be held throughout the year.  During those weekends, students will not receive homework that is due those days or have assessments on those days.
"In the same way that we practice playing our instruments or our sports, we must practice healthy habits and decision making that protect our mental health and wellbeing," Principal Ellen Dunn said in her email to students.
The Wellness Weekends are a new change, something students and teachers alike need to adjust to.  Teachers have to plan their classes accordingly, being mindful of the Wellness Weekends.
Meanwhile, students reacted in different ways to the first Wellness Weekend. 
"I love the Wellness Weekends because there isn't homework and I can spend time with friends," Owen Heffron '26 said, "and it's better for my mental health because I'm not stressed out."
On the contrary, other students became more stressed due to having multiple assessments in the two days following the first Wellness Weekend.
"I didn't like the Wellness Weekend because now I have five tests in two days instead of having them spread throughout the week," Shea Ward '26 said.
Although the initiatives might not solve every problem, they're a step in the right direction.
"There's not one particular thing that we can do, there's not one event or one program that we can set up that is going to shift that culture," Stanton said. "It's going to be all of the little things that build up to help students and help them feel the support that they have here and be okay."