My Top 10 Favorite Songs Released This March
March of this year has been a very robust month in the music world, so I compiled a list of my 10 favorite tracks of the month
With the start of a new month comes one of my infamous monthly favorite songs playlists on Spotify. Creating playlists that document my favorite songs over the course of a given month is one of my favorite parts of being an avid music listener, and March of this year was no exception.
I always seem to find good music to add to my monthly playlists, but this month in particular has been chock full of incredible music releases from a variety of different artists. My March 2023 favorites playlist is the longest of my monthly playlists to date, clocking in at almost 3 hours long.
To celebrate the amazing songs in my playlist, I compiled this list of my top 10 favorite songs released this month.
10. Raincatchers – Birdie
British artist Birdie is most well-known for her deeply moving cover of Bon Iver's song Skinny Love. After skyrocketing to fame at a very young age, Birdie eventually took a hiatus from music.
On March 7th, she returned with her new single, Raincatchers. This song is a dramatic and emotional piano-based track with a dark aura. Birdie sings about losing and then regaining her inner child with deep and well-crafted lyrics. "Here in my dreams, we're raincatchers / Come back to me like it was before," she sings.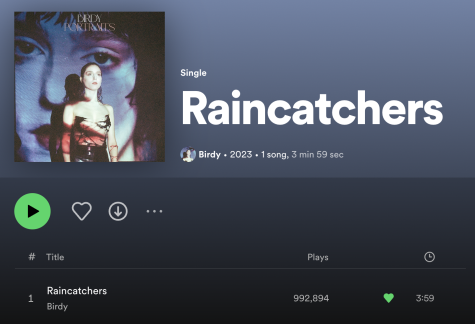 The song's lyrics, combined with its heartfelt and relatable message, makes it worth your listen. Raincatchers is a wonderful comeback for Birdie that gives her listeners a taste of the promising era in her career that is to come.
9. YOU AGAINST YOURSELF – Ruel
While Ruel's music has gained well-deserved traction over the past few years, he is still an underrated and up-and-coming artist. On March 3rd, he released his new album "4TH WALL" which is comprised of quite a few standout tracks.
My favorite of those tracks is YOU AGAINST YOURSELF. It is a catchy pop song that, while it may seem a bit formulaic, is put together well and is enjoyable to listen to. In the song, Ruel sings about wanting to help someone through their problems, but he is unable to because that person has their walls up too high and is trapped in a conflict of their own making. "Selfish ways are suffocatin' / I can't save you now / Oh, why's it always you against yourself?" he asks.

This song may not have the strongest lyricism, but its catchy production increases its strength and musical value.
8. Nothing To Lose – Hunter Metts
I first discovered indie artist Hunter Metts on ABC's American Idol. The second Metts walked onto my TV screen, I was enthralled by his down-to-earth personality and his authentic songwriting and vocal ability. Metts left the show after placing 7th, and has since been releasing music for his devoted fans to enjoy.
His most recent release is the powerful Nothing To Lose. In his typical fashion, Metts combines impressive lyricism with a laid-back, acoustic production. The song is a beautiful example of that slow and quiet indie-folk sound that so many listeners know and love. The song is about trying not to lose someone that you love, especially when you struggle to tell them how much they matter to you. Metts is able to paint a visual for the listener through this song's lyrics as he sings "Cause I need you like water / And I'd never tell you / If your love was the rain / Oh I'd lie on the roof / The harder I try / The more you slip through / So I'll hold you like there is / Nothing to losе."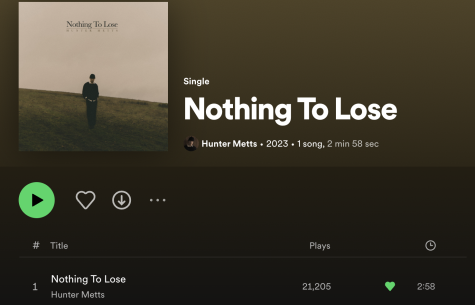 Metts and his music deserve more recognition, and Nothing To Lose showcases his artistry beautifully and thoughtfully.
7. Love Come Back To Me – Phillip Phillips
You may also recognize Phillip Phillips' name from American Idol, where he captivated viewers and listeners with his authenticity and refreshing sound. He then went on to win the show's 11th season.
Phillips has released music a bit sporadically since his time on TV, but he has recently re-emerged with several quality tracks that encompass his incredible talent. The most recent edition to Phillips' discography is the heart-wrenching Love Come Back To Me. The track is piano-based, spotlighting his raw and recognizable vocals. This combined with well-crafted lyrics makes for a searingly painful look back at a love that fell through. "Love, how I'd let you move through me like a whisper / Paint me in the corner of your picture / It's all so bittersweet / Love, come back to me," Phillips sings.
Love Come Back To Me is the perfect song to bring Phillips back into the musical spotlight, while at the same time reminding listeners of why they fell in love with him in the first place.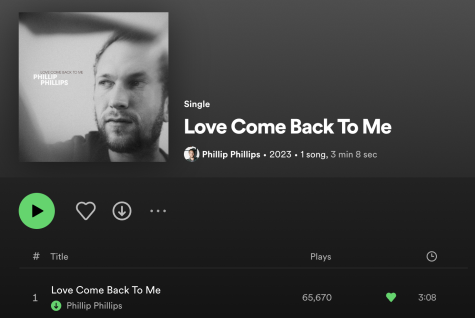 6. Stay Anything – Chelsea Cutler
Chelsea Cutler has become one of my all-time favorite artists over the past few years. I am always captivated by her songwriting ability, and am frequently impressed by the fact that, despite the noise of other artists around her, she remains true to herself.
Cutler's most recent release is Stay Anything, an emotional track about reaffirming your belief in a relationship. The song's vulnerable lyrics make it another track that is simply authentic Cutler. It production is simple but encompasses some buildups and climaxes that keep the listener engaged. The song's message targets most audiences and is relatable and captivating. "'Cause I choose staying up to fight than sleeping here alone / I choose you a hundred times before letting you go," Cutler sings.
Stay Anything is a welcome edition to Cutler's discography, as it gives listeners a taste of the authentic new music that she may be working on.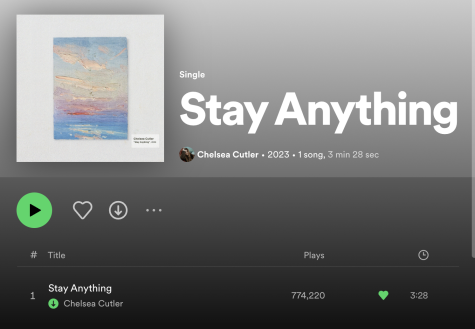 5. Freezing – Mimi Webb
Mimi Webb's incredible single House On Fire was my most-played song of 2022, and for all the right reasons. Webb is an up-and-coming pop music queen with a distinct voice and sound. Her new album "Amelia" is full of top-tier tracks, and while the vast majority of it is happily sitting in my March 2023 playlist, one song from the album stood out to me the most.
Freezing is a track that is simply pop perfection. Its lyrics are strong, but its best aspects are its production and catchy element. This song is guaranteed to get stuck in your head for days, and rightfully so. Webb sings about a love that is not heading in the best direction, which is not necessarily the most original topic for a song, but is one that makes the track relatable and easy to listen to. "Count to three, you'd better believe / I've shut that door and swallowed the keys / I said that we'd chill, then I ran for the hills / If I was cold, then now I'm freezing," she says.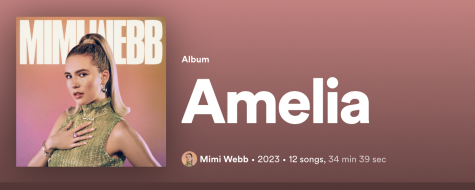 Webb definitely will have an amazing future ahead of her in the music industry. She is a distinct artist with so much potential, and Freezing (along with the rest of her new album) proves that.
4. leaving home – Camylio
Camylio's single monsters is one of my favorite songs of all time. Camylio is an underrated artist who is dripping with talent. He has a voice and sound that is distinctly his, and he continues to impress me with every new song he releases.
His most recent release is the tear-jerker leaving home. I found the timing of its release to be incredibly ironic…I will be leaving for college in just a few months, and this song is very fitting for the occasion. When I pressed play, I was not prepared to cry, but I should have been. I was tearing up by the end of this song's first verse. Camylio sings to his parents and family, telling him that while he is ready to go out into the world, they (along with the place he grew up) will always be his home. leaving home is a powerful piano ballad with incredible lyrics to accompany the track's production. "Now that I'm leaving home, I need you know / That I'll still call on Sunday mornings / Can't look in your eyes or I'll change my mind / So I wrote it all down for you / In this little note, I'm giving you hope / That no matter where I go / You'll always be my home," he sings.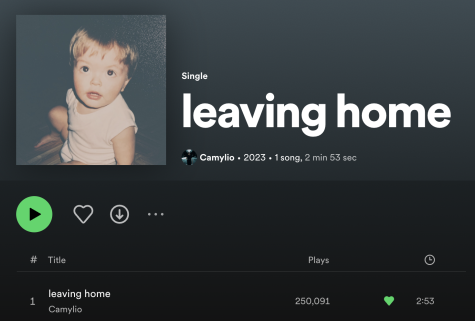 It may be worth sending this song to your family to show them you love them, but be warned, you'll all be crying when you hear it. leaving home encompasses the meaning of music, with its heartbreaking lyrics and emotional (and relatable) message.
3. Herringbone – Greyson Chance
When one of my close friends recommended that I give Greyson Chance's music a listen, I never imagined that he would become one of my top three favorite artists, but here we are. Chance shot to fame after his amazing cover of Lady Gaga's Paparazzi went viral when he was just twelve years old. After taking a long break from music, Chance returned to the industry as an adult, bringing his incredible talent back with him.
Herringbone is Chance's most recent release, and is the first song from the deluxe edition of his most recent album. If I wanted to recommend some of Chance's songs to someone unfamiliar with him, this would definitely be one of my choices. It is raw, emotional, and vulnerable, and is produced in a unique and well-put-together way. Chance sings about giving a lost love his herringbone, a precious part of him, as a farewell gift. Herringbone showcases Chance's incredible vocal and songwriting ability while staying authentic to his beloved artistry. "Waiting herе for you to hold, my purpose, I suppose / I wish that you would give it up, and bring my hеart back home," Chance sings.
This song's emotion combined with its strong lyricism makes for a standout Chance track, and song in general. While Chance's music still has not getting all of the recognition it deserves, this beautiful song will get him one step closer to that point in his career.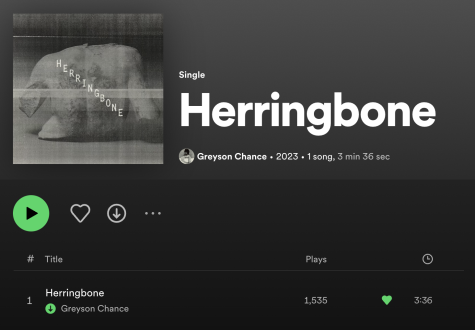 2. MOTTO – NF
Nathan Feuerstein (NF) is my second favorite artist of all time, and is, in my opinion, one of the industry's most true and authentic rappers to ever walk the planet. After an almost two-year musical hiatus, Feuerstein recently announced his forthcoming album "HOPE," which is set to release in April.
MOTTO is the album's second track and second single, and it is nothing short of incredible. While it doesn't have as deep a message as some of his other songs, it is still a banger from the very first second. Feuerstein sings about coming to terms with the fact that he will never be the most recognized artist out there, and the road he took to learning how to be okay with that fact. MOTTO encompasses classic Feuerstein flow switches and may very well be his most cinematically-produced song yet. The song uses strong beats and powerful instrumentals to convey Feuerstein's message, and it does so flawlessly. "Might catch me at the award show / Eatin' popcorn in the back row / Catchin' Zs with my hat low / No nominations, but it's cool though," he raps.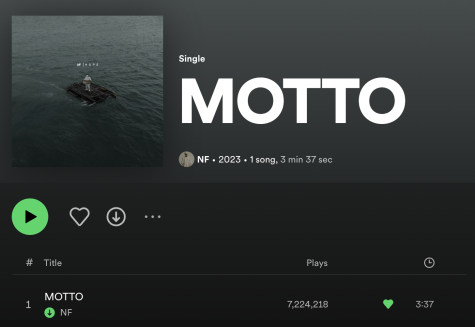 MOTTO is one of my favorite of Feuerstein's songs. It is catchy, has a valuable message, and showcases his talent in the rap genre. Most importantly, it gives listeners a glimpse of Feuerstein's new musical path ahead of his new album's release.
1. All Of The Girls You Loved Before – Taylor Swift
Well, you probably saw this coming…The world's biggest Swiftie has ranked Taylor Swift's newest song at the top of her March favorites list. Swift is my all-time favorite artist, and she is one of the best songwriters and performers of our time. It's impossible to go though life without hearing her songs constantly, even if you aren't a massive fan.
Ahead of the start of her Eras Tour, Swift released three re-recorded tracks of previously released songs and one brand new track as a gift to her fans. That brand new track is the adorable All Of The Girls You Loved Before, originally written for her 2019 album "Lover." This song is the "Lover" version of the "folklore" track invisible string. Conceptually, the songs are very similar, as they both talk about how fate will eventually lead you to your soulmate and lover. All Of The Girls You Loved Before focuses on Swift's partner's former love interests and how they helped make him into the person that she eventually fell in love with. The song's lyrics and production are both extremely heartwarming, and the song has been stuck in my head constantly since its release. "All of the girls you loved before / Made you the one I've fallen for / Every dead-end street led you straight to me / Now you're all I need, I'm so thankful for / All of the girls you loved before / But I love you more," Swift sings.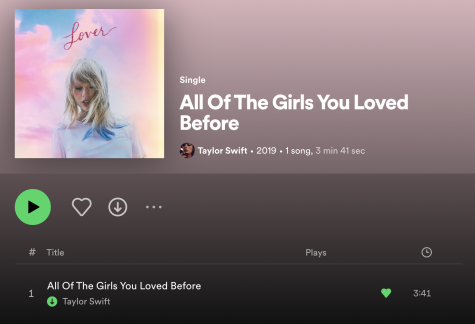 I cannot believe that this song did not make the original "Lover" track list, but I am so thankful to have it to listen to now. Swift continues to churn out masterpiece after masterpiece, and I am eager to see what else she has in store for us.
My top 10 favorite March music releases cover a wide span of lyrical messages, productions, and genres. While every song on my list is different, one thing ties them all together: they are all incredible examples of music that are worth your listen.
To view and listen to my entire March 2023 favorites playlist, click here.