Darien Thriving Youth Task Force Works to Amplify Teenage Voices
With help from the organization, Darien teens have provided perspective on life as a teenager in Darien
Darien leaders are teaming up with teenagers in our community to amplify their voices and bring their perspectives to light.
The Darien Youth Community Conversation, organized by Darien Youth Task Force adult representatives Emily Larkin, Allegra Erickson, and Susannah Lewis, aims to give Darien teens a forum to provide their commentary on life in Darien. The Thriving Youth Task Force will bring that commentary forward to parents, educators, and other adults in our community.
On Sunday, November 20th, a group of roughly 30 teens met at the Darien Library with four Darien organization leaders, teen librarian Mia Orobona, and social worker and moderator Debra Hertz. The students chosen to participate were nominated by the leaders of their respective organizations. No parents, teachers, coaches, or other adults were present. The session consisted of icebreaker activities, open conversations prompted by discussion questions, and other activities that encouraged meaningful conversation.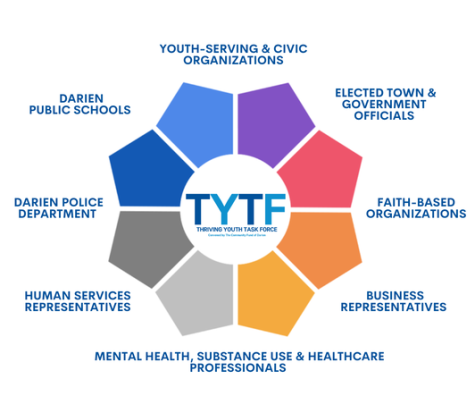 "This is an opportunity for [teens] to share what it's like to be a teenager in Darien. The goal is to collaboratively identify solutions that will make a difference and improve [participants'] experience[s] as a teen in Darien," Larkin wrote in an email to participants prior to the event.
The event aimed to ask deeper questions, such as: What is life like as a teen in Darien? What do you wish community members knew about being a teenager and what do you wish they did differently? Students and adults worked together to open a conversation surrounding cultural and systemic issues in Darien and beyond.
Naomi Cunningham, the Saint Luke's Parish Director of Youth and Adult Ministries, was one of the adult leaders present at the Youth Community Conversation. "There is something powerful that happens when people (especially youth) are given the space to really share their experiences and commiserate with their peers," she said. "Personally, I left the conversation with a lot to think about."
Weeks later, a few participants returned to the Darien Library to meet in a smaller focus group and work with adult leaders. Diving deeper into the conversation started at the Community Conversation, they worked to condense the main ideas discussed in both sessions into one page of information that would be shared with educators, parents, and other adults, with a focus on parents specifically. The main themes stressed by teens who participated in the smaller working session were: trust, fun, managing stress and expectations, and special emphasis on the fact that times have changed.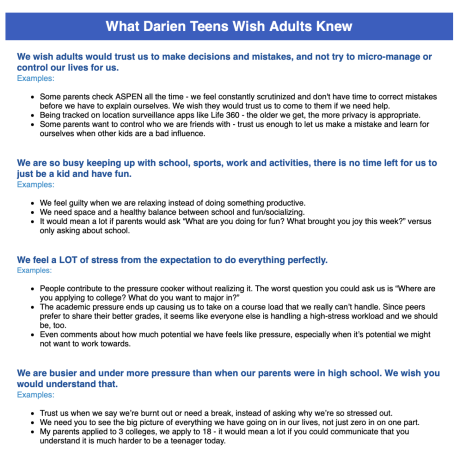 Most recently, four Darien High School students, seniors Julia Erdlen, Sophie Curtis, and myself, along with junior Apara Chandavarkar volunteered to speak on behalf of the Community Conversation at the January Thriving Youth Task Force meeting, which took place on midterms makeup day. Present at the meeting were DHS administrators, parents, organization leaders, and Thriving Youth Task Force members. Each student speaker was given the opportunity to talk about one of the points that was discussed during the smaller working session.
"I felt very heard after [the] meeting because the adults praised us for our work and bravery in speaking out about issues and changes that need to happen in our community," Erdlen said.
Curtis agrees. "The Darien Youth Community Conversation was one that I found extremely helpful, and it was quite an experience to be a part of," she said. "I met not only so many other teenagers looking to help Darien grow and develop, but many adults that were excited to contribute as well. Ultimately, I think we all united under the common goal of helping the youth of Darien. I admire the adults in the conversation and how quick they are moving to get our main takeaways heard."
"The Youth Community conversation was a breath of fresh air. It's not often that teens from different groups come together and I think the Task Force did a really great job with making the environment accepting and genuinely fun," Chandavarkar said.
"
Students and adults worked together to open a conversation surrounding cultural and systemic issues in Darien and beyond.
The conversation is just getting started. On March 7th, the same four students will be participating in a panel discussion for parents, to be held at the Darien Library. The panel will serve as an opportunity for parents to ask questions and to hear firsthand about the Youth Community Conversation and the issues it addressed.
The Thriving Youth Task Force is currently organizing presentations for the Board of Selectmen, Board of Education, and other adult groups in town where the conversation will continue about the issues identified by Darien youth.