Squid Game: The Hottest K-Horror Out On Netflix
Looking for a new show to watch? This bloody, psychological thriller is made to mess with your emotions.
Although Halloween passed, it's never the wrong time to continue to binge-watch chilling shows. "Squid Game," (directed by Hwang Dong-hyuk) is about 456 impoverished players who are facing serious debt. They're invited to play a series of Korean children's games for 45.6 billion won (38 million USD). Sounds nice right? Here's the thing- you lose, you're eliminated. You're eliminated? You die.
Netflix released "Squid Game" on September 17th, 2021. The show took over ten years to create, but the time and dedication to this project were absolutely worth it. Over 111 million people have watched the hit show by October. It's named the biggest Netflix show ever for a reason, which is why I advise anyone who hasn't watched it to tune in ASAP. Before you continue- there are some slight spoilers in this review. To get the best experience from "Squid Game," I advise saving this article for after you finish the series.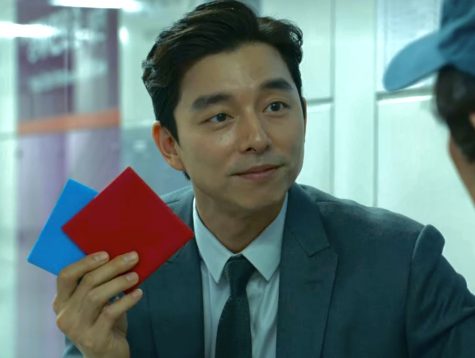 Episode one makes a lot more sense if you look at the big picture. It's boring to get through, but it'll be worth paying attention to details you might miss. We're introduced to the protagonist, Seong Gi-hun (played by Lee Jung-jae). He's a divorced dad and a severe gambler, but optimistic and warm-hearted. On his daughter's tenth birthday, he finds out she is leaving for the USin a year. Gi-hun is hit hard, with another obstacle from being 160 million won ($134K USD) in debt due to opening-a-business gone wrong. A strange man in a suit plays a game called ddajki with him. If Gi-hun wins, he gets rewarded 100,000 won. If the man wins, Gi-hun either gives him the same amount in cash… or gets slapped across the face in return.
This basically tests Gi-hun's eligibility as a possible contestant for the grand competition. This "test" ends, and the solicitor gives him a card as an invitation to participate in the games. This was a good move on the writer's part. It foreshadows the whole show and the lesson behind it. Gi-hun signed away his rights when he agreed to let a random man hurt him for the sake of money.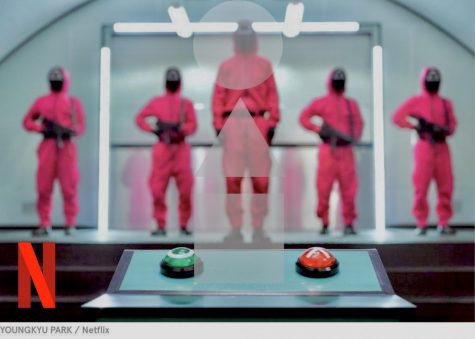 After winning some money, Gi-hun finally decides to play the actual game. Unknown men show up in pink jumpsuits and black masks with shapes on them; according to the art director, they are supposed to resemble ant heads. The workers vaguely explain everything to the players. Each game is an old children's game. I'm guessing that it was supposed to take the characters out of the hard, stressful world of a poverty-stricken adult and bring them back into the innocent, easy-going life of a playful child.

Red light, Green light began, and if you get caught by this humongous doll, you get sniped. Over 200 lives were lost, and both players and viewers are traumatized by the sudden massacre. That's when the players realize the true meaning of being "eliminated." The question of "Do we want to stay?" Gets introduced in the remainder of the episode. 

About half the players remaining vote to end the games and be sent home. Surprisingly, they were let free. Gi-hun tries reporting to the police about the mass murders of the game but is instead seen as a psycho that is broke and on drugs. Eventually, all the players go back. You may be wondering- why would they be willing to get murdered? Let's hear them out. Players are manipulated to stay in the game. These people are hundreds of millions of dollars in debt- and they were never middle class, or born into a well-off family. How can they pay off such high amounts while being chased down by several loan sharks and the government? Not to mention a lot of the players have families to take care of. Players decided risking their survival to win the money is worth more than returning to their depressive lives at home. This was a great opening to the season with its in-depth backstory. We see why Gi-hun needs to be in the games. Just like game shows like Jeopardy or Family Feud, they could have simply said "I need more cash, so I'm going to play this game." The writers show the cycle of being trapped in a world dependent on money, and the reality of having no way out. The sick part is that it's constantly shown that the players chose to participate. If it's anyone's fault they die… It's theirs.

Netflix

Above everything, the biggest thing about "Squid Game" is the plot twists. They are INSANE. You'll do a solid amount of crying tears of sadness, joy, and anger. Sophomore Sam Baiocco agrees, saying, "I loved it, I thought it was scary in such a good way. It was entertaining.. a good mix of both. I hope they make more seasons." The other characters' backstories provide well-paced plot development. Each player is going through similar problems, but the little details and different personalities make the show more interesting. As the show goes on, you create a relationship with the main characters- which is what a lot of viewers like to talk about after watching (Especially Player 067). Luckily for Baiocco, season two is rumored by the directors, and based on the ending of S1, we might see a deeper look into the psychotic game through the lens of a worker. Freshman Georgia Biasi recently finished the series and texted me about how much she loved it. "It was the first show I've watched all in one day. I loved the characters and it's one of my favorite shows. I definitely recommend," Biasi said.

If you've enjoyed "Squid Game," I would recommend movies like Escape Room 1 & 2, (in theaters/Hulu) and Alice in Borderland (Netflix). These movies follow the Hunger Games- "win the game and survive," theme I've noticed is a favorite amongst film lovers.

Fun links!

https://www.wired.com/story/how-to-play-every-game-from-squid-game/