Quarantine's Best Binge Watch
Who knew that so many Americans would be interested in competitive cheer...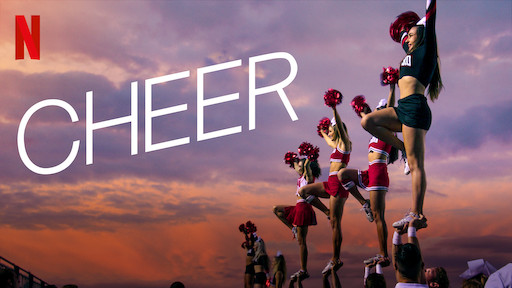 Like many of my peers, I have found myself incredibly bored in quarantine. It feels like there is nothing to do at home and unfortunately, the end does not seem in sight. With all this free time on my hands, I have found myself scrolling through Netflix and Hulu to find my next show to watch. I am not much of a tv watcher, and my type-A personality makes it hard for me to concentrate on something so lethargic so if I can binge-watch a show, it's a big deal.
 I had previously watched shows like Gossip Girl and The Office which are entertaining but also seem like a waste of time. With this in mind, I was scrolling for shows that seemed more fulfilling and I landed on Cheer.
Cheer
This new docu-series that follows the competitive cheerleaders "through their season" at Navarro Junior College in Texas to the final competition in Daytona Beach, Florida. The journey is tough but these athletes try to prove themselves to Coach Monica. While the entire team consists of 40 athletes, only half of the squad is able to "make mat" and travel to Dayton Beach. I am probably one of the most inflexible people and I was mesmerized by the team and their stories. Rolling Stone described the show saying, "It's true that today's version of cheerleading is closer to Olympic-level gymnastics than the kind of dance routines the Dallas Cowboys Cheerleaders whip out to rally a crowd." The final competition at Daytona Beach is essentially the Olympics of Cheer. Thousands of schools from across the country come to compete for 2 minutes, similar to a dance competition. 
What makes Navaro so miraculous is that they win almost every year, and they are a junior college full of essentially misfits. For starters, the coach Monica makes the show iconic. She is often referred to as the Bill Belichek of cheerleading because she finds these talented kids and turns them into stars. And this cheerleading is incredibly legit. 
"
"'It's true that today's version of cheer-leading is closer to Olympic-level gymnastics than the kind of dance routines the Dallas Cowboys Cheerleaders whip out to rally a crowd.'""
The shows terrifically embodies the southern belles of Texas and the athletic talents that these stars hold. One of the main athletes, Morgan Simianer has been homeless and abandoned. Yet, Monica finds her, gives her a full scholarship to Navarro and treats her like her own daughter. As we follow Morgan through her injuries and fame, it is so obvious that she is thriving at Navarro. This is exactly what makes this show so fulfilling. The average person is not so interested in competitive cheerleading. However, when you hear about these hardships and stories it is hard not to fall totally in love with the cast. The entire time, I was laughing, crying, and cheering for them at Daytona. Many of them have also become incredibly famous from the show and have millions of followers on Instagram.
 This show is perfect for both individuals and families and is guaranteed to be loved by all. I have told all of my friends about this show and everyone has fallen in love. At one point, my cousin sent me a video of her attempting to do backflips on the trampoline like the girls do at Navarro. This show is extremely addicting and I am so sad that Daytona was canceled this year due to corona.