The 2019 Grammy Awards – The Universal Language of Music
With grace and elegance, the incredibly talented Alicia Keys hosted the sixty-first annual Grammy Awards 2019 calling it an "incredible evening filled with fun and love" with the power of music as the night's "universal language."  With fifteen Grammy Awards as a songwriter, singer and classically trained pianist, Keyes brought an air of sophistication to her hosting duties telling the audience "I got you tonight."  With her signature minimal makeup and hair wrapped in a silk scarf that complimented her emerald green silk jumpsuit, Keyes was stylishly understated compared to the always over the top glitz of the rock and roll, rap and hip-hop mega-stars about to take the stage.
Referring to her "sisters", Lady Gaga, Jada Pinkett-Smith, Michele Obama and Jennifer Lopez were introduced to a standing ovation.  Each woman made a brief but meaningful statement about the power of music in their own lives, from Lady Gaga describing how she went door to door with a keyboard to try to get gigs to Michele Obama receiving thunderous applause before sharing her love of Motown records and the song that "powered her though the past decade, Run The World (Beyoncé)."
Throughout the show, the live performances did not disappoint and a few acceptance speeches were memorable.  Miss Keyes' unbelievable skill at playing two pianos at once wowed the audience as she sang a medley of old and new songs from "Killing Me Softly" by Roberta Flack to Drake's "In My Feelings".  Lady Gaga infused "Shallow" with full out rock and roll including head banging.  Cardi B's "Money" and Janelle Monae's explosive "Make Me Feel" almost brought the house down and H.E.R won for best R&B Album.   Although her costumes and dancing dazzled, many thought Jennifer Lopez missed the mark in her singing performance and song choices.  Dolly Parton was named MusiCares Person of the Year and both her dress and voice sparkled as she joined in a medley showcasing some of her songs and her unfaltering vocal talent.  Diana Ross, introduced by her adorable little grandson, took over the room in a striking red tulle ball gown to celebrate her 75th birthday.  A projected picture of the late Aretha Franklin backed up the tribute to the late Aretha Franklin included her picture projected on the big screen as the audience joined the medley of her songs.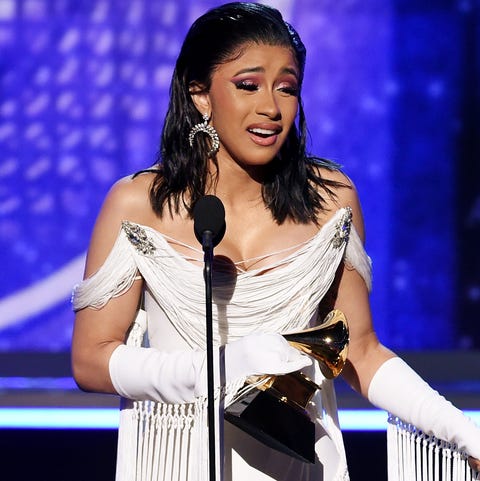 Overwhelmed with emotion, Cardi B accepted the Best Rap Album Grammy while Drake won Best Rap Song, using this opportunity to dismiss awards as unnecessary for those who are truly successful in the music business.  His microphone was cut off as the show ended.  "This is America" by Childish Gambino, won both record and song of the year making it the first time a rap song has ever won both awards.  "This is America" also won Best Video and has been viewed on YouTube over 5 million times.  It is controversial because of its social commentary about violence and race.  Childish Gambino did not attend to receive his awards.
New rules, announced by the Recording Academy in May, 2018, distinguished the 61st Grammy ceremony from those in the past.  The changed rules are intended to "make sure the awards process continually evolves to meet the needs of the music community," according to the outgoing Academy President.  Rule changes include increasing the number of nominations from 5 to 8 for Record, Song and Album of The Year categories.  Most of the other 80 categories continue to be capped at five nominations each.   The rules also more precisely identify "Alternative Music" to embrace "attitudes of expression and innovation" and "American Roots" to include country, folk and blue-grass music among others.  Brandi Carlile captured the Best Americana Album for "By The Way, I Forgive You," under this new rule which also was one of the best musical performance of the night.  Best Surround Sound Album now is known as the Best Immersive Audio Album in order to reflect new music recording technology and industry trends.
Talented musicians and singers rocked the stage and drew in the audience to dance like nobody was watching!  Alicia Keys said…. "Tonight we celebrate the greatness in each other, all of us, through music!"  The 2019 Grammy Award Ceremony successfully celebrates Alicia Keyes' message of universal love.