Taylor Swift Makes History At The 2021 Grammy Awards
The Now Eleven-Time Grammy Winner Achieves An Incredible Feat
The Grammy Awards are one of music's most exciting nights, a way to look back on and celebrate amazing music of all types. Your favorite celebrities come together to perform your favorite songs, and some might even win a Grammy Award.
This year's award show was a bit different due to the COVID-19 pandemic, but it was still an enjoyable experience. Rather than taking place in a big theater, the show this year took place in an outdoor tent. As odd as that sounds, everyone pulled it off. Unfortunately no fans were present in Los Angeles, but the show's crew did its best to bring the festivities to viewers in the comfort of their own homes.
It was a big night, to say the least. Harry Styles opened the show with his hit "Watermelon Sugar," Billie Eilish performed "everything i wanted," and Dua Lipa's performance included multiple costume changes.
Most notable, though, at least for me, was Taylor Swift's performance. Swift has a habit of transforming award shows into her own concert, and that's just what she did this time around.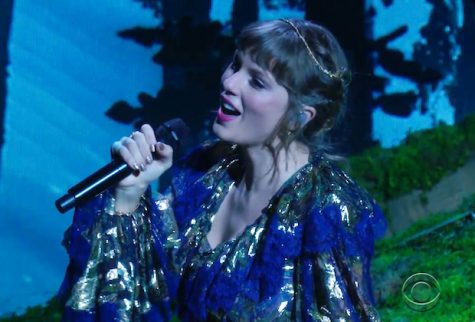 Joined by her folklore and evermore album collaborators, Jack Antonoff and Aaron Dessner, Swift performed a mashup of three songs from her two recent albums. First "cardigan," then "august," then "willow." The trio stole the show, performing in a fairyland-type set. I was cheering the whole time. The happiness on Swift's face was infectious.
As per usual, of course, many Grammys were awarded. Beyoncé took home 4 more, becoming the most Grammy-decorated artist in history. Billie Eilish now has 7 Grammys at the young age of 19. H.E.R.'s song "I Can't Breathe," written about the murder of George Floyd, won Song of The Year. Miranda Lambert took home Best Country Album.
The biggest award of the night, Album of The Year, was won by Taylor Swift. Swift had lost all of her 5 previous nomination categories, so when it came time for the winner of Album of The Year to be announced, I was so nervous folklore wasn't going to win. As a hardcore Swiftie, it was my album of the year, and I hoped the Grammys would feel the same way. And hey, they did! "And the Grammy goes to…Taylor Swift, folklore!" Upon hearing these words, Swift and her collaborators proceeded to jump out of their seats, exchanging excited hugs.  They then made their way up to the stage to receive their Grammy.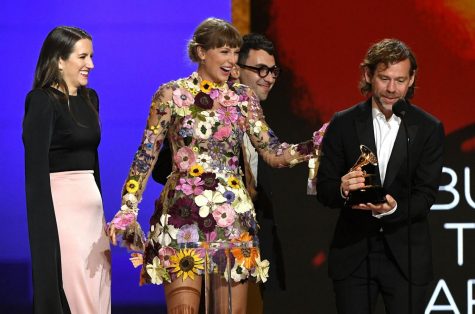 Swift let Aaron Dessner speak first. He thanked his wife, children, collaborators, and Swift. In Swift's acceptance speech, she thanked her collaborators, Recording Academy, her boyfriend, and her fans. The masterminds behind folklore stood beaming as they accepted the show's biggest honor.
Swift made history as soon as she was dubbed the creator of this year's Album of The Year. She is the only female artist in history to win Album of The Year 3 times. She won it previously for 2008's Fearless and 2014's 1989. Not only that, but her albums that won are each from a different genre of music – country, pop, and now alternative. Swift joins Frank Sinatra, Stevie Wonder, and Paul Simon as the only artists with three Album of The Year wins. Swift has now won 11 Grammys in total.
"The fans are the reason we're floating tonight, and we'll never forget it," Swift captioned her Instagram post after the show. After being snubbed by Recording Academy for her albums reputation and Lover, Swift was overjoyed.
At the 2021 Grammy Awards, Swift got her talents celebrated again, with a jaw-dropping performance and massive Grammy win. Leave it to Taylor Swift to make history, time and time again.