Quinn XCII Returns With His Fourth Studio Album
Change of Scenery II Is A Beautiful Tribute To His First Ever EP
Mike Temrowski, known by his stage name, Quinn XCII, may not be the biggest star in the world, but he has certainly made a huge impact on the lives of his devoted fans. Quinn's pop music is chock full of good vibes and quality lyrics. This coupled with his unique voice and style creates an amazing artist that can stand out in the music industry. Quinn has released four studio albums, two EPs, and many singles. He returned on March fifth, 2021, with his fourth album, Change of Scenery II. The album is a tribute to his first ever EP, Change of Scenery. Featuring twelve tracks, the COS II experience is about thirty-four minutes.
The album opens with an intro of sorts, titled "We Made This Album In Newport." It is simply calm, beach-sounding music, similarly sounding to Change of Scenery. You hear the sound of a door opening in the background, muffled talking, and then Quinn comes in. "So don't change," he sings. He says these words a few more times before the song ends abruptly and leads us right into the next track. Although short, "We Made This Album In Newport" is the perfect intro, setting the tone for the rest of the album perfectly.
Track two, "Distracted Youth," starts with a cheerful sounding production and the sound of squeaking in the background. Quinn sings about what it's like being trapped in your own mind and wanting a temporary distraction, which I felt myself relating to greatly. "I can't sleep cause I'm mentally locked up in an embassy of my thoughts," he sings. "Distracted Youth" is a relatable song with a charming production, and I liked it a lot.
Track three, "My Wife & 2 Dogs," was the second single released from the album. It never fails to put me in a good mood with its jumpy production and funny, clever lyrics. "Change of Scenery II is coming out really cool," Quinn informs us. He sings about unplugging from reality, and considering moving to the beach with his wife and two dogs. "Why does everything have to be so damn serious?" This song is one of my favorites on the album. A bop, and a great single choice.
"SOS" comes next. Leading up to the release of Change of Scenery II, Quinn posted some teasers of songs on his Instagram, and upon hearing this song, I realized one of the teasers posted was from it. "SOS" sounds cheerful, and I found myself dancing along. "Don't you worry, every second I'll be here holding your necklace, and I'll wait for you," Quinn sings. A strong production coupled with cheerful lyrics makes for an enjoyable song.
In "Hey, Goodbye," Quinn sings about a relationship that went wrong. This song has a less upbeat production than the rest so far, but it still is peppy enough to hide the saddening lyrics underneath it at first glance. "Then you left me this spring, grabbed your clothes and packed your things," he says sadly. At first, I wasn't sure what I thought of the song, but it grew on me quickly. It is mellow and catchy, a great addition to a breakup song playlist.
"Doris Terrace" is in my top five on the album. It features Jeremy Zucker and ayokay, longtime friends of Quinn. This song is so relatable, the lyrics are top tier, and the features are much needed and appreciated. Quinn and his collaborators have great chemistry. The three sing about being depressed and feeling burnt out by life. "I barely ever fall asleep. If I'm twenty eight, why do I feel like this? Some days, feel like I am not me," Quinn admits. I found myself relating deeply to this song. It's beautiful, and has the potential to make you cry if you're up during the wee hours of the night.
"Stay Next To Me" is my favorite song on the album, and it was the first COS II single released. It features Chelsea Cutler, another longtime friend of Quinn who was featured in his song "Flare Guns." This song is perfect. It reminds me of summer, and puts me in a wonderful mood. Quinn and Cutler sing about wanting to just be with the person who makes you feel loved. "We should go somewhere, you choose, I don't care as long as you're right here, stay next to me." The song's production is jumpy and cheerful, and Quinn and Cutler sound great together once again. This song is in my top three favorite Quinn XCII songs of all time, and the acoustic version is just as good as the studio version.
Track eight, "Mexico City" is also one of my favorites because of the story it tells. This song will transport you straight to Mexico City. When the song opens, you can hear muffled talking, and then begins the cheerful production. Quinn tells the story of how two people met through a hitchhiking experience. The girl Quinn sings about invites her passenger to accompany her to Mexico City. "He said, 'I'm just a stranger, love, but I think we're gonna be good friends," Quinn sings, with extra emphasis on the last two words. Quinn does some very interesting things with his voice in "Mexico City." This, along with a pleasing production and an interesting storyline, makes for an excellent, unique song.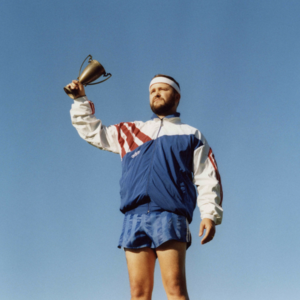 Track nine, "Monday Morning," sounds like quite the opposite of a Monday morning. Rather than dreary and tired, this song sounds cheerful and summer-like. "It's too late to say I'm mad, am I the only one who's sad?" Quinn asks. He sings about a girl named Sarah, who may be a fictional character or a past partner, since he is married to someone named Macy. "Monday Morning" will definitely put you in a good frame of mind to take your Monday by storm.
"We Don't Talk Enough" features Alexander 23, and is my second favorite on the album. It is probably one of the most relatable Quinn XCII songs of all time. It makes me feel nostalgic. The production is acoustic based, and Quinn and Alexander sound great together. The song is so beautiful, and if you're an emotional person, it has the potential to make you cry. "Me and my friends are losing touch, and all we share in common is that we don't talk enough," Quinn sings.
"Feel Something" reminds me of Quinn's songs "Notice Me," "Sad Still," and "Autopilot," because not only is it relatable, but its heartbreaking lyrics are hidden under a cheerful production. You really have to pay attention to the lyrics if you don't want to fall into the "happy, happy, happy" trap. I related deeply to this song as well, and its lyrics are top tier. It is comforting to know you are never alone, and that is possibly why Quinn wrote this song. "I keep a grin on my face, but it is surely a waste cause I don't feel the way I look. There's messages in my phone, I read so I'm not alone, but they don't validate my fear of never being enough, I got somebody I love, but they can't help the thoughts I have," he admits.
The final track on Change of Scenery II is "Look How Far We've Come." This is a beautiful tribute to Change of Scenery, the first ever project Quinn put out a long time ago. It has a production similar to the whole vibe of the 2015 EP, and is a nostalgic look back at Quinn's career and how hard he has worked to get to this point. Quinn sings for about half the song, and then the ears of his listeners are blessed by an interlude that sounds just like songs from COS, such as "Native Tongue" and "Another Day In Paradise." This song wraps up the album beautifully. "Once we both retire, like what's gonna be the song you can remember us by?" Quinn says right before the song's interlude. "Look How Far We've Come" ends with the sound of a door closing as Quinn makes his exit, closing his fourth album.
Two days ago, I thought that Quinn could never outdo his third studio album, A Letter To My Younger Self, but with Change of Scenery II, he did just that. COS II is by far his best project. From its beautiful intro to its emotional ending, the album is a stunning new chapter in Quinn's career. It sounds and feels like summer, the season that is loved by so many. If I were Quinn, I would have pushed the album release day to May or June, officially summer, but hey, I'm not complaining! With this album, Quinn brought back his quality and relatable lyrics, unique style, and good vibes. I'm absolutely obsessed with it.
My only complaint would be the length of some of the tracks. Most of Quinn's other albums have twelve tracks, but unlike this one, most of them are three minutes or longer. There are only a few tracks that are longer than three minutes on COS II. This isn't something that makes or breaks the project, it just feels like songs such as "We Don't Talk Enough" and "My Wife & 2 Dogs" end too soon. They're not missing something, but the masterpieces move on by so quickly.
Quinn blew my expectations out of the water with Change of Scenery II. I'm so excited to see how many new fans he gains after this album, and I can say with complete confidence, as one of his current fans, that this album is incredible. It's unique, but at the same time, it sounds like the Quinn XCII we all know and love. It feels like home. Quinn himself puts it best: "When you and I were young, this is all we wanted. Look how far we've come."