Ariana Grande's 6th Studio Album Has Arrived!
After A (Not So) Long Wait, Positions Is Here
Ariana Grande is nothing short of a pop princess. You're definitely not part of the younger generation if you haven't heard of the 27 year old singer. The Arianators are one of the biggest fan bases currently, and their idol has risen from a TV star to one of the biggest singing sensations . . . I think?
See, I'll be honest, I don't know many Ariana Grande songs. Of course I know her hits, "thank u, next," "7 rings," and a bunch of other ones that are  playing on the radio. And of course I've heard her latest single, "positions," which dropped only a week before her 6th album, and has the same name as its lead single. 
But other than her most popular songs, I don't know Ariana well, and I'm embarrassed to admit that I've never listened to one of her albums in full. Sorry Arianators, but don't worry, that's about to change.
I'm a Taylor Swift fan, so naturally, I live for quality lyrics and the ability to relate to what I'm hearing, not just good beats and catchy nonsense. The lyrics and feeling of a song really make or break it for me.
Positions will be my first true taste of Ariana Grande- is her newest album worth it? Will I turn into an Arianator? To be honest, I have no idea what turn this is going to take. Here goes.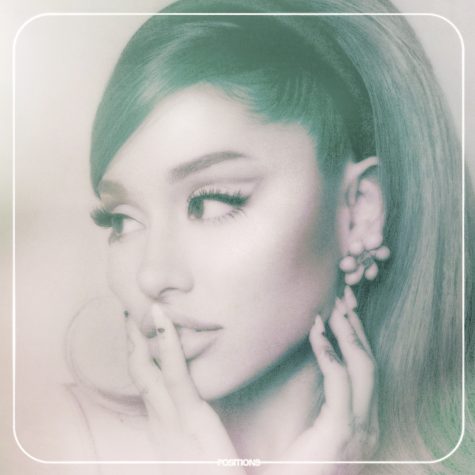 Positions opens with "shut up." As soon as I saw this song on the track list, I immediately thought of Greyson Chance's song that has the same title, and to say I love that song would be an understatement. So let's just say my standards for Grande's "shut up" were very high. 
The song begins with a gentle sounding string instrument. It's definitely the right song for an opening track. I've always struggled to grasp onto Grande's songs vocally, but I can't deny that she's a crazy talented singer. Lyricist, though? I'm not sure. "Maybe you should shut up, if only you would shut up," she sings. Point taken, Ariana. Grande's singing stops abruptly after the second chorus, and the production gets more elevated, as we listen to about 20 seconds of slightly eerie sounding music. It's not a shabby opening track, but "shut up" almost feels like it ends too quickly and is missing something. Maybe some sort of bridge or a climax. I don't hate it, but I also don't love it, maybe it's one of those songs that grows on you. It's definitely not as good as Greyson Chance's "shut up," but I'll admit that it's pretty catchy. The important thing everyone needs to take from this song is: Grande wants you (or I guess whoever she's singing about) to shut the heck up.
Following "shut up," the listener discovers "34+35." Definitely an enticing title for a song. Even more enticing is Grande's short laugh right at the start, along with more of a jumpy production than the previous track. "Can you stay up all night? F**k me till the daylight?" Grande asks, or more like insists. "Watching movies but we ain't seen a thing tonight," she admits. I won't lie: this song is SO much better than "shut up." I found myself bopping to it only a little bit in, and it's catchy. It's spicy. The lyrics aren't deep, necessarily, but they fit the vibe of the song as a whole. Dare I say it? I really like the song.
Grande teams up with rising star Doja Cat for the third track on the album, "motive." I'm not a fan of Doja Cat, but the two have pretty good chemistry. "Tell me why I get this feeling," Grande sings, "that you really wanna turn me on." Okay, Ariana, more spice, we get you. "Tell me, what's your motive?" She asks later. Doja Cat doesn't come into the song until close to the end, her voice overlapping with Grande's upon her entrance. "You treat me like gold, baby, now you wanna spoil me," she sings. The subject of this song must be a really cool person. I'm honestly neutral about "motive." My one major complaint is the capacity of Doja Cat's feature, it really isn't much. I would've loved more of a taste of her voice blended with Grande's. Overall though, the chorus is catchy and the production is decent.
"just like magic" (sic.) follows suit. For some reason, the beginning production reminds me of an old school video game. "Wake up in my bed, I just wanna have a good day," Grande sings. That's a mood, Ariana. This song, based on the lyrics, is about Grande's experience with fame. I like the lyrics, they're pretty solid, and it offers some insight into Grande's life. The production is really unique, Grande's vocals are up to par, and the song is very catchy. A solid track, overall.
The Weeknd joins Grande for the next song, "off the table." You know, the "I'm blinded by the lights" guy? Yep, that's the one. Only seconds in and this song definitely has the most interesting production on the album thus far. It sounds spicy and definitely leaves you wanting to hear more."Will I ever love the same way again? Will I ever love somebody like the way I did you?" Grande asks. "Is love completely off the table?" The lyrics are actually quite sad. This would be a great addition to a breakup song playlist. I like this song a lot better than the one with Doja Cat. The Weeknd and Grande have even better chemistry and he gets more of a feature that helps add to the song overall. Not a bad track, not by a long shot.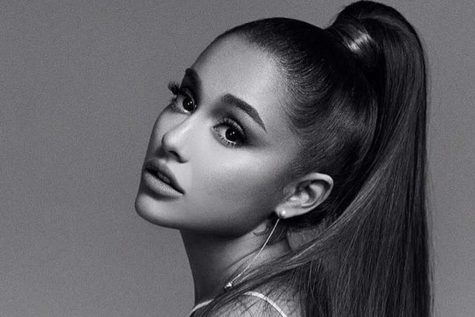 The next track, "six thirty," is another song with a very interesting production. This is going to sound terrible, the beginning production reminds me of the music in some of the Mario Kart courses, which isn't necessarily a bad thing. "So come here and give me some kisses, you know I'm very delicious," Grande sings, adding even more spice to this album. The lyrics of this song aren't half bad. "I just wonder baby, if you're gonna stay," Grande says, speaking, I'm sure for a lot of people in the world. The chorus is truly where this song shines. It's so catchy and the pre-chorus leads into it perfectly. Chorus-wise, this song is a standout.
Ty Dolla $ign joins Grande next, with "safety net." I know Ty Dolla $ign mainly from his collaboration with Post Malone, "Psycho," one of my favorite songs to date. I never imagined he and Grande would ever collaborate, but there's a first time for everything. "You know you're really something, yeah," Grande admits. "You're making me forget my past, never thought I'd feel like that." There isn't much of a lead up to the chorus, but it still flows nicely with the rest of the song. "Got me tripping, falling with no safety net." Ty Dolla $ign comes in for the second verse of the song, and hearing him singing rather than rapping is new. He actually has a decent voice, and his chemistry with Grande is even better than The Weeknd's. "safety net" is my favorite collaboration on the album thus far, mainly because it has a really nice flow.
The next track is "my hair." The beginning production sounds very old-school, but it has a good groove. It's another spicy song. "Don't you be scared to run your hands through my hair…come run your hands through my hair," Grande sings. I like the flow of the song, it's catchy, but it's not one of my favorites. Similarly to "shut up," I just feel like it's missing a little something.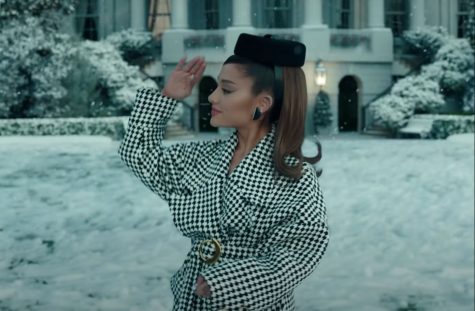 "nasty" (sic.) follows quickly, with several laughs from Grande and a "This b****'s gonna make me-" before the listener hears a slow yet snappy beginning production, the definition of "nasty." Pun totally intended. "Lately I just wanna keep it real," Grande says. The song gets more and more nasty (once again, pun intended). Grande really adds the spice with this song. It's not a bad track, overall. Definitely kept it real.
The next track, "west side," has another slow production. "Let me keep it real," Grande sings. Well, one thing's for sure, she likes it real. This song is yet another with plenty of spice. It is slightly sleepy, and isn't really engaging. I don't hate it, but it's not at the top of my rankings either. "Meet me on the west side," Grande orders her lover/subject of the song.
"love language" (sic.) is a bop to say the least. It got me jamming, and I really love the production. The lyrics aren't too bad either. It's slightly old school, and slightly mellow, but speedy enough to keep the listener intrigued. "It's been a minute since I had something so sweet," Grande admits. The production really is the standout with this song, especially when Grande tricks you into thinking the song is over when it isn't. A clever production move.
The album's lead single and title track, "positions" comes next. Going into my first listen, I already knew this song well enough, as it had already been out for a week. I really love the song's production. It sounds like the rest of the album, but is also unique enough to bring in some variety. "I'll be switching them positions for you," Grande admits. Usually, lead singles aren't the best song on an album, but "positions" is one of my favorites. I actually like it. Like a lot. It's going to be stuck in my head for days.
The album begins to wrap up with "obvious." I like the mellow production of the song, and the lyrics are more solid than some of the other songs on the album. "I'm praying we don't f**k this up," Grande sings. This song is another one with a great chorus. "Could I be more obvious?" The song is really good. It's mellow, but also super catchy, and it has some really great tempo switches. 
The final track on Positions, "pov," is my favorite on the album by far. It's slower and a lot more raw, the perfect recipe for a closing track. The lyrics of this song are outstanding and are the best on the album, and Grande's vocals fit perfectly. "You know me better than I do, can't seem to keep nothing from you," Grande admits in the first verse. "I wanna love me, the way that you love me…I wanna trust me the way that you trust me…I'd love to see me from your point of view." She says in the chorus. "pov" is a beautiful song about a love that seems like it couldn't be going better. I love it so much, it's near perfect.
And with that, my first Ariana Grande album experience comes to a close. I'm not going to lie, Positions isn't a bad album, not at all. There are a few songs I don't really care for, but there are some bangers on the track list. Besides "pov," my favorite, standouts include: "34+35," "just like magic," "safety net," "love language," "positions," and "obvious." My least favorite is probably "shut up" although it's still a decent song.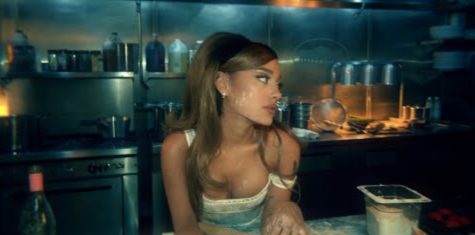 I can't really relate a great deal to the album as a whole, but it's still interesting enough to keep me listening. Some of the lyrics are more surface level than I'm used to, but there are a few tracks that go deeper than others. The collaborations on the track list are all pretty solid. My biggest complaint is the length of 75% of the tracks. Some of the songs are way too short and end too quickly. Some of them even feel like they're missing something. There are 14 tracks on the album, but since most of the songs are little more than 2 minutes long, the total Positions listening time turns out to be only a little over 40 minutes.
The greatest thing about Grande as an artist are her vocals. She's so much more of a singer than a songwriter, if she even writes her own songs. She has a really unique voice. Sometimes it can be a little too much, but most of the time, it fits the vibe of her songs (at least the ones that I know) well.
Look, is Positions on my top 5 best albums of all time list? No. But would I, if given the choice, erase it from existence? No. It's decent, in fact, pretty good. I'm not necessarily blown away, but I definitely wouldn't change the radio station if a song from the album comes on in the car. If it's your style, rock it! Positions hasn't made me into an Arianator, but I do feel like I know Grande's music a little bit better than I did before. 
Overall, Positions is a pretty solid project. I'm listening to it as I speak. Are all you Arianators out there happy?