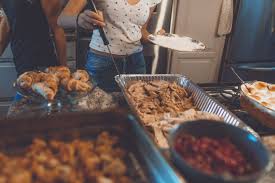 What To Do This Weekend: Make Family Dinners Fun Again
It's Time to Shake Up How We Show Up to Meals . . .
April 17, 2020
We are all spending much more time with our families than normal and everyone seems to be stuck in a boring routine. Without places to go or people to see families need new and fun ways to spend quality time together. Themed family dinners are just one way to change up the process of cooking a meal and the time you are spending together. 
Theme ideas:
Pirate Shananigans

Tiger King Party

Dressed to the 9s Night

Farm Fresh Friday


NowThisNews



Cinco de Mayo 

Freaky Friday 

Hippy Night 

Pajama Party 

USA Day 

Outer Space 

Wild West Wednesday

80s Night

Sports Night

Beach Night 

Preppy Night

Nerdy 

Disney Night . . . we invite you to try any (or all) of these while we endure all this family togetherness.