Bombshell Movie Review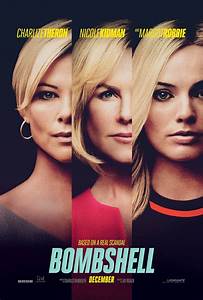 With all this free time on our hands due to the COVID19 outbreak, I presume it is safe to say people have time to watch a movie or two. I have had the chance to dive into a number of movies myself recently and there is one that I must stress about its importance: Bombshell. This movie has touched me in a way that I think will resonate with me for a very long time. Full of drama and characters with very strong personalities, this movie stood out to me for its strong female voice carried throughout. 

This fictionalized account of the women who came together to bring down Roger Ailes, the chairman, chief executive, and perverted creep who worked for Fox News. Ailes set in place a precedent for women working for Fox that in order to get screen time, your legs must be out, skirts and dresses must be short, and that your face and smarts truly don't matter. As a young woman growing up in our society today, I find it necessary that every girl in my position, rather age, should watch this movie. The story is focused on female employees who work to institutionalize the harassment of women, an uprising of doubt and anger. 

While reading multiple other reviews on the film, Justine Smith, a writer for Hyperallergic said "In spite of its candid approach to dealing with the consequences — personal and professional — of a dangerous work environment, the film doesn't explore the institutional failures that protect abusers and further punish victims." I was able to find my own voice on the subject. The movie drove me to dive deeper into the problems society really faces surrounding harassment in the workplace, and although they did not mention the exact outcome of Ailes punishments, it was clear that the movie was not geared at highlighting the institutional failures that Smith mentions. It was a fictionalized account of a story that the world deserves to hear. One of the most powerful newscasts in history was led by a creep and treated

"

The movie drove me to dive deeper into the problems society really faces surrounding harassment in the workplace"

women in a way that should have never happened. 

Bombshell was the first film to directly address the #MeToo era and it could not have been so successful if it was not for the strong three female leads Charlize Theron, Nicole Kidman, and especially Margot Robbie who played the new girl, Kayla. Kayla's innocence and ability to fall under the manipulative Roger Ailes was powerful enough to leave a mark on me personally. There is one scene in which he has her stand in front of him, pull up her skirt and move in a circle. Disgusted, this image has yet to leave my mind and I realize that she was not and still is not the only one who has been through that just to get a decent and equal shot at being on live TV. The New York Times refers to Kayla as "the movie's sacrificial lamb," as she is defined as the innocence of the movie. "It is Robbie– with her panicked, darting eyes and tensely resistant, then capitulating physically– who conveys the horror of sexual harassment, a degradation that seeps into body and soul" Manohla Dargis from the Times said.

I never want my sisters, aunts, mother, or future to be in the place Robbie's character was ever in. Thanks to Bombshell, the world is just a little bit more aware of what we need to fix. 
Leave a Comment
About the Contributor
Gwen Dolce, Writer


Gwen is a senior at DHS and began writing for Neirad in the spring of 2019. Although she enjoys writing, she will be taking her talents to the medical...