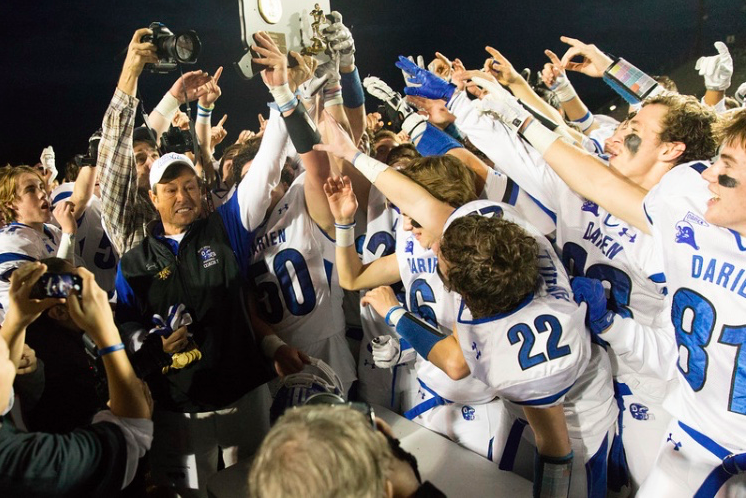 Darien Athletic Foundation (used with permission)
Thirteen Seasons and Three State Championships Later, Rob Trifone is Stepping Down as Head Coach for the Blue Wave
Reflecting on the Legendary Career of One of Darien's All-Time Great Coaches 
The original intention of writing this article was to celebrate the successes of coach Trifone with his induction into the Connecticut High School Coaches Association (CHSCA) Hall of Fame and 250th career win, sixth-most in the state's history. However, on Friday, January 10th, Coach Trifone announced to his players that he would be stepping down from his head coaching position at Darien High School. Rather than guess if Coach T will coach again or predict the next HC of the Blue Wave, it is time to recognize the accomplishments of Coach Trifone and praise his work into making Darien one of the best football programs in the state. 
When Rob Trifone took over as the head coach in midseason of the 2007 season, the Blue Wave had come off back-to-back disappointing seasons finishing 4-6 and 5-5, respectively. However, in his first full season, the Blue Wave had an immediate improvement with an 11-2 record and a state championship appearance. Although his first state championships came in 2008, Trifone's Golden Age of the Blue Wave program came in the final seven years when he led six of his teams to state championships, three of which were successful in their pursuit of a championship. When praising Coach Trifone for his outstanding work at DHS to the players Chris Manfredonia, the Athletic Director at DHS stated "I have been here seven years and for seven years I have been to the state football championship luncheon six times, that's unheard of. That is a testament to Rob and the program he has built here". 
Along with three state championships, under Trifone, the Darien Blue Wave received the Joseph Kelly Award as the No. 1 team in Connecticut in 2015, 2016 and 2017, becoming just the second team in state history to win the award in three consecutive years. Trifone was inducted into the FCIAC Coaching Hall of Fame in 2014 and has also been named Coach of the Year 16 times, including two times by the National Football Foundation, one by the CT High School Coaches Association and four times by the FCIAC. He also produced 24 all-state players and a countless number of D-1 players.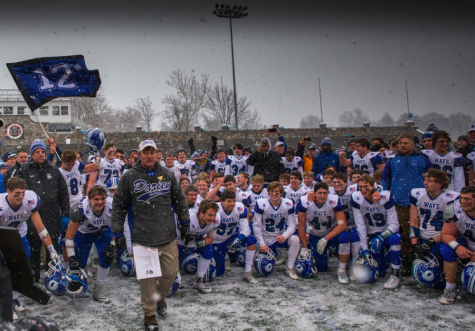 While many members of the Darien community were able to see the accolades, very few could contemplate the work it took to earn those championships. During the season many of the players would joke around that in Trifone's 41 years as a coach, he watched more film than the age of his players. Even though the joke was mildly exaggerated, it could not take from the fact that Trifone's goal was to make sure his teams were prepared for everything week and week out. After games when most players would travel to McDonald's (An annual tradition following victories), Trifone would stay late to discuss with coaches the positives and areas that needed improvement of the game. Then, when Trifone would reward his players with a day off, he would spend that "time off" writing downplays that the scout team would run in order to prepare the Blue Wave for their upcoming opponent. Senior captain John Henry Sloenski said, "he was always a constant motivator. He never took days off".
Trifone's work ethic soon became contagious as his players became more committed to putting in the time in the weight room and on the turf during the offseason. When students ask why DHS football players go through eight months of workouts, camps, and clinics is because each Darien football player knows that it puts them in the best place to succeed. During his tenure, especially in the past seven years losing football games at DHS has become such a rarity that an 11-2 state runner up might be viewed as a disappointment, even though ninety percent of the state would have a parade after that type of season. The motivation behind working hard for Trifone is clear according to Offensive Line coach Riis Lane who says "Rob Trifone believes in those that seek his mentorship so much they have no choice but to do their best for fear they would let him down". Players and coaches alike, seek mentorship from Trifone because they know that under his leadership, anything was possible. Each Trifone team set out to prove that they were willing and able to do whatever it took to reach the top, no matter how much talent they had lost the year before. 
"
he was always a constant motivator. He never took days off."
— John Henry Sloenski
While hard work was important to the Blue Wave, a point of emphasis on each of Trifone's teams was the idea of family and working hard for the person next to you. Trifone preached this message of being a family with conviction week in and week out. When discussing his 2015, which many considered to be the greatest Darien football team ever assembled, Trifone not only speaks of their work ethic and their laser-sharp focus, but he also discusses how close each teammate was with each other. The fact why Trifone is so beloved by his players is his attempt to make a personal connection with you. Whether you were a sophomore on JV or a senior starter, Trifone would greet you in the hallways with a smile and a friendly greeting. Brian Keating, long snapper at UCONN and a former member of the both 2015 and 2016 state championship teams says, "Coach T is a one of a kind human being, he has done so much for the Darien community and has greatly impacted countless lives in the classroom and on the football field. What makes Coach T special is his ability to mold boys into men, from his detailed leadership to his undeniable love for all of his players, Coach T has helped shape me into the person I am today and the man I aspire to be for the rest of my life."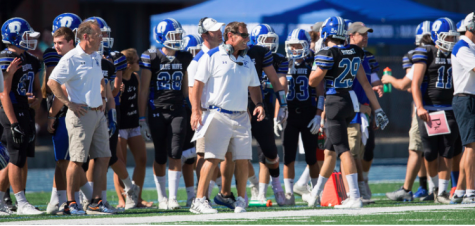 Through his thirteen years as head coach for the Blue Wave, Trifone's accomplishments outside the white lines might surpass his ones within them. Three state championships later, Trifone leaves the Blue Wave football program in a significantly better state than he found it. From FCIAC bottom feeders to perennial state powerhouse, Trifone has instilled an identity of grit and grind, as well as compassion and care. Though Trifone will be deeply missed by his players, he reassured them that they will always have his support no matter where he is. Trifone's coaching tenure will be remembered as one of admiration and the community of Darien is grateful to have one of America's high school pasttimes living strong in Darien.
Thirteen Seasons and Three State Championships Later, Rob Trifone is Stepping Down as Head Coach for the Blue Wave