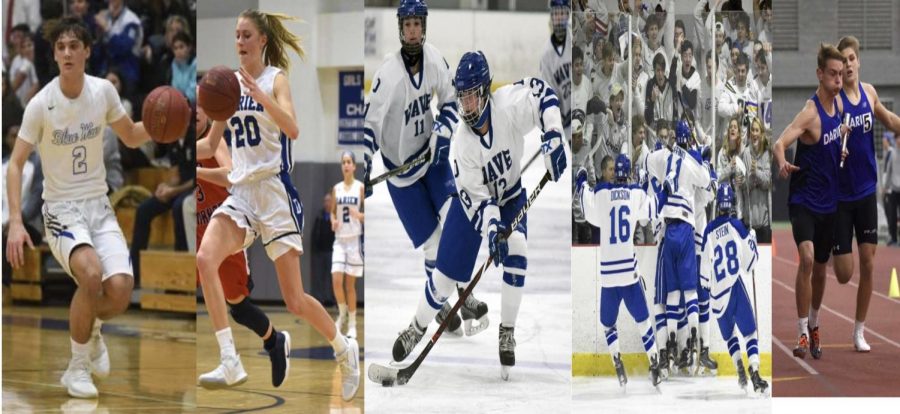 DHS Winter Sports Preview
As the calendar flips to 2020, the DHS Winter Sports teams are hitting the court, ice, and track. This is the winter sports preview
January 31, 2020
Boys Basketball
2020 could spark hope for the Boys Varsity Basketball team. Despite going 10-11 last season the Blue Wave made a change bringing in former Yale star player Mr. Todd Trimmer to be the new head coach . Trimmer has over 20 years in coaching experience throughout the AAU and travel levels. Coach Trimmer grew up in Ohio and played all throughout his high school days he was named the 1989 Greater Cleveland Conference Player of the Year.
"
"The hard work begins today with a great group of young men that want to be part of something special. I look forward to the challenges ahead and welcome new opportunities"
— Coach Trimmer
"There is a great opportunity here to build a basketball culture. I really want to get the basketball program viewed as a premier sport," Trimmer told Stamford Advocate's reporter Joe Morelli. This season the team looks to break a five year drought of an FCIAC title. "The hard work begins today with a great group of young men that want to be part of something special. I look forward to the challenges ahead and welcome new opportunities," Trimmer said in a press release sent out by the DHS Athletic Department. Who is this group of young men? Well this year the team features the captainship of senior James Leone, senior Ben Olson and junior Ted Brennan. Along with the team another key aspect is YMCA house ball legend Ryan Smith. Although Smith is a three time house ball champion he will be on the bench this year with Coach Trimmer as the Varsity team manager. "We are going to be really good this year, we have a lot of talented players and I think Coach Trimmer has the skill and mindset to turn this program around" Smith said. The team unfortunately started it's season with three staright loses at Bunnell 49-54, at home against Bunnell 61-70 and on the road against Danbury 51-70, And than losing again in Trumbull after coming within four points of Trumbull late in the 4th quarter. As the team continues to search for their first win and Coach Trimmer searching for his first in school history they take the court again on January 10th at home against Greenwich. 
Girls Basketball
Despite a brutal exit in last year's CIAC playoffs to New London, the Girls Basketball team and three year veteran head coach Melba Chambers are looking for a better outcome this year. Last year was tough for the team as they had a 7-14 record and topped off the season with a 65-24 loss to New London in the CIAC playoffs. Luckily for Darien they only saw the departure of five seniors this offseason.
"
The Team started their road back to the playoff on December 16th as they took on the Bassick Lions and they ended up winning the game 55 to 37."
Last season Darien got a ton of talent in the freshman class with Shea Dolce, Maggie Ramsay and Aerin Bowman. And this year is no different receiving freshman talent in the form of Emma Quayle and Jillian Vaught. Another key part of the team is Dolce sisters. Senior captain Gwen Dolce and her sister sophomore Shea Dolce have both been having good starts to there season. In their most recent game against Danbury the sisters combined for 20 points and Shea made three shots from behind the arch. With this year's talented team this year is better than ever to make a run at CIAC's. Despite receiving less than five votes in the Connecticut pre-season Rankings (According to Gametime CT). The Team started their road back to the playoff on December 16th as they took on the Bassick Lions and they ended up winning the game 55 to 37. After that they would go on to win the next three in a row against Bethal, St. Joes and Trinity Catholic but would take their first lose at home to New Canaan 29-37. And unfortunately just a couple of days later they fell to Danbury at home 35-45. But they would rebound beating Trumbull at home 33-18. The 5-2 Darien Girls Basketball Team plays again on January 10th as they travel to Greenwich to play the 4-2 Greenwich Cardinals.
Girls Ice Hockey
It was a much different story for the Darien High School Girls Ice Hockey Team. Last year brought them all the way to the CHSGHA finals where they ended up losing to the Rams of New was Canaan 3-1. After an impressive 12-1-1 Regular Season Record Darien fell to Greenwich in the FICAC semi-finals in OT. They ended up making a run in the CHSGHA (Connecticut High School Girls Hockey Association). They got their revenge on Greenwich 2-1 in the Quarterfinals and than blew out West Haven 4-0 in the semi finals. Darien should still be a favorite this year as this year the team is captained by seniors Cate Droogan, Colleen Cassidy, Caitlin Chan, and Kitt Arrix. On the 7th Darien played scrimmage matches against New Canaan and against Greenwich. They tied Greenwich 1-1 and beat New Canaan 2-0. The team official started their season on Wednesday December 11th as they played debatably their biggest rivals the Greenwich Cardinals.
"
"Everyone was super excited and it was nice to see that we have such good chemistry early in the season."
— Kate Bellissimo
In this game junior Kelly Raymond and jenior Kate Bellismo put up the goals and sophomore goaltender Ella Whitticom made 15 saves as the team won 2-0 starting their season 1-0-0. "Everyone was super excited and it was nice to see that we have such good chemistry early in the season." Bellismo told Gametime CT reporter David Fierro after the game. Darien hit the ice again Friday December 13th as they take on Fairfield Ludlowe-Warde and this game Darien put up a touchdown as they won 7-0 and would follow that up with a 6-0 win over Trumbull- St. Joes and on January 4th the team took on the defending state champions New Canaan, The two rivals have played each other in the last two state finals, with Darien winning in 2018 and New Canaan taking it in 2019. And this January night New Canaan took it 1-0. The 3-1-0 Darien Girls Ice Hockey team returns to the ice on January 8th as they face the Stamford,Westhill and Staples combined team.
Boys Ice Hockey
As the trend counties another Winter sport in the style of Boys Ice Hockey fell in the CIAC Quarterfinals last year. After and impressive 17-6 Season last year the Blue Wave Ice Hockey team matched up with Notre Dame West Haven and lost 3-1. The Wave did however lose to Greenwich in Double OT in the FIAC semi-finals so this was a bounce back year for the Wave. But Darien did fail to bring home a 4th state title last year. I wish I could say that this year is going to be better but unfortunately this offseason saw the departure of 12 players. One of which was Henri Pfeifle who was the starting goalie last year. This might not be a terrible thing as last year's JV team has a lot of talent. This year Darien's unique roster consists of many juniors and sophomores including both of the new goalies junior Teddy Deberandis and sophomore Chris Schofield. The team also includes the brotherly duo of senior Cole Branca and sophomore Billy Branca. Both of which were on the Varsity Soccer team this fall but with injury Cole didn't play but is ready for the hockey season. So far this year the team has started with an impressive 3-1-0 record beating Wilton, Greenwich and Xavier but did however fall to Hamden. With this good of a start Gametime CT ranked Darien as the third best Boys Ice Hockey team so far. But with their next game being a tough one on January 11th they host the 6-0 and first ranked Notre Dame-West Haven team.
 Indoor Track 
When winter rolls around most think of the main sports like Ice Hockey and Basketball but one of the most unique sports DHS offers is Indoor track. This year the team will start its 21st year as a team and with the coaching of head coaches Tyson Kaczmarek and Steve Norris Darien is looking to rebound off of a 3rd place finish in the 2018 Class L Championship. Darien did loss 12 boys and 12 girls off the rosters due to graduation. For the Boys team roster is looking smaller this year as they only added six freshman to the team while the girls added 20 freshman to the roster. Both the boys and girls Indoor track teams competed on January 4th and senior Austin Dehmel & senior Nick Balenzano both qualified for the state meet in the 55m race while in the Pole Vault senior Aiden Hills, senior Xander Zanin and junior Alex Jones all qualified for the state meet. Hills tyed a person best with a 12' vault while Zanin and Jones both hit 10'. Also in the 600m race, senior Jacob Grimm and senior Aiden O'Rourke also qualified for the state meet. Grimm had a personal best 1:31.33 and O'Rourke did a 1:35.83. Finally Nick Balenzano also jumped a personal best 20' 5" on the long jump competition. The teams next event on January 10-11 as they participate in the Yale Invitational at Yale College in New Haven.