Going Long: DHS' Trig Identity Ambassador Ms. Long In Profile
January 16, 2020
It's no surprise that former Darien High School students love their school, but it's unusual to see them teaching at DHS only a few years after they graduate.  Ms. Sophie Long, one of our own math teachers, was in the DHS class of 2013. She's among us once again, educating the future on Trig Identities and so much more. I sat down to find out more about this fascinating individual.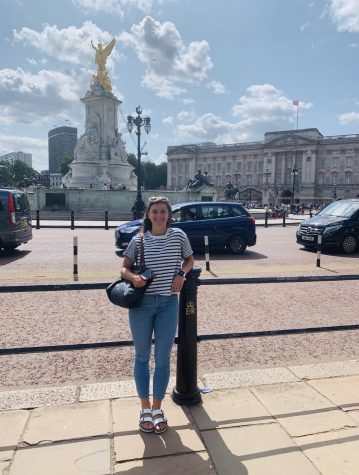 TR: Why spread knowledge to the youth?
I think that knowledge is really powerful…your generation will make big decisions, you need knowledge to do that!
TR: Do you still feel like a student compared to your fellow teachers?
A bit sometimes…especially ones I had when I was a student, I still call them Mr. and Mrs., but I'm getting used to it.  It's been fun!
TR: What are the signatures of your classes?  What makes them unique?
The biggest spin I try to throw in is excitement—hopefully rev students up to get excited about math topics, and create a space where we can be excited.
TR: What are some out-of-school hobbies you have?
Probably my biggest is running, racing…I did that in high school and college—I enjoy continuing it…I also work at a running store…it's fun to meet people and learn more about shoes and gear—I love to read as well…Harry Potter is a favorite!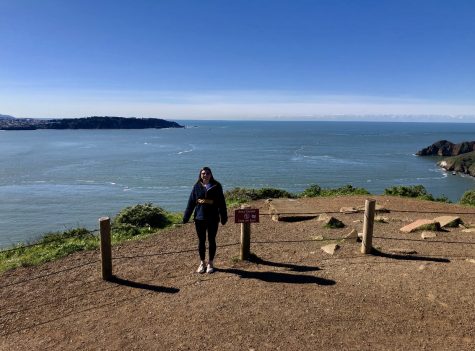 TR: What do you drive?  Is it better than a Jeep Wrangler?
I drive a 2015 Subaru Forester…yes, it's better!
TR: What is something students do not know about you?
I love doing jigsaw puzzles, and can do them quickly…also, for three summers, I went to an arts camp in Upstate NY; I did circus events there, like flying trapeze and other cool stuff!
TR: What's the funniest thing that's happened in one of your classes?
One time, a presenting group put a slide full of spiders in the project…I was having students do a topic concerning triangle problems…but I am very scared of them!  It's hard to pick just one!
Her colleagues and students think of her highly.  Fellow math teacher (and former teacher of Ms. Long) Mr. Steve Coppock bestows her with this praise: "She's a great combination of knowledge and material, and is able to make it fun and enjoyable for her students.  I've often walked into her class, and the students are chanting 'Ms. Long, Ms. Long,'; that's how much they love her.  I strive to be at that level."
"
The biggest spin I try to throw in is excitement—hopefully rev students up to get excited about math topics, and create a space where we can be excited."
— Ms. Long Herself
To back up this formidable comment, I asked some of the honorable classmates I had in the Pre-Calculus class I had with Ms. Long last year what they thought of the greatest mathematical mind since Newton: "I've had Ms. Long as both a track coach and math teacher.  I hate running and math, and always have, but she made me enjoy both anyways.  It's like when your parents make believe your broccoli is an airplane: she brought enjoyment to activities that I didn't like but needed to muster through.  Whether it is through fun relays during workout days, or wacky group presentations in math, her methods made the curriculum much more bearable.  Her spirit and enthusiasm are infectious, and she always makes sure nobody gets left behind.  It's people like that who are called to teaching, and I'm glad for that," senior Lily Spengler said of Ms. Long.  Senior Andrew DeChellis had similar thoughts: "She's a good teacher and it's easy to get involved in her class.  It's a very energetic class as well." It's fair to say that someone of Ms. Long's caliber comes around as a teacher only once in a lifetime…so if you have her, expect nothing less than a verifiably good time in class.