Top Met Gala Looks 2019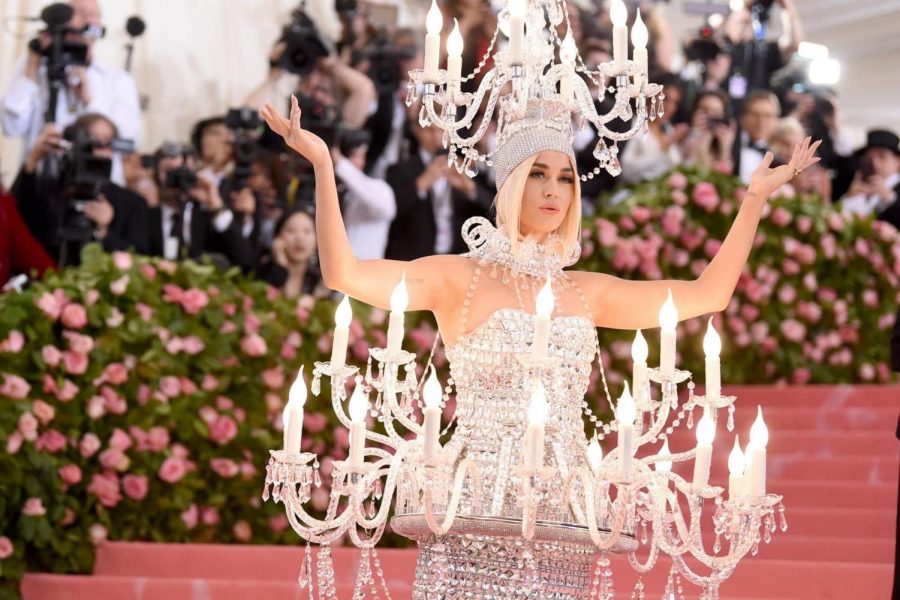 Designed to showcase talented fashion designers along with the actors, musicians, artists and even Silicon Valley titans who model the clothes, it draws throngs of fans, paparazzo and TV cameras from all over the world to New York City.  It is one of the most important opportunities for creative expression in the fashion industry and nobody walked away unhappy this year!
This year's theme, "Camp" caused some interpretation issues, even more than the 2016 theme: "Manus x Machina: Fashion in an Age of Technology."  Some invited designers thought "camp" literally suggested army tent dresses made out of olive colored canvas while Celine Dion actually thought all guests would be sleeping overnight at the Met.  The concept came from a 1964 essay entitled "Notes on Camp" by Susan Sontag, an American writer, filmmaker and political activist.  The "Camp:  Notes on Fashion" theme translates humor, parody, theatricality and exaggeration into wearable works of art.  The intention of the creative directors including Ana Wintour, Vogue editor-in-chief, was to give those walking the red carpet the chance to "embrace the intentionally absurd."  Despite Ms. Dion's misunderstanding of the concept, she shimmered in a silver gown designed by Oscar de la Renta with long fringes with a silver bodysuit and a light feather headdress that framed her head.  The hand beaded outfit weighed 22 pounds.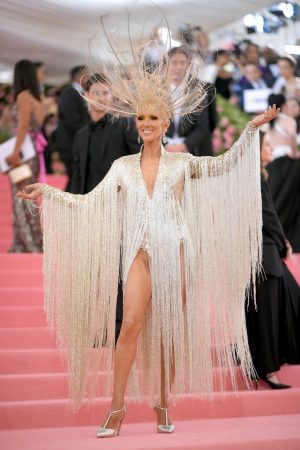 According to the May 6, 2019 post on Harpersbazaar.com, Lady Gaga was number one on the "Ten Best Celebrities at the Met Gala for 2019."  Designed by Brandon Maxwell, her dress was actually four separate looks, with each one revealed as she walked the red carpet while pausing to peel off layers. Her first look, and outside layer, was a billowing taffeta pink-magenta evening coat tied with a bow that matched a large pink bow in her hair.  Under the coat was an elegant black evening gown with a very large bustle attached on her left side, which was removed to reveal a sleek pink slip style gown. Her final outfit was the more recognizable Gaga basic lingerie, including sheer stockings.  Not surprisingly, Gaga's show stopping costume was paired with high-heeled bedazzled platform boots.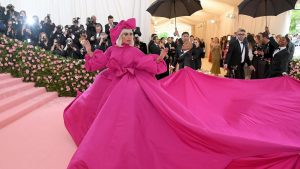 Typical of Cardi B, her magnificent raspberry/burgundy colored dress took over the red carpet.  Designed by Thom Browne, the sweeping costume included ten feet of tulle, a beautiful organza coat with a quilted down-filled circular train and about 30,000 feathers.  More than ten people helped her up the steps with her train.  The top of the dress dazzled with rubies worth about $250,000.  Browne commented that his intention was to celebrate the beauty of a woman's body with adding the rubies. However, some found the rubies to be over the top. According to junior Mariam Ghaloo, "…it's not the rubies that bother me, it's where the rubies were placed that makes the designer seem, well… immature."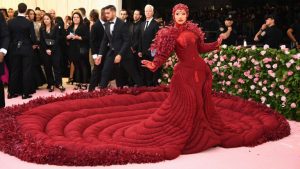 The Gala also drew controversy, as it does every year, with creative outfits blurring certain lines. Many totally loved the fashion-forward trends. "I think it's cool that people left their comfort zone with their outfits this year" says sophomore Luc Ruddy.  Jared Leto wore a scarlet ruffled dress and carried a life-size and life-like head that matched his own. Harry Styles' one-piece Gucci was described as flamenco-inspired, featured a sheer top with a bow accessorized with an earring and boots with 3 inch heels.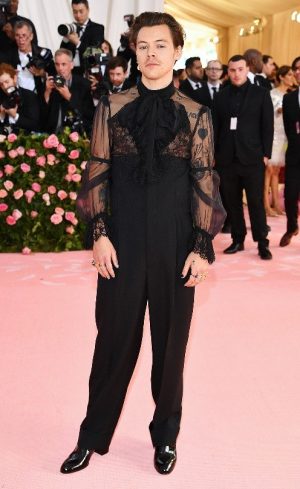 Past years' themes have also stirred debate.  The 2018: "Heavenly Bodies: Fashion and the Catholic Imagination began with the Vatican's release of hundreds of holy art and artifacts for display at the Metropolitan Museum of Art.  Gala attendees rose to the occasion and Rihanna dressed as the Pope, complete with Mitre.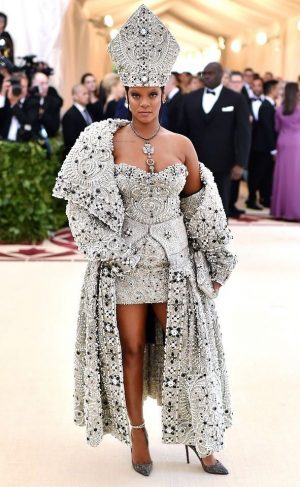 Above all, this extravagant party is a fundraiser with proceeds going to the Metropolitan Museum of Art Costume Institute.  This year's event raised over $15 million.  The Costume Institute is the only department of the museum that has sustained itself starting with the first Gala held in 1948.   Tickets for this year's event cost $35,000 per person and sponsored tables, $300,000.  Tickets are always invitation only.  According to some sources, Anna Wintour, Editor-in-Chief of Vogue magazine, makes all decisions regarding the guest list.  With a reputation of constantly changing her mind, some designers and celebrities often find themselves waiting for an invitation that never comes.