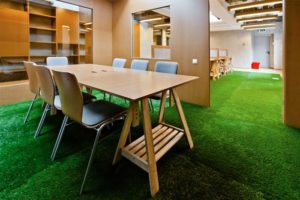 DHS Admin Announces Project to Renovate the Chill Zone
Project will cost a projected $999,999
On April 1, 2019, the Darien High School Administration announced its plan to renovate the Chill Zone, after receiving approval from the Darien Board of Education.
The Administration has been given a "strict budget" – to quote student Board of Education representative senior Brad Chaddington IV –  who elaborated on this statement by saying, "Yeah, we didn't quite let them get to the millions on this one; it [the Chill Zone] is not exactly on the level of the Cafeteria". When a reporter from The Darien Times asked Chaddington IV what the modified Chill Zone would look like he stated, "Yeah we don't quite know, I think we'll just do what we did with the Cafeteria…look for as many style points as possible".
When hearing this remark, one would remember how last year's cafeteria was a clustered mess of students trying to find one last seat, some simply standing next to a table. This year, after an expensive renovation, the DHS Cafeteria is a clustered mess of students trying to find one last seat, some simply standing next to a table, but against the backdrop of  glass windows, better lighting, and a cool wave decal.
The Administration also alluded to this being a group project of sorts, with the many different departments of DHS coming together and having an influence on the transformation of the Chill Zone. Neirad reached out to several important members of DHS's faculty to ask for what they want to see in the Chill Zone.
The Athletic Department was quick to demand that the Chill Zone must be turfed, reminding us that turf is "great for the environment and the players". Which makes total sense because athletes spend all their time in the Chill Zone. One thing that has clearly remained constant, as a matter of fact, is how every person we spoke to has recognized how often the Chill Zone is used. It is clear that all of these renovations will be completely worth it.
To attract more students to the Chill Zone, the TechEd and Music Departments have jointly proposed that "state of the art" speakers be set up in the Chill Zone. Their vision included that it could be a place where student work could be broadcast – original music, podcasts and the like. Of course, Administration was quick to censor this idea, stating that the speakers will only play a classical music playlist, and only when the Chill Zone is being proctored, as to protect members of the student body from overhearing profane or otherwise upsetting content.
Administration will also be testing a new Securly feature in the revamped Chill Zone, wiretapping the whole room so DPS can collect everything the students say. The conversations recorded in the Chill Zone will be put through a filter that searches for bullying and any and all swear words. When asked if they thought this would deter students from entering the room, they responded by saying "absolutely not, we already use Securly, and the students love it. VPNs might deter us from monitoring some student behaviors, but the wiretapping would ensure that one space in the school was monitored 100 percent all day".
Those were simply a few of some of the early ideas from those in charge here in DHS and the Board of Education. Chaddington IV told Neirad that they hoped "students would soon be just as excited we are about this modest renovation".