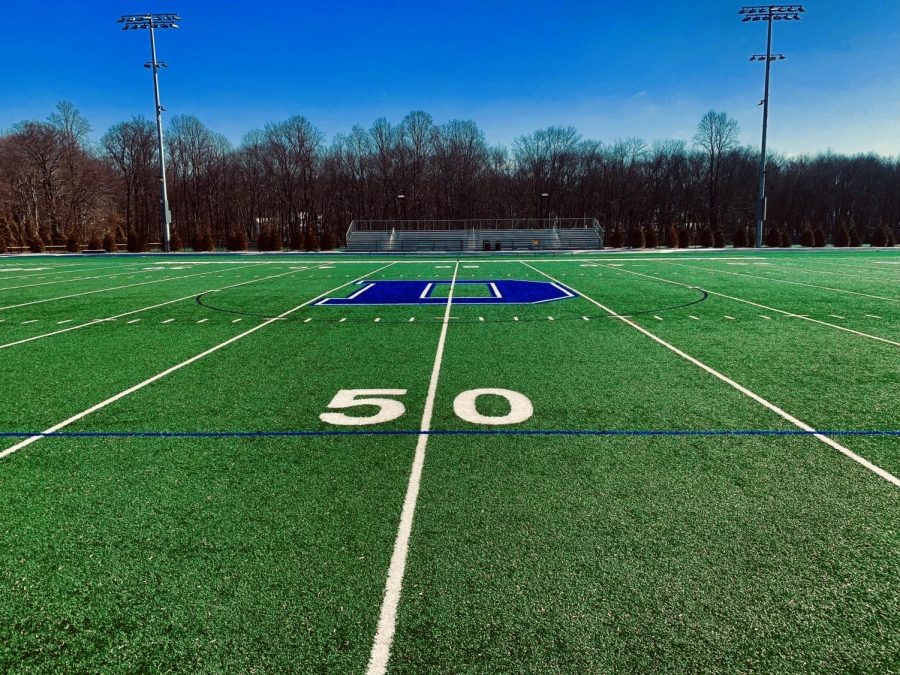 Getting the Real Scoop on College Recruitment at DHS
Answering your most burning questions on recruitment with the help of DHS athletes.
Picture this: you're walking down the hallway listening to the latest gossip: "Did you hear? He's going to (insert top 10 university of your choice) for (insert sport of your choice). Can you believe it? How does that even happen?"
The answer to that question would be recruitment, the complicated and involved process that takes over athletes' lives typically in the latter years of their high school careers.
A great majority of Darien High School students are athletes and a fair amount of them are recruited or committed. To help us better understand how many students at DHS are involved in the recruitment process, students from math teacher Mr. Steve Coppock's statistics class polled DHS students about their athletic involvement.  
The students were from all four grades and represented a balanced number of male and female respondents in each grade. Of those students polled, 26.7% do not play any sport at or outside of DHS, 10% play a sport but are not and do not plan to be recruited, 20% play a sport and are recruited/committed, 13.3% play a sport and are currently in the recruitment process, and 30% of students play a sport and plan to be recruited. The distinct probability, given the poll data, is that over 60% of DHS students are athletes who plan on being involved in the recruitment process. Among these athletes are your friends and classmates, many of whom are experiencing the stress and excitement of the recruitment or commitment process.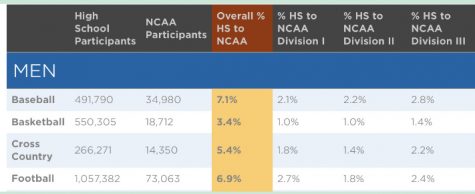 As you can see by the chart above becoming a College athlete is no easy feat and DHS is a school that truly defies many of these stats because of the athletic talent within its walls. However, with the fantastic opportunity to compete and learn at the college level comes a certain amount of stress and prejudice from fellow classmates.
Throughout the school there are common misconceptions associated with recruited athletes and perhaps the most typical one is that they are somehow cheating the system. That once they are in they are able to stop trying in school. I spoke to Sarah Jaques, a junior lacrosse player who committed to Northwestern in the beginning of her freshman year. When asked what she feels are the greatest misconceptions that apply to recruited athletes she said,
"
"That we don't have to work hard in school and that nothing matters with regards to grades. This is not true because we still have to work just as hard as other students. Likewise, people think that we have it easier than other students since we already know where we are going to college, but we just experienced the stress of the college process earlier.""
Many people don't understand that there are a myriad of restrictions on recruitment for student athletes and it all depends on the sport. Jaques committed her freshman year only months before the NCAA changed its rules regarding commitment age. The rule transformed from being able to committed in an athlete's freshman year to being restricted to committing, at the earliest, during junior year. Many of Jaques's fellow teammates at DHS experienced the early commitment process before the new rule came into play. Regarding the change, I asked Jaques what her thoughts were on this new rule and whether or not she thought it was a change that needed to be made, or if she supported the previous way of commitment, she said:
"
"I really liked early recruiting and thought it was ultimately beneficial for the players and sport as a whole. I have been committed for about three years which has allowed me to forge extremely close relationships with my fellow commits and get comfortable with the people I will be attending college with""
Committing early, however, does have its drawbacks. I talked to Catherine Garrett, a senior rower, who just a few months ago committed to Princeton for her future college career. When asked what was different about the recruitment process of her sport compared to others she said,
"
"Rowers don't have the opportunity to commit as early as some sports. The process begins the fall of junior year and most rowers begin to commit junior spring into the fall of senior year. This is honestly a blessing because I am a much different person now than I was as a freshman and want different things than I did then". "
High school students change and evolve throughout their four years and athletes in their senior year may wind up feeling differently about their future wants and needs than their freshman year, but this feeling is different for every athlete. Through the recruitment process both Jaques and Garrett were able to find the school for them despite doing so at such different speeds.
However, the overall process of recruitment causes a myriad of added stresses on student athletes. Whether they are being recruited or are already committed, there are many obstacles to be faced, but regardless all of it is worth it to the athletes who go through it and come out on top with their dream school. Garrett recalls her own process: "An added stress of recruiting is emailing and talking to coaches. However, because of this communication, I was able to develop a really good relationship with my future coaches. I also learned how to better communicate through answering questions about myself, setting up phone calls and giving coaches the information they needed to assess me. Honestly, it was very difficult to balance demanding academics, shifts at Post 53, and to be involved in my sport year round. It required a great deal of discipline and sacrifice to manage these responsibilities. It has really prepared me for being a D1 athlete next year, however, and I would not change a thing".   
Are You a Recruited or Committed Athlete?
Sorry, there was an error loading this poll.
Jaques faces a similar struggle now that she is committed, that of having to impress her future coach. She said, "I always get nervous before playing in front of her because I want to make sure she sees that I am improving and still at the top of my game."
Many people don't realize that on top of having to maintain a solid academic performance at all times the same goes for a recruited athlete' s  athletic performance, which proves to be a double-whammy for most student athletes.
I spoke to biology teacher and DHS Boys Football Coach Mr. Rob Trifone about what he feels is the most challenging part of the recruitment process for his athletes. "Too many athletes place too much value on getting recruited rather than picking the college education that fits their needs and level of ability," Trifone said.
This point applies to athletes across the board and not just football players. Recruitment can cloud an athlete's judgement because some may only think about where they are going to play the most rather than where they are going to find a major they are interested in.
Ultimately the point of recruitment and playing a sport in college is to be able to love where you go academically and socially as well as athletically, which adds yet another layer to the college finding process.
"
I love the sport and I didn't want to stop. "
— Garrett
Perhaps one of the questions most commonly asked of recruited athletes is  "What made you decide you wanted to be a recruited athlete?" This is a valid question that many non-student athletes wonder when the news of a major commitment hits the rumour mill. This is mainly because a lot of people assume athletes only want to be recruited to get into a good school rather than further pursue their athletic interests. I asked both Garrett and Jaques on why they made this decision and this is what they had to say:
Garrett: "I decided I wanted to row in college mostly because I love the sport and I didn't want to stop. I want to take rowing as far as I can and rowing in college is the next step. I chose Princeton because it is a great academic school with a very competitive D1 rowing program".
Jaques:  I fell in love with the sport when I was younger after playing with my sister and dad and decided that I wanted to keep playing for as long as I could."
The theme present in both of these girls is their love of the sport they play and the drive they have to further improve themselves and to keep playing for as long as possible. Two qualities that make a successful college athlete as well as a successful human being.
Overall, recruited and committed athletes at DHS face a future that is filled with pressure and expectations, but they also face the potential of finding a school that is their perfect fit and the opportunity to make their athletic dreams come true.