The Question of Musical Superiority
Is the Old Music Superior to the New?
"I was born in the wrong generation!" No doubt you have heard this plea to live in a different time, a bygone era–days without internet and without modern music that some say is a mere shadow of what yesteryear's citizens listened to.  Though some may resonate with this rhetoric, it by-and-large makes you look like someone who's begging to be labeled 'better' by the general population. There is a small but strong group of DHS students who are in this camp, perhaps not in the 'wrong generation' category but certainly in the 'non-mainstream' category.  Are these people superior or inferior to the Pump enthusiasts, the X mourners?
Tyler O'Brien, a junior, has a wide range of artists in his music library–yet he is quick to point out that those who believe the older stuff is better are inaccurate in their beliefs. "I think that people who view themselves as superior because they are different are kidding themselves.  Obviously we're all different and just because you enjoy music from a different time period doesn't make you any better of a person, especially if you are attacking newer music because it sounds different." O'Brien's tastes, it should be noted, are not strictly confined to one genre of music: "I, for one, enjoy a wide variety of music–classic rock and roll, doo wop from the 50s, even some Lil Pump and Trippie Redd–but that's just my opinion.  Newer music sounds different to everyone and there is no hierarchy on opinion; people view things how they want to see them, plain and simple," he explains. It's far easier to view this ongoing debate with a more moderate outlook, as O'Brien so effectively illustrates.
"
I think that people who view themselves as superior because they are different are kidding themselves."
— Tyler O'Brien, junior
Megan Streeter, a junior as well, has a similar point of view: "I definitely don't think listening to 'older music' makes you a better person or musician, just different.  There's some 'old' music I know of that I find shallow and 'trashy' and there's some new music I think is really impactful and well made.  People walk around the hallways wearing Pink Floyd t-shirts without having ever listened to Pink Floyd because they think it will make them seem 'deeper' or better, when that's false.  It's mostly based on generational preference.  I love the music of the 70s and 80s for their history, trends, and music movements.  But that doesn't make me better," she concludes.
Sophomore Lucy Cullen, like those in the grade above her, has a split view of the two defining musical eras: "I love old music, like The Beatles and Queen. But I also like new, more alternative music, like Rex Orange County.  I don't really like to broadcast to everyone that I like older music, but there are some people that do, which can get irritating."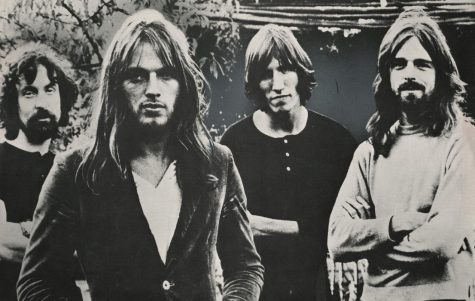 It seems that classic rock has a surprisingly large fanbase in such a town as this, and that those who enjoy it are quick to point out that the genre has both its merits and downsides.  The same, it seems, goes for the more modern music that the vast majority enjoy listening to.  No one here truly wishes they were born in the wrong generation, for in 2018, one can appreciate the best of both worlds.
For more on the 'modern' side of the modern vs. classic music debate, click below: