Local Legend: Closer Than You Think
Explore the Mysterious Muse of Washington Irving's Most Infamous Tale
Everyone hates when Halloween falls on a weekday, especially high school students. Teachers often refuse to let up on the workload, and students find themselves forced to pass the holiday studying or, if they are able to finish their work in advance, find themselves restricted to trivial local festivities in order to return home by curfew. While this unfortunate reality can put a damper on one's night, it is important to remember that the spooky spirit of Halloween can be preserved. We are fortunate enough to reside in proximity to some of the oldest settlements in America, full of urban legend and scary stories to last through fall. As Juniors in AP Lang are currently learning, a major contributor to this folkloric American narrative is Washington Irving.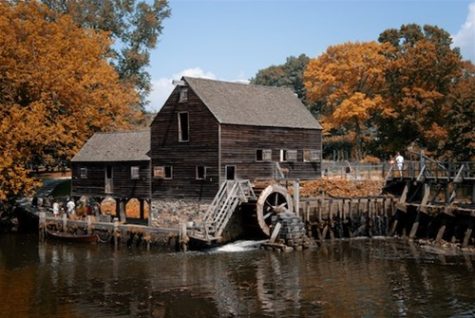 Irving was born in the very city in which most students pass their weekends- New York. However, the residence of his later life, and the setting of his most famous short story, "The Legend of Sleepy Hollow", is Tarrytown, New York. Tarrytown lies just beyond White Plains, less than a 40 minute drive on a good day. It is an attractive spot to visit simply for aesthetic purposes, especially in the fall, when it's quaint colonial architecture is complemented by its beautiful foliage. However, this small town provides more intrigue than just natural beauty, and attracts a wider range of travelers than simply curious historians. The town is the stuff of legends, the very bewitched settlement that the fictional Ichabod Crane and the very real Washington Irving called home. It is the perfect local spot to preserve the spirit of Halloween, observe the beauty of an East Coast Autumn, and cultivate one's historical knowledge.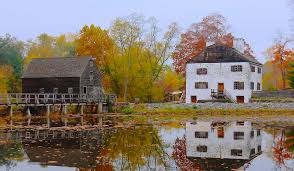 Up through Halloween, the historic Philipsburg Manor is transformed into a haunted attraction, providing visitors with a hands on, walk through experience of the horrors of "The Legend of Sleepy Hollow". This once functioning Dutch mill house, open for historical tours for the duration of the year, is completely transformed for the month of October. Visitors at the attraction, "begin walking a haunted trail, stumbling upon scary scenes of a town driven mad by the Headless Horseman", a creature believed to be the ghost of a Hessian mercenary soldier on a nightly quest to retrieve his head. (Historic Hudson Valley)  Visitors to the town can also attend a live telling of "The Legend of Sleepy Hollow" in the town's Old Dutch Church. Townspeople gather in the original colonial structure, lights dimmed and mood music playing, to be told the terrifying tale of Ichabod and his village. The town takes full advantage of its roots in myth and legend, and any walk through its streets in the autumn months will provide a chilling, festive experience.
For those historians and literary buffs more interested in Irving himself than the immortal spirit of his work, there are tours available of Irving's own estate. The Founding Father of American Literature's house and grounds are preserved in the very whimsical way he left them, and tours of these grounds provide guests with biographical information on his life, career, and literary works. His grave can be found in proximity to the church, a site that constantly attracts visitors. The town itself is teeming with historical sites, including the manors and estates of such prominent historical figures as the Rockefellers. Aspiring historians can choose one of several walking tours of the town and its sites catered to their specific interests.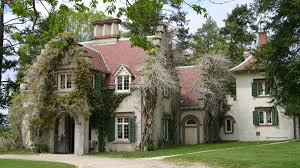 As the Halloween season draws to a close, the spirits of an America past still linger. Such spirits can be found haunting the streets of Sleepy Hollow, just a short car ride away. Whether or not you can make the trip to catch the Halloween attractions before this Wednesday marks the close of the marketable season, Tarrytown is waiting, full of spooky and spectacular sights to tide you over until the next one begins.