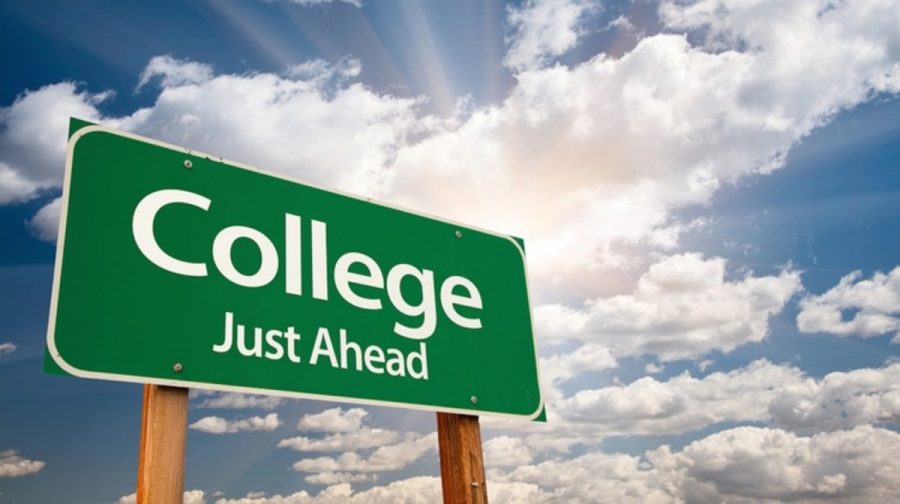 Picking Apart The College Application Process
It's a pretty typical Monday morning at Darien High School. I'm in my 2nd period free and hear my phone buzz. I look down to read the text I have just received. It's from my friend, a fellow senior. She too is at school but clearly occupied with something other than the class she is in. I read, "My anxiety isn't gonna go away until I get into college." While this anxiety is not diagnosed or medicated, it sure feels like it is real for her. I quickly respond "Same."; I spend my entire free period thinking about all the college applications I have yet to complete; her anxiety proved to rub off on me. This is a day in the life of a senior amidst the college application process.
Similarly to my friend and me, just hearing the word college induces more stress and anxiety in fellow seniors than one could possibly imagine. These symptoms grow stronger as the Early Decision deadline passes and the application season reaches its peak. Students have spoken out about their nights crying themselves to sleep, spending endless hours on supplements, and days on end occupied by college research and worry about what his or her top choice thinks of them.
But What is it that makes the college admissions process such a consuming, negative, "life-threatening", and hopeless experience? It is time to dig deeper into what causes the anxiety and negativity surrounding college admissions and the despair and stress that the Class of 2018 has been feeling these first few months of school.
There are many individuals in a college applicant's life that are involved in the process, from a student's first college tour to the day he or she opens that acceptance letter: a student's parents are two of them. For many students, his or her parents are almost as threatening as the college admissions officers at their top schools.
"
A lot of students' parents are so successful and went to such esteemed colleges. The kids feel they need to emulate that success, whether the parents are forcing it or not."
— Senior Julia O'Brien
Senior Julia O'Brien discussed what she has observed at DHS. O'Brien said, "A lot of students parents are so successful and went to such esteemed colleges. The kids feel they need to emulate that success, whether the parents are forcing it or not." O'Brien's philosophy portrays a pressure that ultimately adds another worry to many students already stressful lives and this will not go away until they receive that acceptance letter.
Another topic that came up while talking with many DHS seniors was the idea of standards in Darien. There are standards for almost everything: the car you drive, the clothes you wear, even the home you live in. And of course, there are unwritten standards about the college you attend.
Senior Molly Read discussed the idea of a "good" college in Darien from the perspective of a student at DHS. Read said, "Everyone in this wealthy, privileged town full of successful people expects the best from you and judges you if you don't live up to the town's "standards", which are typically Ivy League schools or big sports schools."
This judgment is hard not to feel as there are so many platforms (Instagram, Facebook, Blue Wave News) where seniors feel all eyes and ears are determining whether or not his or her college decision lives up to the town's perceived standards. That adds another layer of anxiety to a senior and leaves questions like, "Will my college decision look bad next to my classmates at graduation?" or "How will my Facebook friends view my college decision?" lingering in their mind.
At DHS, it is very common for students to lack confidence in their chances of getting into college. "I'm not getting into college" is a phrase I hear multiple times a day from my friends. This negativity creates a layer of hopelessness around the college application process.
Molly Read gave me the reasoning behind her use of this phrase. Read said, "A lot of the time when I apply to colleges I think about all of the other students from all over the globe who I will be compared to. This then forces the idea of 'I am not as good as them' into my mind and forces me to assume that I will not get into the colleges I apply to." The pressure that Read puts on herself reflects the negative effect of the enormous number of students – approximately 20.4 million – applying to college today.
Senior Grace Fay also reflected on the root of this phrase, "I think when people say this they mean that they won't get into their "top choice", "ED", or "dream school". They think if they don't get into this school they won't go to college because they won't be happy or satisfied anywhere else. But I know that everyone will end up where they are meant to be and attend the best college for them and our senior class needs to remember that." This narrow-mindedness ultimately self-inflicts stress as when a student feels only one school is perfect for him or her and if they don't get in, his or her life is seemingly over.
In our already competitive school full of athletes and high school prodigies, it is evident that the question of, "whose hard work is going to pay off the most?" is beginning to rise as students begin to check their application status for their preferred colleges. Obviously, many students want their work to pay off the most. They want to go to the best college and they won't be able to stop worrying about that until the last person in the grade has announced their college decision.
Finally, this article would not be complete without discussing the role of the colleges, universities, and institutions themselves throughout this process. For years, colleges have been constantly filling students' email inboxes with emails with provoking subject lines and inflicting more stress on a high school student.
"
Haven't got a clue?"
— Becker College
These subject lines spark the "college-obsessed" area of a student's mind and force the student to again become occupied by the college process and mind to fill with thoughts, worries, and questions about the next 4 years ahead of them. Some examples from my inbox are, "Chat now. Talk with us. Ask Anything". This title gets students thinking about college and all the worries they have about the process. Even simple titles like "Your application deadline" reminds students of the applications they have yet to complete and the anxiety around pressing "submit" on the Common App.
The most anxiety-provoking one an email with the subject of "Haven't got a clue?".  This is brutal. It reminds students of the constant back and forth about which college they attend, their confusion about the future, and ultimately the daunting idea of choosing where to spend the next four years of their lives.
After exploring the roots behind the stressful, hopeless, negative college process, it has become evident that students can do things to stop these horrible symptoms. Students can realize their parents will love them no matter what, that everybody in town won't judge which college they choose and instead applaud them on getting into any college, and can be confident that they are unique compared to the many other students around the globe.
Keep in mind that this process may seem like such a horrible, never-ending time of your life, but it will come to an end. This time next year you'll be looking back laughing at your younger and seemingly less knowledgeable high school self who was crying theirself to sleep, spending endless hours on supplements, and days on end occupied with constant worry.