VCG
Singles' Day Bonanza: How China spent 25 Billion Dollars in 1 Day
While the United States was honoring its veterans on November 11th, China was celebrating the much anticipated "Singles' Day". Singles' Day was a holiday originally created jokingly by the Chinese youth during the 1990's to commemorate the lonely hearts among them. November 11th was chosen because the date 11/11 symbolizes single people standing next to each other (WSJ).
Today, however, Singles' Day has been turned into a frenzy of consumerism by e-commerce giant Alibaba. In 2009, Alibaba founder Jack Ma used Singles' Day to promote his Taobao Store, a marketplace similar to eBay, by "encouraging retailers to join and offer customers discounts of at least 50%" (Forbes). Alibaba has successfully tapped into Chinese consumers desire for foreign brands and has recruited companies like Gap and RayBan to open their markets to the website.
Over the past 8 years, the obsession with Singles' day has become equivalent to American's obsession with Christmas. The company has set up fashions shows in Shanghai to display clothing that can be pre-ordered on the website before Singles' Day. There is even a app customers can use to virtually try on the clothes they want to buy. Alibaba has even invited Katy Perry and Kobe Bryant to help countdown the hours to Singles Day in a celebration in Shenzhen, China.
"
I bought many necessities last Saturday. Two pairs of shoes, a bag, a lot of snacks and stationery. "
— Christie, Student from Shanghai No.3 Girls School
For comparison, Singles Day is like Amazon Prime day on cocaine; Chinese consumers spend more on Singles Day than on Black Friday and Cyber Monday in the US combined (Forbes). More than a million retailers took part in the bonanza, including many US Department stores like Macy's (BBC). According to sales, Single's Day brought in a record breaking 25.3 billion dollars, a 42% increase in sales from 2016 (BBC).
Single's Day is another reminder of just how economically prosperous China has become and their insatiable hunger for consumer goods. Far from days of frugality and thriftiness in the 1970's, "China is no longer just following, it is leading the world in ecommerce and consumer engagement" (BBC).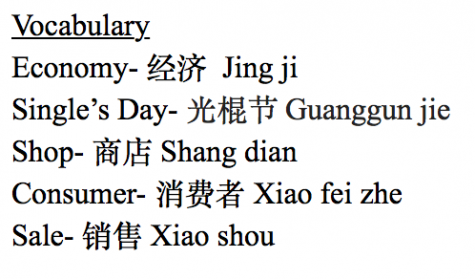 What's New in China is a new column that will be updated weekly by Regan Keady who will be traveling to China with the high school's exchange program in April. This column will strive to bring students at DHS information revolving around current events and issues in China, as well as providing students with Mandarin vocabulary that pertains to the subject of the article.