The Modern Twist on an Ice Cream Cone: Van Leeuwen Review
How will this Brooklyn-based ice cream shop do in the suburbs of Darien?
Straight out of Brooklyn, Darien welcomes Van Leeuwen: the newest ice cream spot around. With so much anticipation surrounding its opening, does it live up to its expectations? 
Located in the Darien Commons, adjacent to Sweetgreen and Warby Parker, Van Leeuwen is a popular scoop shop located in cities across America. With locations in New York City, Los Angeles, and Philadelphia, Van Leeuwen is among the list of businesses coming to the suburbs from the city.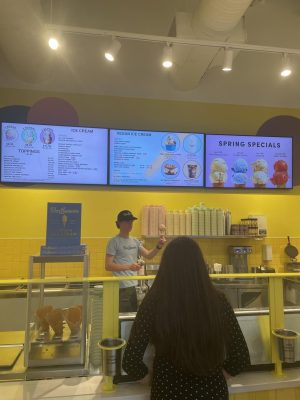 The first thing that caught my attention was the variety of flavor options. There were your typical ice cream shop flavors such as Cookies and Cream and Vanilla Bean, but also some unique flavors like Honeycomb and Earl Grey Tea. 
Not only is there the traditional ice cream menu, but there is an entire list of vegan ice cream options. Fortunately for many, it isn't a small selection. Many of the fan-favorite flavors like Cookies and Cream and Chocolate Chip Cookie Dough are available on their traditional and vegan menu. 
The staff was super friendly and eager to answer any questions. They welcomed sampling of any and all flavors and were knowledgeable on the ingredients and some of the best flavor combinations. Next to the cashier there was a large freezer that had pints of many different flavors offered for takeaway. Compared to a Ben and Jerry's pint that costs about $5 from the supermarket, Van Leeuwen pints were selling for $12.
To my disappointment, the first two flavors that I ordered were sold out. I finally settled on Cookies and Cream despite my best efforts to try one of the bolder flavors they so heavily advertise. When my sister and I went to checkout with two small ice cream cones, it came out to $15. I'm all for supporting local businesses and trying them out, but I wasn't expecting it to be so expensive. Especially since we ordered the smallest sizes without any toppings.
The ice cream was good, don't get me wrong, but was it worth the $7?
Competition in the ice cream market in Darien is pretty minimal. Gofer Ice Cream on the Post Road has been the only place in town, with the exception of small startups that never stayed for long. Without competition Gofer successfully grabbed all the customers. It's part of the Darien culture to go to Gofer with friends or after sporting events and concerts. Situated in downtown Darien, it is within walking distance of many popular restaurants. 
With the news of Van Leeuwen's arrival, the town was excited for something new. That being said, I think Gofer will remain as a popular local spot for ice cream that is a bit more down to earth and kid friendly. Personally, there are a handful of spots in and around Darien that I'd go to before going back to Van Leeuwen.
Brendan's 101 in Rowayton, Connecticut is a super fun spot in the summer with its waterfront location and diverse menu of ice cream, pastries, and comfort food. Additionally, it has a covered seating area in front of the restaurant and more tables inside.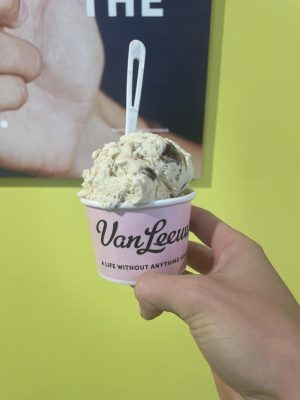 The seating situation at Van Leeuwen is tight to put it lightly. There are two identical bench seating areas across either side of the restaurant with three small tables on each side. Ideally, it could fit six people on each side, but by no means would that be comfortable. The tables were super small and the benches were pretty rigid. 
Van Leeuwen is a great new addition to the town and might even incentivize long standing stores to refresh their menu to retain their customers. That being said, the atmosphere was much different than Gofer and Brendan's 101, which are more family style and welcoming. 
I'm glad that I tried Van Leeuwen, but I don't see myself going back anytime soon. For me, it was more of a spot to try just so that I could say that I've been. Unfortunately, I have no inclination to go back. 
Only time will tell how Van Leeuwen does in Darien. That being said, will Van Leeuwen adapt to a suburban market in order to appeal to its customers or will it try to differentiate itself and stay true to its Brooklyn roots?
Leave a Comment
About the Contributor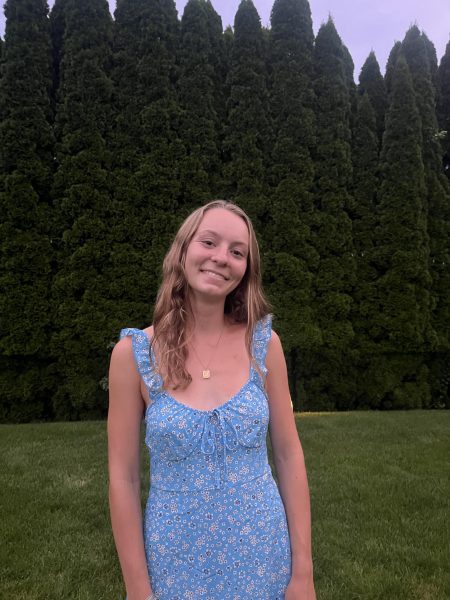 Julia Blake, Editor-In-Chief
Julia is a junior who started writing for Neirad in the fall of 2020. She loves writing about current events, popular culture, and school news. When she's...