AP 2D Studio Art Should Satisfy a STEM Requirement 
As more and more students are dropping humanities and art electives to fulfil their other graduation requirements, departments at DHS become restless.
Beginning for the class of 2023, Darien High School implemented and enforced new graduation requirements for students to complete after there was a change in legislation in the state of Connecticut. Unlike the previous twenty-two credits that were necessary to graduate, Darien and other Connecticut public schools now require an extra three credits that join to make a total of twenty-five required credits for the upcoming graduating classes. The three new credits manifest themselves in the STEM categories of the pool of courses high schools have to offer. Yet, this has proved to be problematic for DHS students these past two years as some students scramble to fulfill the looming STEM requirements at the cost of humanities electives. 
Considering the dynamic of the modern world with technological advancements pushing forth research in an online work environment, STEM is becoming more popularized amongst the younger generation because of the high demand for these occupations. As a result, the decision for Connecticut to increase the amount of STEM credits necessary for students to graduate is understandable: students are now encouraged and forced to discover and experiment in different fields of STEM which may become useful moving forward in their professional careers outside of the classroom. Here, students are able to dip their toes in classes varying from engineering to computer science to economics while fulfilling these credits and simultaneously becoming accustomed to the future working world around them.
Yet, for students that are not inclined to said classes, it has become very difficult for DHS students to find classes that they enjoy during their upperclassmen years that also work to satisfy the twenty-five graduation requirements. Students have sacrificed pursuing, specifically, AP art classes to take random, non-interesting STEM classes despite knowing that they do not want to further their careers in these fields.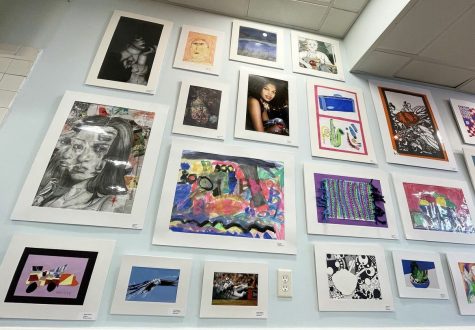 This has raised anger in the minority art community and program at DHS because talented students are being forced to take science classes at the cost of the AP art classes. Wanting to keep encouraging these young artists to pursue their own interests and love for art, the teachers and head of the department at DHS began trying to push the idea that AP 2D Studio Art be considered as a STEM credit as well as an art and humanities elective. One of the teachers' and students' main points of frustration was that while AP Art students are obligated to take STEM classes, students enrolled in AP STEM classes are easily able to fulfill their art credits as many of these courses satisfy multiple categories. Thus, the art department has argued that AP 2D Studio Art should satisfy a STEM requirement, just as other AP classes contribute to multiple categories of requirements, not only to give art students a chance to further their learning but to allow a wider variety of STEM classes to be offered. 
What many state legislations and overall the growing world has not considered yet is the fact that the arts and humanities are forever evolving communities and have also expanded their affiliation for technology, not only allowing for the spotlight to be placed on the fields of STEM.
Here, the art department at DHS has argued that the class is deserving of being placed in multiple categories with many different examples of students using technology and other fundamental STEM principles in the course. 
In AP 2D Studio Art, all students are required to use their own reference photos for their pieces. Many of these students gravitate towards intricate and abstract ideas that they wish to portray in their work; however, that prevents them from taking a simple picture and copying it in their desired medium. As a result, the artists have to grapple with photoshop and other means of technological assistance to create their vision in a reference photo. They are using computers and technology, just as other STEM classes encourage, to add to their work on a daily basis. 

To have accurate and realistic pieces of art, proportions are a huge part of creating work. Whether a student is graphing the proportions of a basic grid, the features of their portrait's face, or measuring materials to fit in an organized manner, calculators are out on their workspace to guarantee a seamless and realistic representation of their ideas. 

Art coexists alongside that of many of the world's STEM fields; for engineers to be successful, aesthetic and artistic perspectives need to be contributed. 
Unfortunately, the AP 2d Studio Art class has yet to be changed to be considered a STEM class. Moving forward, will DHS acknowledge and help students who are struggling to satisfy their STEM graduation requirements by listening to departments such as art that have proposed solutions?